What Is 'Behind The Shot'?
To me, photographs are strengthened by having a good story to support them. At its core, photography is the art of capturing memories and those memories deserve to be told & shared. With this new concept I want to tell people that story. I want to share what effort, struggle and sometimes luck is behind the publishing of that single image you might see in your social media feed. Every month I will be sharing one photograph which has a good story, a deeper meaning or a struggle behind it.
In this month's 'Behind the Shot' blog I want to tell the story behind one of my favourite images, called 'Skýjasnúningur'. I want to share that story because I feel it goes to show that even though you might be lucky with certain conditions and situations, you still need to act on it to make it happen. This story shows how my spontaneity ended up with me recently winning an award for this particular image.
The Phases of the Geldingadalir Eruption
Before I can tell this story, I need to set the scene. I have to explain how the 2021 Geldingadalir eruption had various phases. The eruption initially started with a small fissure which opened up in a valley, which then turned into two craters. After about two weeks, two more fissures opened towards the north. This resulted into several craters being formed, which one by one began to shut down until one large crater grew out of the lava field. When this final crater was formed, its behaviour changed in such a way that it erupted like a geyser with pauses in-between. It's at the end of June, when the eruption went into a longer pause, this month's story begins.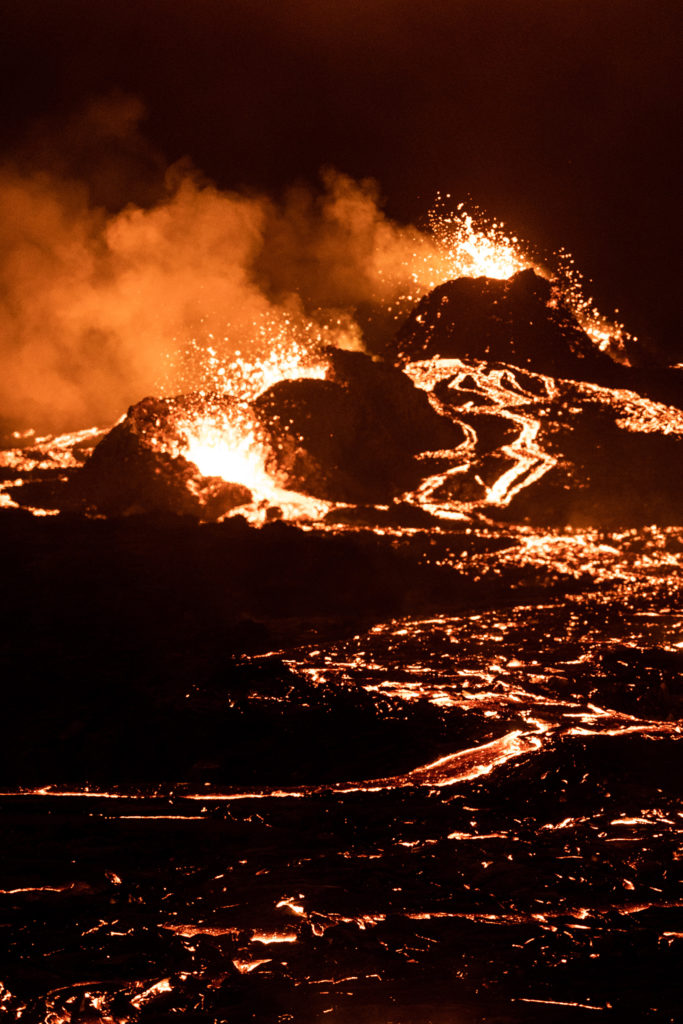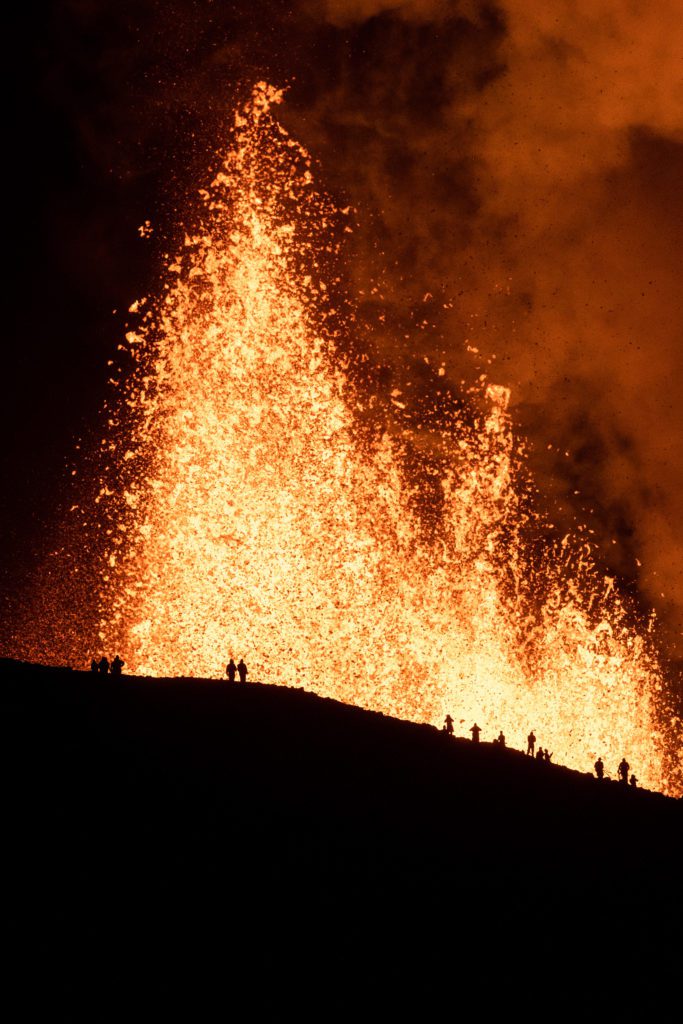 Should I Stay or Should I Go?
That evening, I had originally planned to go to the eruption area. However, because the activity had unexpectedly died down, I ended up staying at home watching Netflix. After cozying up on my sofa, I received a message from a friend who noticed that the crater had unexpectedly become active again. It didn't just become active but it did so with a twist. The crater had started spewing lava in greater volumes than it had before but also did that continuously. Instead of watching Netflix, I decided to switch my attention to one of the eruption webcams and watched what had unfolded in amazement. Slowly, but surely, the gears in my head started grinding.
I went into full brainstorming mode:
"Should I go?"
"Will I make it in time before it stops?"
"How quick can I get onto the mountain?"
"How far would I need to get up the mountain to launch my drone?"
Maybe you have or you have not been in this dilemma before. I for one have been in this endless debate with myself many times before. And each time I end up reminding myself that you never know until you go. You miss 100% of the shots you don't take.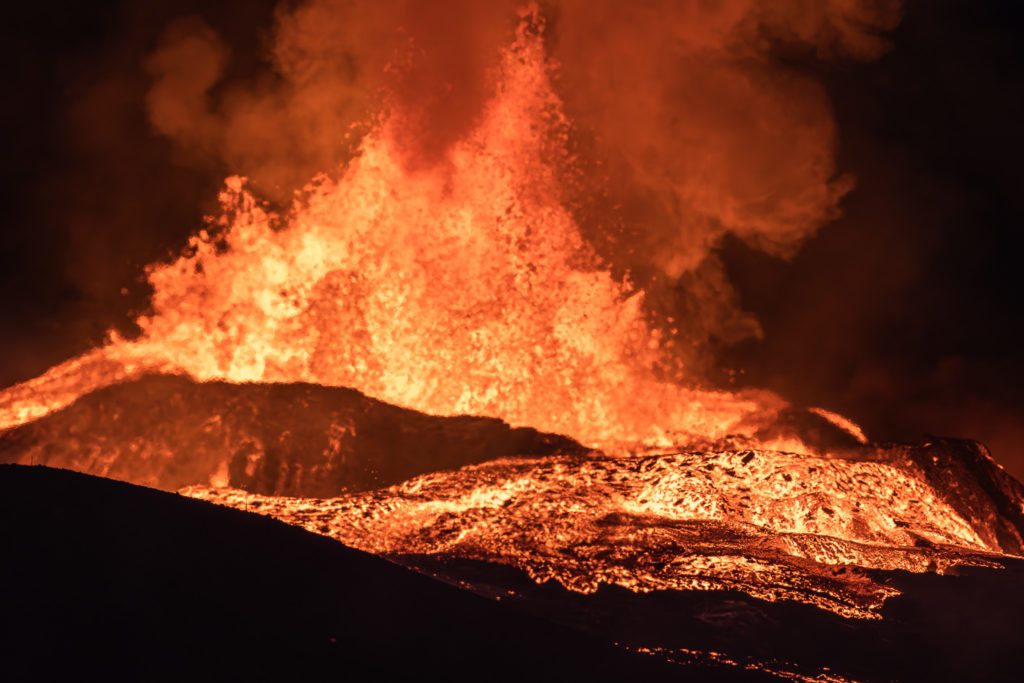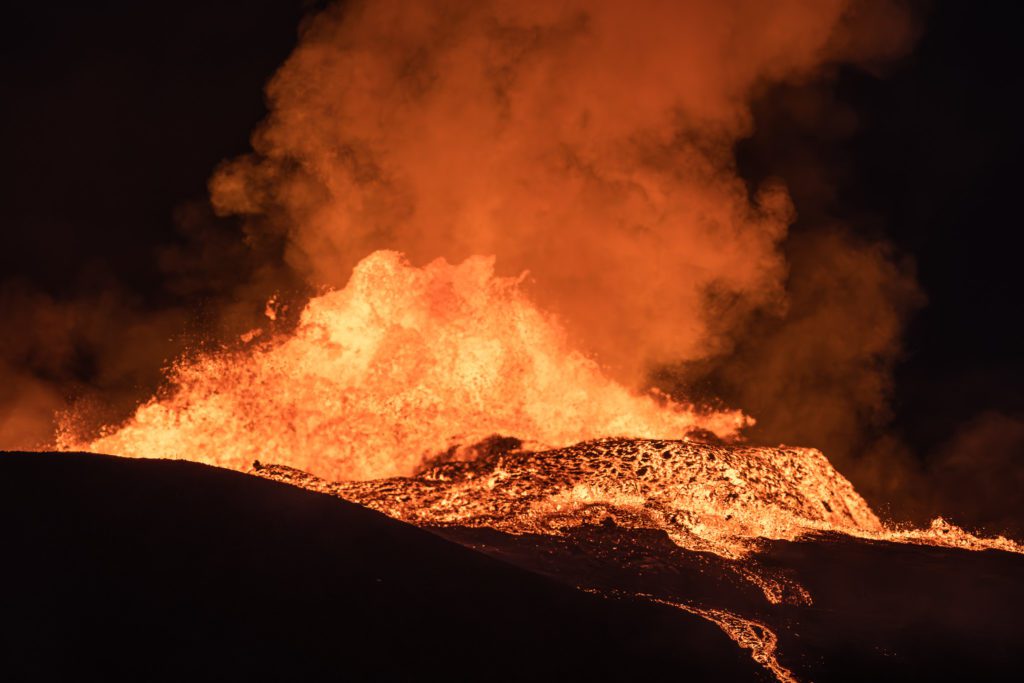 The Race Against Time
After coming to that realisation again, I put on my hiking boots, grabbed my photography gear and began driving to the eruption area. As I was driving, I had someone check whether or not the increased activity was still ongoing. After about 40 minutes I left my car at the nearest parking lot. The crater was still erupting but I wasn't going to take any chances. I started running with my gear towards the trail going up Langihryggur, which I guessed would give me the best view of the ongoing action.
When I made it halfway along the trail, I felt I had reached sufficient height as I could see the crater in the distance. I estimated I was about one kilometre away from the crater which made me feel it was a good time to start using my drone. My main concern was that the eruption would halt before I could get a decent shot. My drone could get much quicker to the crater than I could ever progress along the trail to get a camera shot. Additionally, using the drone would give me the most flexibility and a wide variety of perspectives.
The second I made it to the crater with my drone, the erupting crater shifted gears and started erupting much more vigorously than before. It totally caught me by surprise and I even had to back off with my drone. While my drone was recording the whole episode, I used my telephoto lens to capture a few views of the scene. The volume of lava was so great that the lava overflowed on all sides of the crater. Shortly after, the crater shut down, not to erupt again until several days later. How lucky I had been to witness that in person! 
You can see part of the recording on my Instagram or by clicking the embedded video on the right (or below if you're on mobile).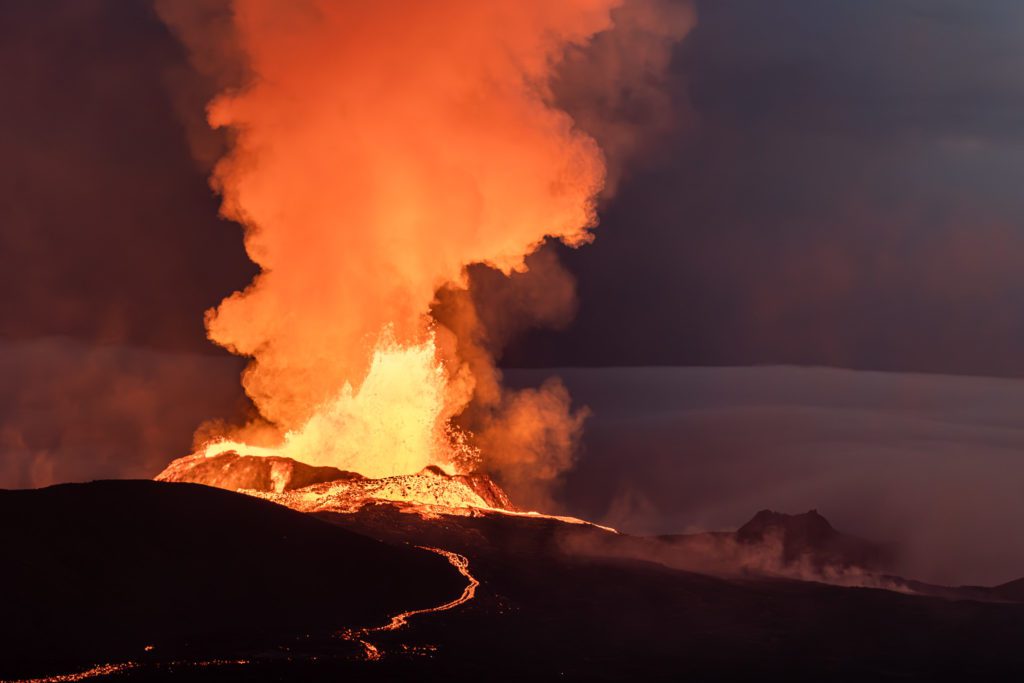 The Final Twist: A Cloud Inversion
After the crater had shut down again, I noticed the cloud inversion which had begun rolling into the valley. I decided to fly out once more before the fog would veil everything. I wanted to take a few photographs of the crater as it was coated in a beautiful orange colour due to the overflowing of the lava. I captured the subject of this month's "Behind the Shot" as a 3-part vertical panorama as one of the final images of that evening, before the cloud inversion engulfed everything. Just moments after I captured the photograph, the beautiful glow on the crater and its surroundings had begun fading away.
If you want to learn how to create drone photographs such as this one, you can level up your skills with my Nature Drone Photography e-book. This 99-page educational PDF is a complete guide for both aspiring & experienced nature drone photographers. In this e-book, I explore useful knowledge, tips, skills, techniques, compositional ideas and more. Use EBOOK20 as a discount code to get 20% off.
It was just before 2am when I finally headed back down the mountain. The glow had almost completely vanished and there was no sign of that surreal scene left to be discovered. Taking the chance, had paid off in a big way. This evening came so unexpectedly but I was incredibly happy to have been spontaneous instead of staying at home, wondering what might have been. Little did I know at that time that almost two years later, I would be commended for this photograph with a Silver award at the 2023 FEP Awards in Prague.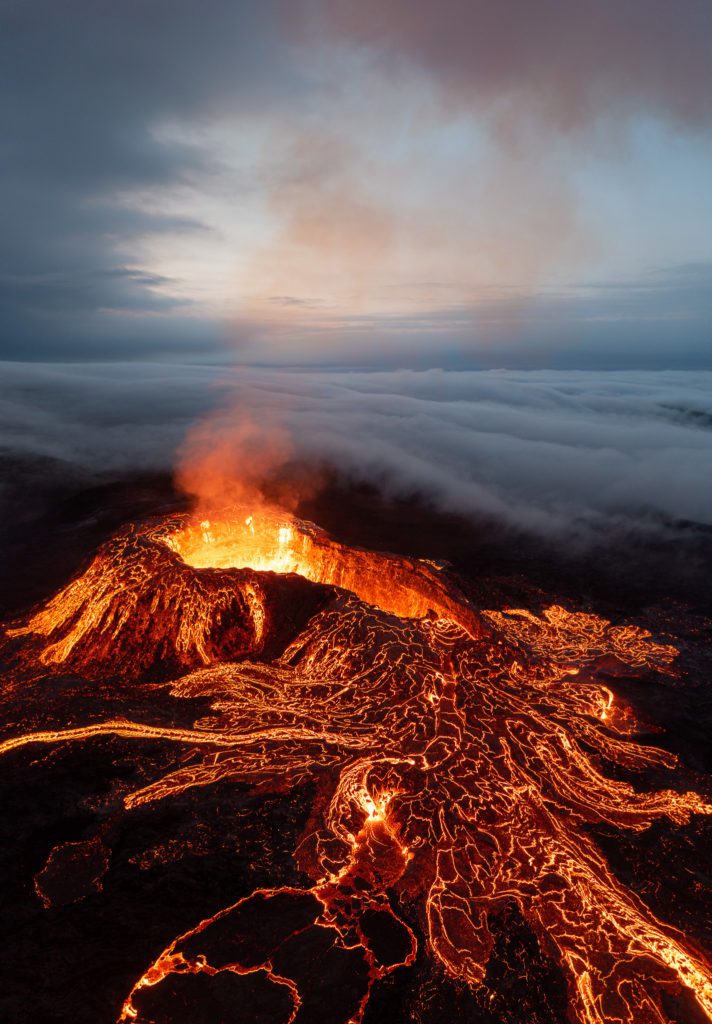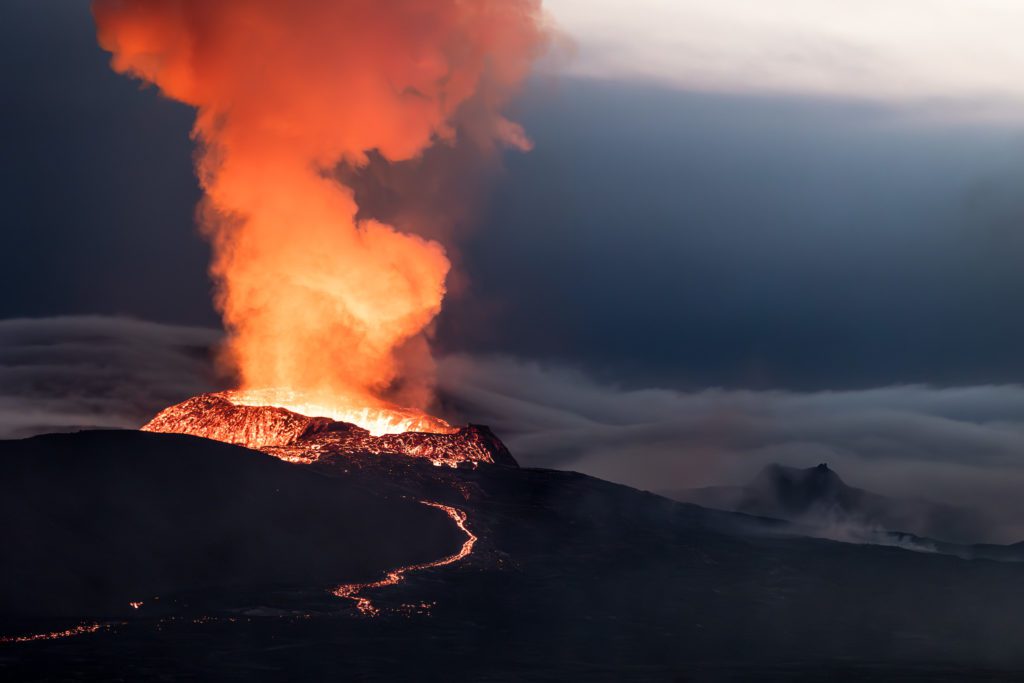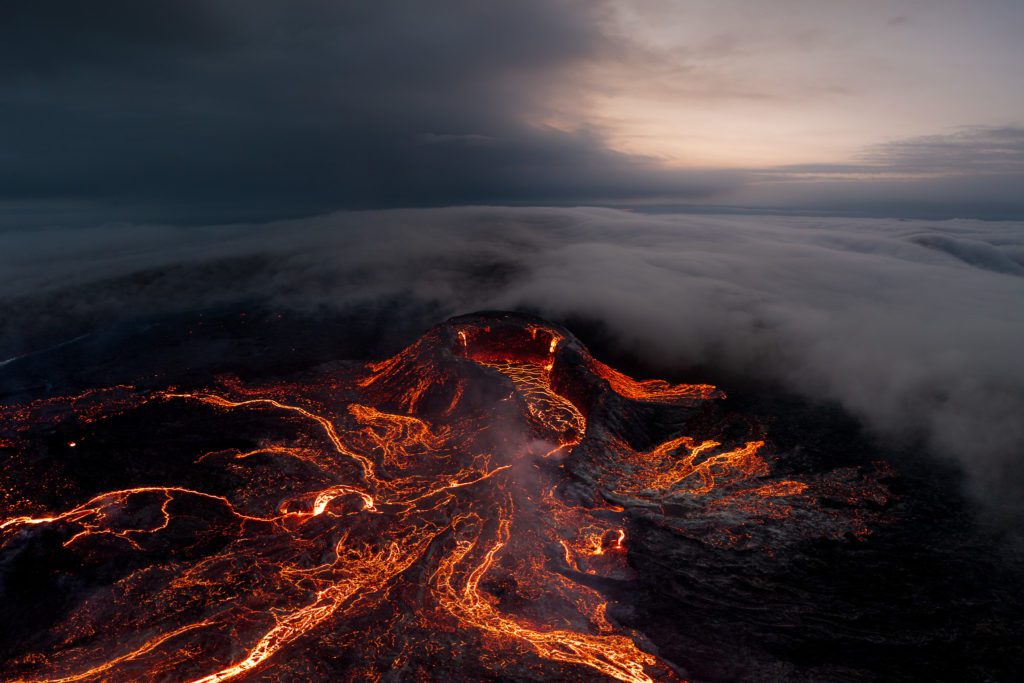 Spontaneity is Key
So why tell this story? While I can appreciate not everyone has an erupting volcano in their backyard, I believe this story serves as a way to show that sometimes you have to just step up and do it. Even though chances are slim, you have to stop wondering about "what could be" and try. It's important to be spontaneous in your photography and grab chances when they appear. Sure, you sometimes need a healthy dose of luck but without you acting on it, that luck does not do anything. Because after all, not trying means you're only guaranteed a failure.
Limited Prints Available
This month's 'Behind the Shot' Photograph was already available as a limited edition print in different sizes in my online shop. Each copy of 'Skýjasnúningur' is digitally signed and numbered. A number of them has already sold so if you are interested, don't wait too long!
Want to buy three fine art prints or more? My new Print Bundle contains your choice of three (or more) limited edition fine art prints – including this 'Behind the Shot' photograph. You pick the prints & sizes and get them at a discounted rate.
Support Jeroen's Work
As an independent photographer, Jeroen partially relies on your support to keep producing worthwhile content such as blogs, photographs, books and much more. If you want to support his work, it is possible to do so by buying his e-books & books, prints or calendars.
You can also sign up to the newsletter to stay up to date on new blog posts, projects, workshops and other interesting information. Additionally, signing up grants you a 10% discount on your next purchase.
Thank you for considering!