What Is 'Behind The Shot'?
To me, photographs are strengthened by having a good story to support them. At its core, photography is the art of capturing memories and those memories deserve to be told & shared. With this concept I want to tell people that story. I want to share which effort, struggle and sometimes luck is behind the publishing of that single image you might see in your social media feed. Every month I will be sharing one photograph which has a good story, a deeper meaning or a struggle behind it.
Mælifell. The name might not ring a bell to those who aren't nature photographers but I'm almost certain everyone has seen this green, almost perfectly cone-shaped, mountain. Swirling around it is a wide-spread collection of little meltwater rivers coming from the nearby glacier, which flow through the black sand. This contrast between black & green, life & death, gives the whole scene an alien vibe. It's an iconic location, which is tucked away deep inside the southern part of the Icelandic highlands. For many photographers, including me, it's a highly sought after photography location. However, the road to photograph Mælifell wasn't straightforward to me. Only on the third attempt did I finally get my first photograph of it. The quest to get that first shot is what this month's "Behind the Shot" is all about.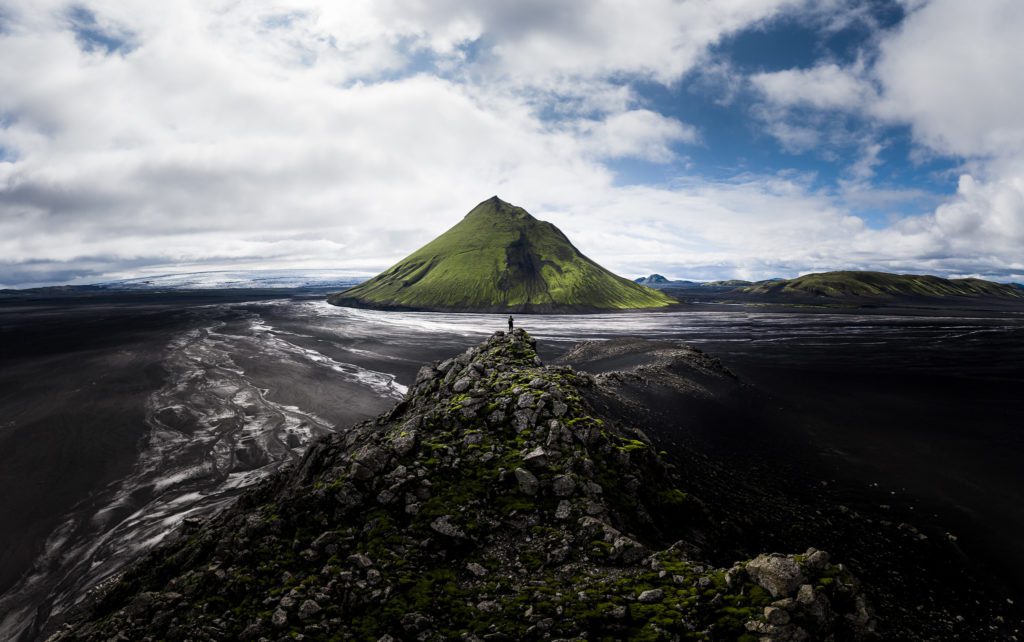 Attempt Number One
In the summer of 2017, I decided I wanted to start ticking some of the boxes on my bucket list of photography locations in the Icelandic highlands. Travelling in the highlands is very expensive as they are only easily accessible during the high season and require you to have a proper modified 4×4. Therefore I wanted to start modest by only travelling for an extended weekend. The plan was to explore the areas around Kjölur a bit (one of the F-roads crossing Iceland through the highlands) and afterwards drive around Fjallabak all the way to Eldgjá canyon and back. To top things off, I wanted to end the trip with a visit to Mælifell, a location that had been on my list for as long as I knew of its existence.
A few days before I was to embark on this adventure, it started raining pretty much non-stop until the day I was to head to Mælifell. This meant that by the time I arrived at the western bank of Hólmsá (the big river I needed to cross on my route) the water levels had risen to very high levels. After talking to a few horseback riders who were travelling in this remote area, I realised that the water level had increased to more than a metre. While contemplating whether or not to attempt the crossing, I noticed that my phone had no phone signal at the river. This meant that, if anything were to go wrong, there would be no chance to call for help. Therefore I wisely chose not to cross. It was a frustrating moment because I could literally see the mountain on the other side of the river. My trip was halted less than 10 kilometres from Mælifell. I turned around the car and drove back to the Ring Road – wondering when I could try again.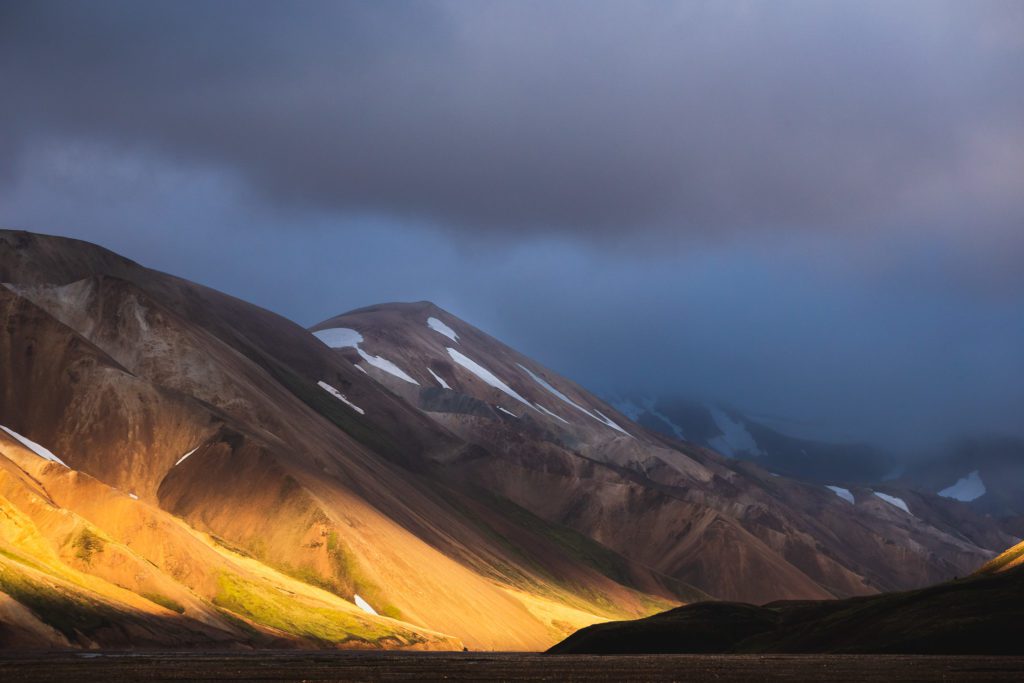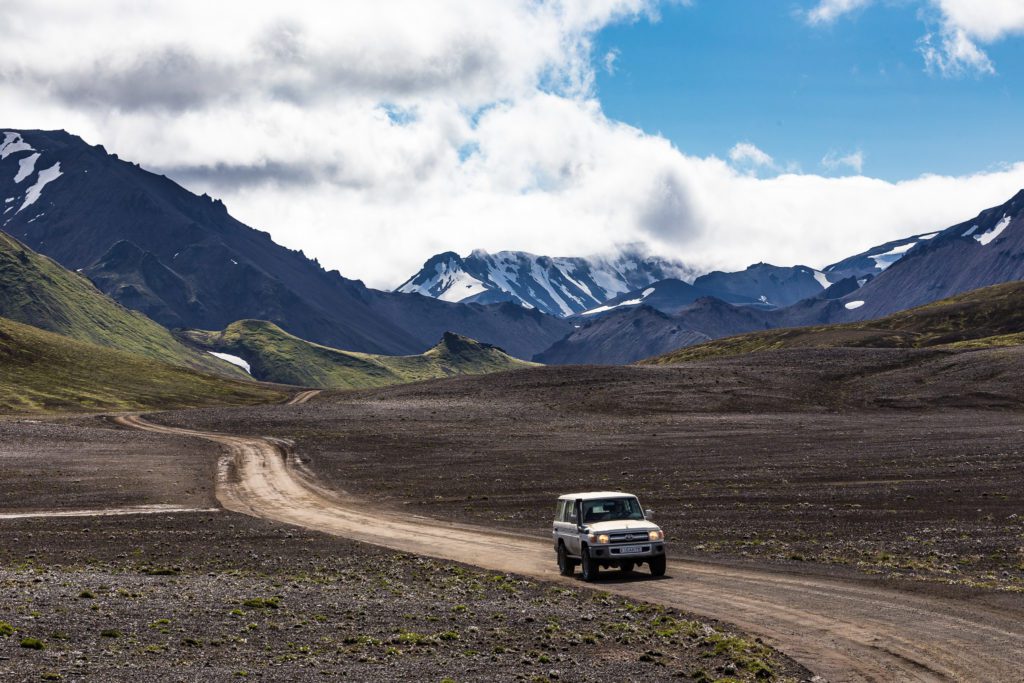 Attempt Number Two
A few years later, in 2020, I planned a 12-day adventure with a friend to explore the highlands in a lot more detail than I had been able to thus far. Because of the pandemic, rental cars and other tourism-related businesses had been struggling to get people to buy their services. Therefore, renting a big 4×4 had become very cheap compared to the years before. This had given me an unprecedented opportunity.
On day one of the trip, the goal was to approach Mælifell from the eastern side by driving behind the Eyjafjallajökull and Mýrdalsjökull glaciers. The weather looked promising at the start and this time I had found an easier route, with smaller rivers, in case the water levels would be too high after the rainfall earlier that week.
Unfortunately, as we got closer and closer to Mælifell the weather became moodier and moodier. After a few hours of driving, we finally arrived at the base of Mælifell. However, the visibility had gotten gradually worse and it had started raining heavily about an hour before we arrived at our goal. The cloud cover had gotten so low to the ground that you couldn't even see half of the mountain while standing next to it. In hope of the situation improving, we decided to kill some time by having lunch.
Unfortunately, it didn't improve at all and the conditions got even worse. We cut our loses for that day and continued towards the east. We crossed Hólmsá, which fortunately didn't have as much water in it as the first time, and continued on a small mountain road towards our destination for the day. In the early evening we reached the campsite where we waited for the bad weather to pass.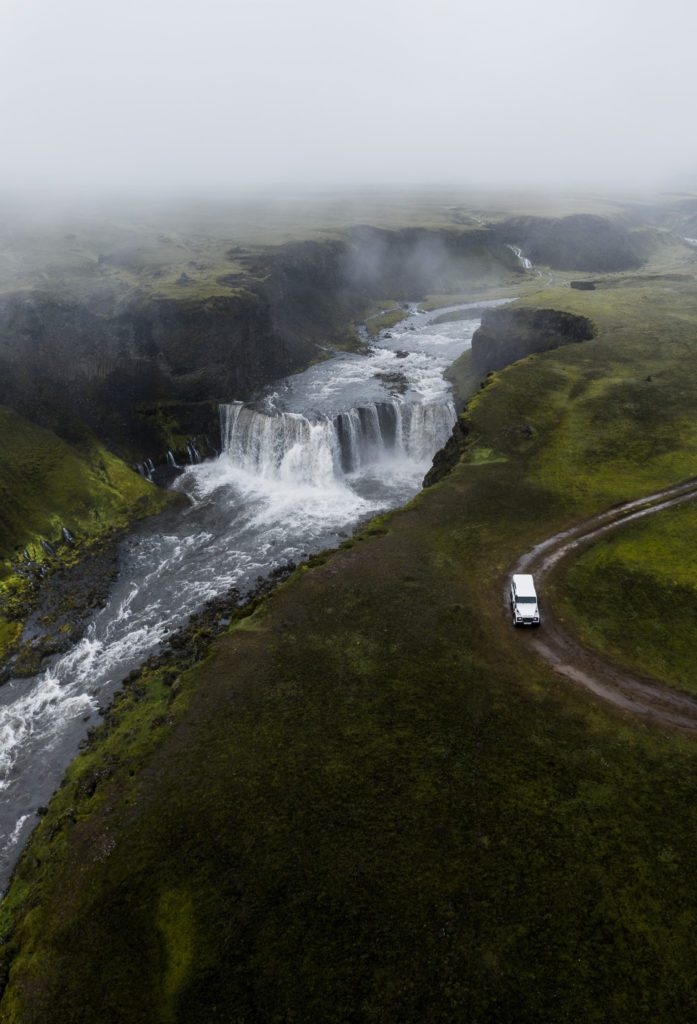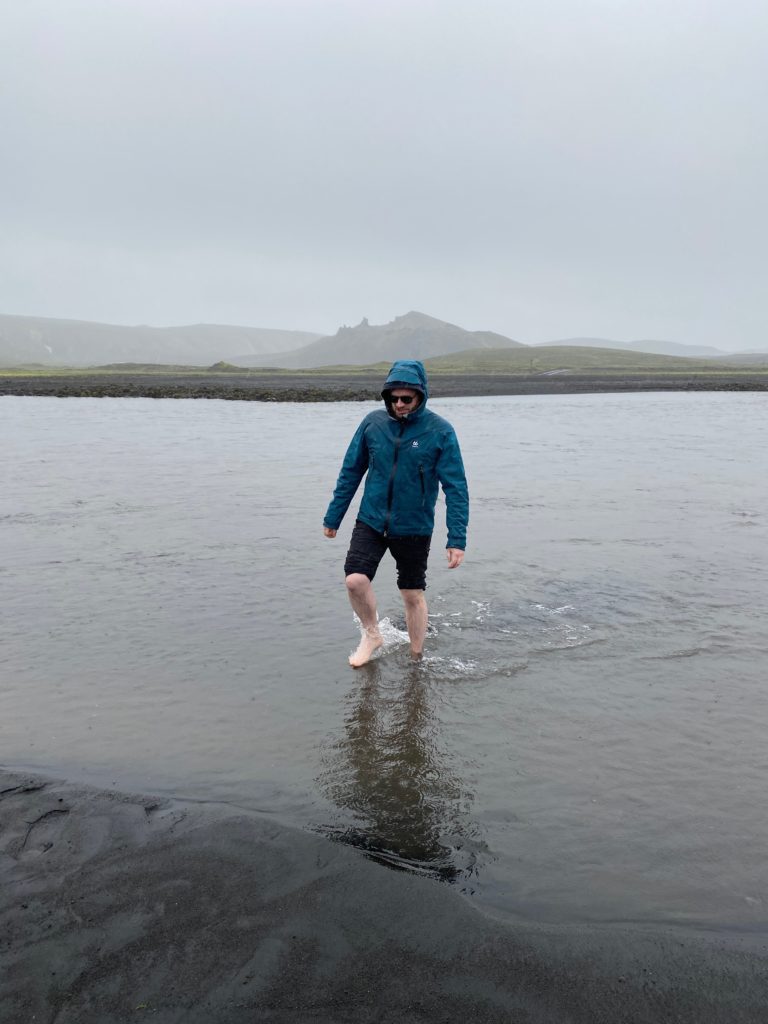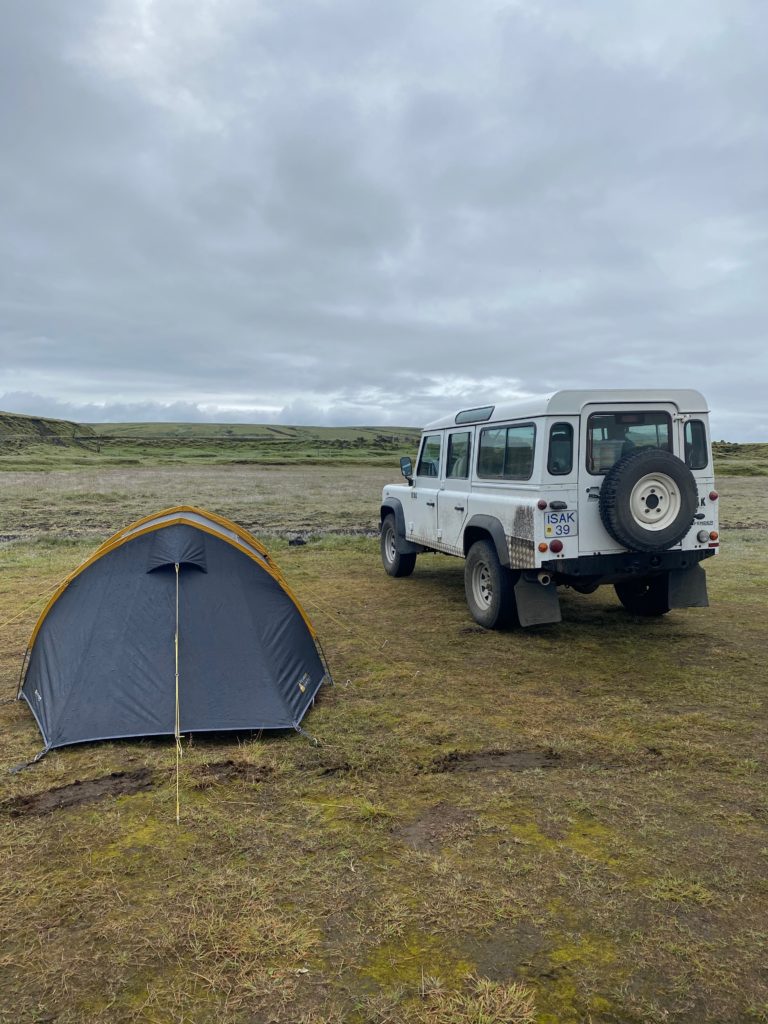 Attempt Number Three
The next morning, the weather conditions had improved significantly. The rain had finally subsided and the cloud cover had decreased. It felt like my goal was there for the taking. Later that day we crossed Hólmsá again and drove onto the black sand desert towards the mountain. Finally, I could see Mælifell in all its glory.
It was even better than I had imagined. Because of the heavy rainfall the day before there was a lot more water flowing through the desert, which created conditions I have yet to see again in this location. The meltwater swirling around the mountain lit up in the sunlight and all over the desert you could occasionally see rainwater evaporating from the sands. It was all I had hoped for and I was very grateful that attempt number three had finally been a successful one. My favourite shot of that moment, is one with an overview of the mountain, the swirling water and the glacier in the background.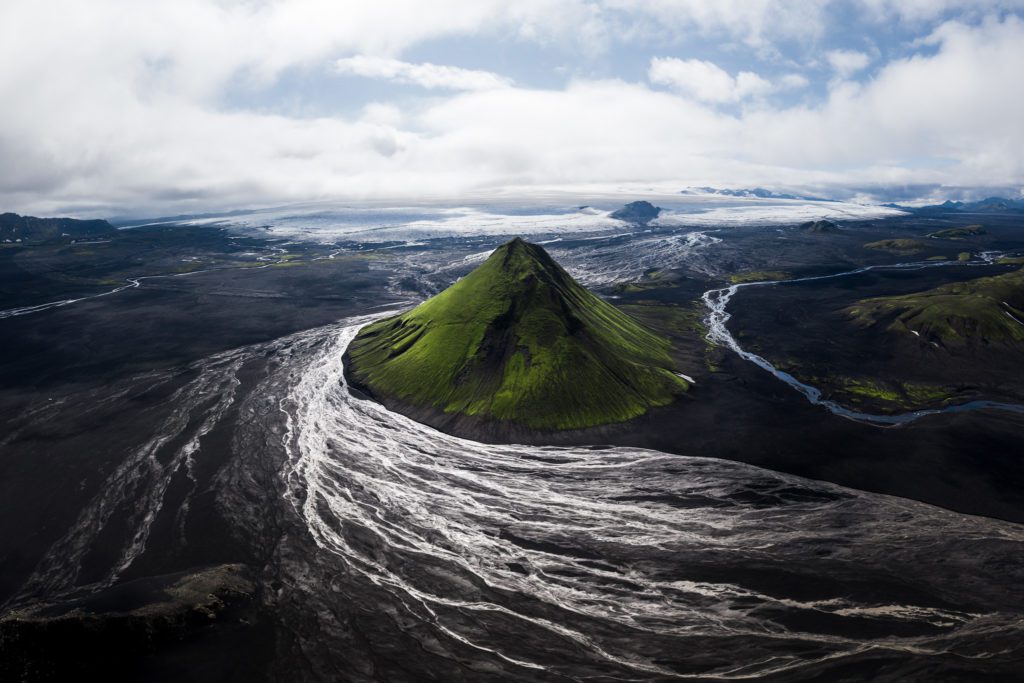 Something About Firsts
I have since revisited Mælifell a number of times. I was even able to see a truly magical sunset there on one of the photography workshops I guided. However, none of those visits ever came close, emotionally speaking, to that first successful attempt to photograph the mountain. There's something about "firsts", and the struggle to achieve them, which makes the memories attached to those photographs timeless.
Whether you experience even more unique or even more incredible conditions, that first time will always linger in your mind. This emotional value you attach to an image, because of a memory or a struggle, is what really makes a photograph to me. It's what photography is about and exactly what I want to show with my "Behind the Shot" series.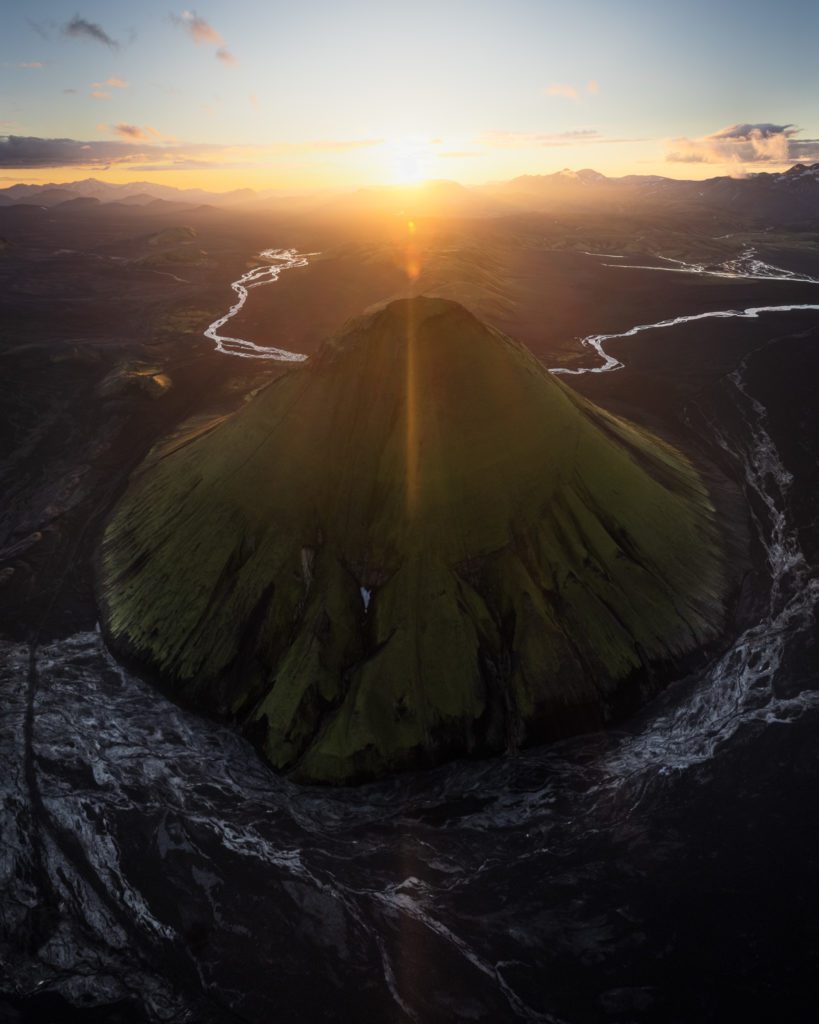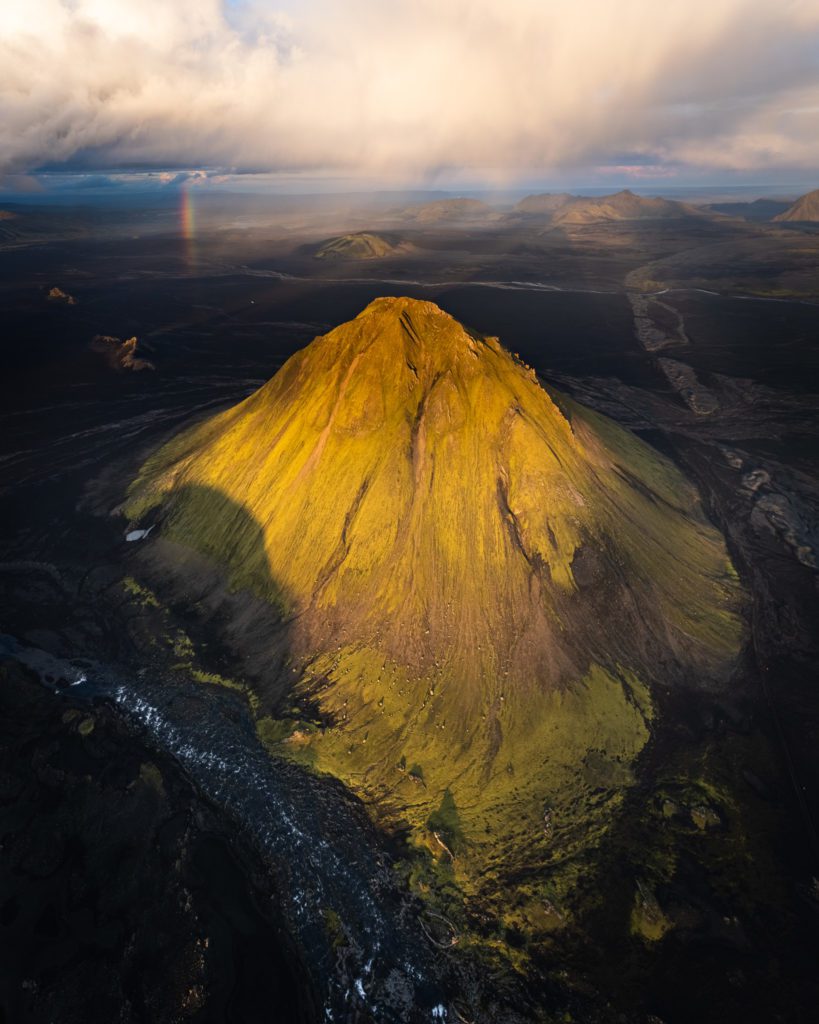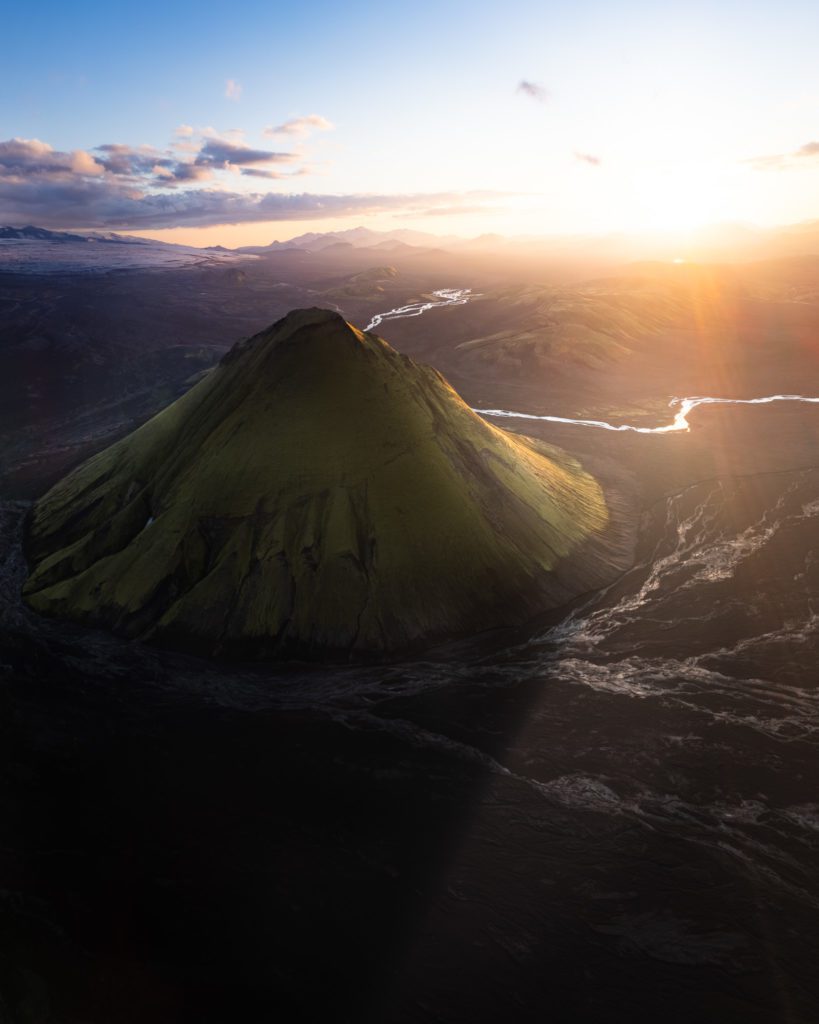 Limited Print For Just One Month
Each 'Behind the Shot' photograph is available as a limited edition print until the next BTS article releases in a month's time. This month's photograph, Mælifell, is available in only 20 A3 copies which are signed and numbered.
Want to buy three fine art prints or more? My Print Bundle contains your choice of three (or more) limited edition fine art prints – including this 'Behind the Shot' photograph. You pick the prints & sizes and get them at a discounted rate.
E-Books
Want to know how to get to Mælifell? Interested in learning more about how you can get the most out of your drone when photographing landscapes? Have a look at The E-Book Bundle! Use discount code EBOOK20 to get an additional 20% off.
Support Jeroen's Work
As an independent photographer, Jeroen partially relies on your support to keep producing worthwhile content such as blogs, photographs, books and much more. If you want to support his work, it is possible to do so by buying his e-books & books or prints.
You can also sign up to the newsletter to stay up to date on new blog posts, projects, workshops and other interesting information. Additionally, signing up grants you a 10% discount on your next purchase.
Thank you for considering!