Some time ago I planned a trip into the Southern Icelandic Highlands. The plan for the weekend was to explore the areas around Kjölur a bit (one of the F-roads crossing Iceland through the highlands) and afterwards drive around Fjallabak all the way to Eldgjá canyon and back. Ambitious plan but perfectly doable (if you're up for driving some kilometres).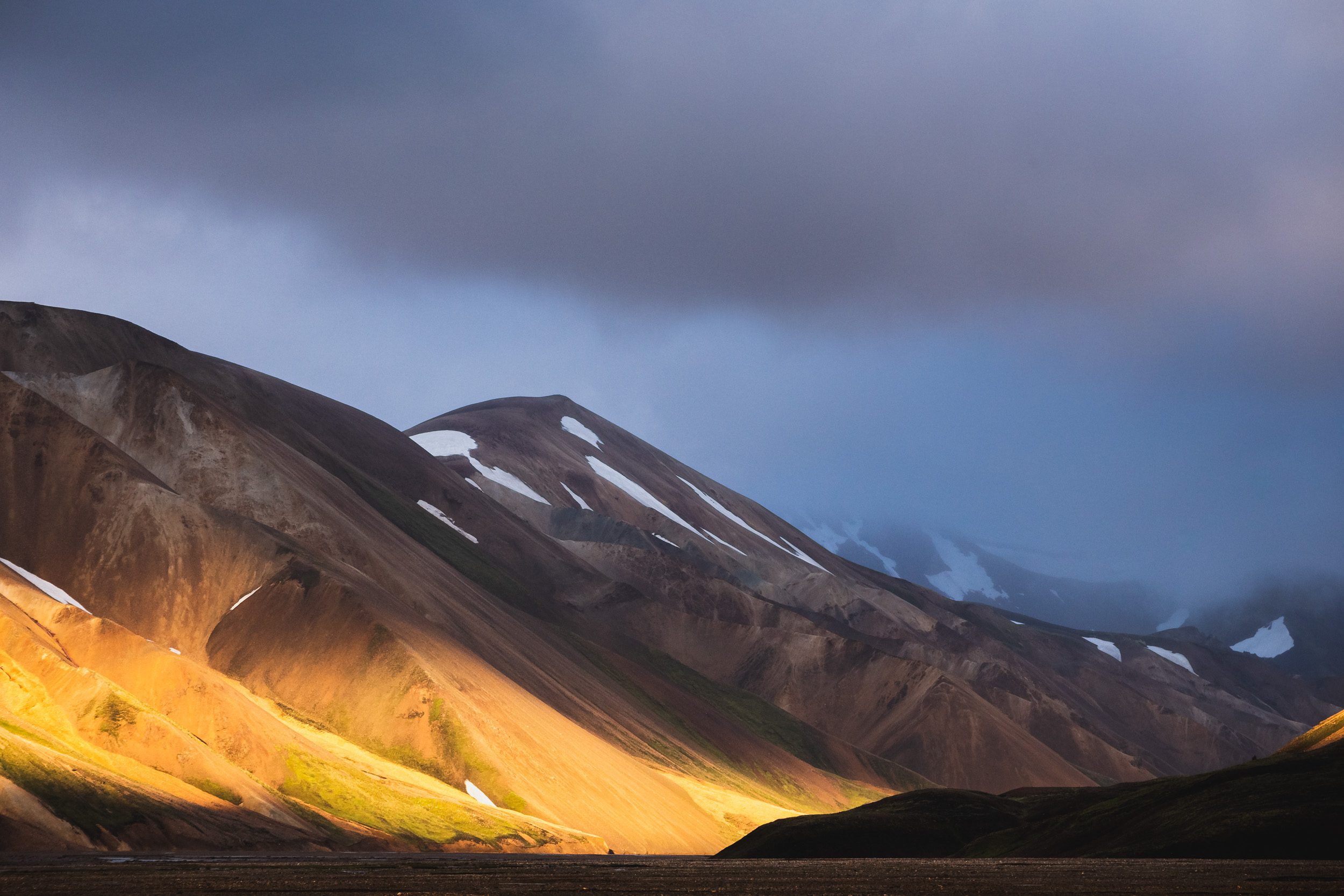 Kjölur
Friday evening I departed from Reykjavík towards Hveravellir, a small but beautiful geothermal area along the Kjölur F-road. The road there takes you past Geysir and Gullfoss before changing into a gravel road that's only allowed for 4×4 vehicles (please don't drive your Yaris up there).
Kjölur is a road the connects South Iceland with North Iceland, goes through the highlands and in between 2 glaciers: Hófsjökull and Langjökull. It is truly an amazing road to drive. The road itself is not in such a bad (or fun) shape anymore (probably improved a bit for the more frequent tour bus traffic) but the scenery you get along the route is incredible. You get to experience a moon-like environment with snowy mountains in the distance and a glacier or 2.
Tip: if you drive the road during the evening there's hardly anyone else there in this desolate environment.
Hveravellir is more or less located in the middle of Kjölur. It's name literally means "hot spring fields" which, of course, refers to the numerous (and beautiful) boiling hot springs in this highland oasis. It's quite the extraordinary place with some of the most beautiful & oddly shaped boiling water pools. The geothermal area is not very large but what it lacks in size, it makes up for with it's beautiful formations.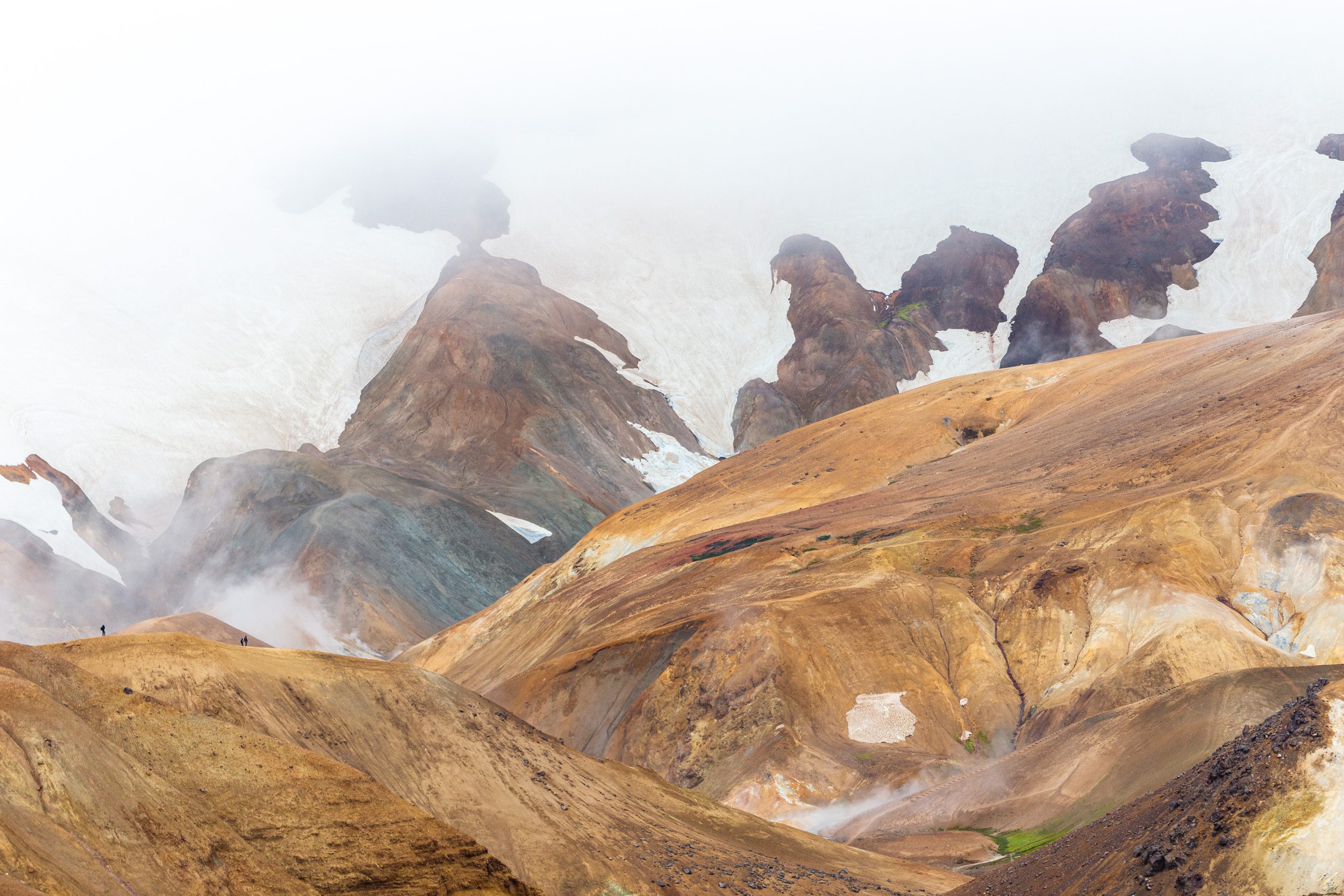 Where the mountains are on fire
After spending the night at the Hveravellir campsite, I decided to drive south again along Kjölur and head for Landmannalaugar (the destination for Saturday). When driving back south, you can make a short detour to Kerlingarfjöll. Up in this mountain range there is a beautiful and huge geothermal area. The drive there is also quite spectacular. The road doesn't only ascend to an incredible height but you also see some beautifully coloured canyons that flow the geothermal water down the mountains.
Unfortunately, when I arrived at the top, there was so much fog in the mountains that you could barely see the geothermal area. On top of that, there was so much wind that it was quite unsafe to hike around the very steep hills. It's a really nice area to visit but, like everything, not worth it if it's too tricky to walk around. I did manage to take a few shots to show the scale of the place. Better luck next time… Fortunately I have been to Kerlingarfjöll before.
After descending from the mountains, I drove back down Kjölur towards Flúðir for a short snack stop. From Flúðir I headed east towards the Fjallabak area but before going there I took a shortcut to Gjáin and Háifoss.
Exploring part of Þjórsárdalur
Gjáin is really some kind of oasis in the area. It's basically a really tiny valley with a few waterfalls, lush rivers and an abundance of green (or yellow/orange/red in autumn). It's a really nice place — especially to relax. You can also drive part of the way in a normal car and finish the last kilometre or two on foot.
After following the road on from Gjáin towards the east, you get to a farm. From there you can drive up a really bumpy road following the power lines, which eventually takes you to Háifoss.
Háifoss is one of the highest waterfalls in Iceland and is approx. 122 meters high. This waterfall is just amazing and, if you have some extra time on your hands you can hike down into the canyon to the base of the waterfall. Right next to Háifoss you can also find Granni (which means neighbour in Icelandic) — a little less water and height but nonetheless a nice waterfall.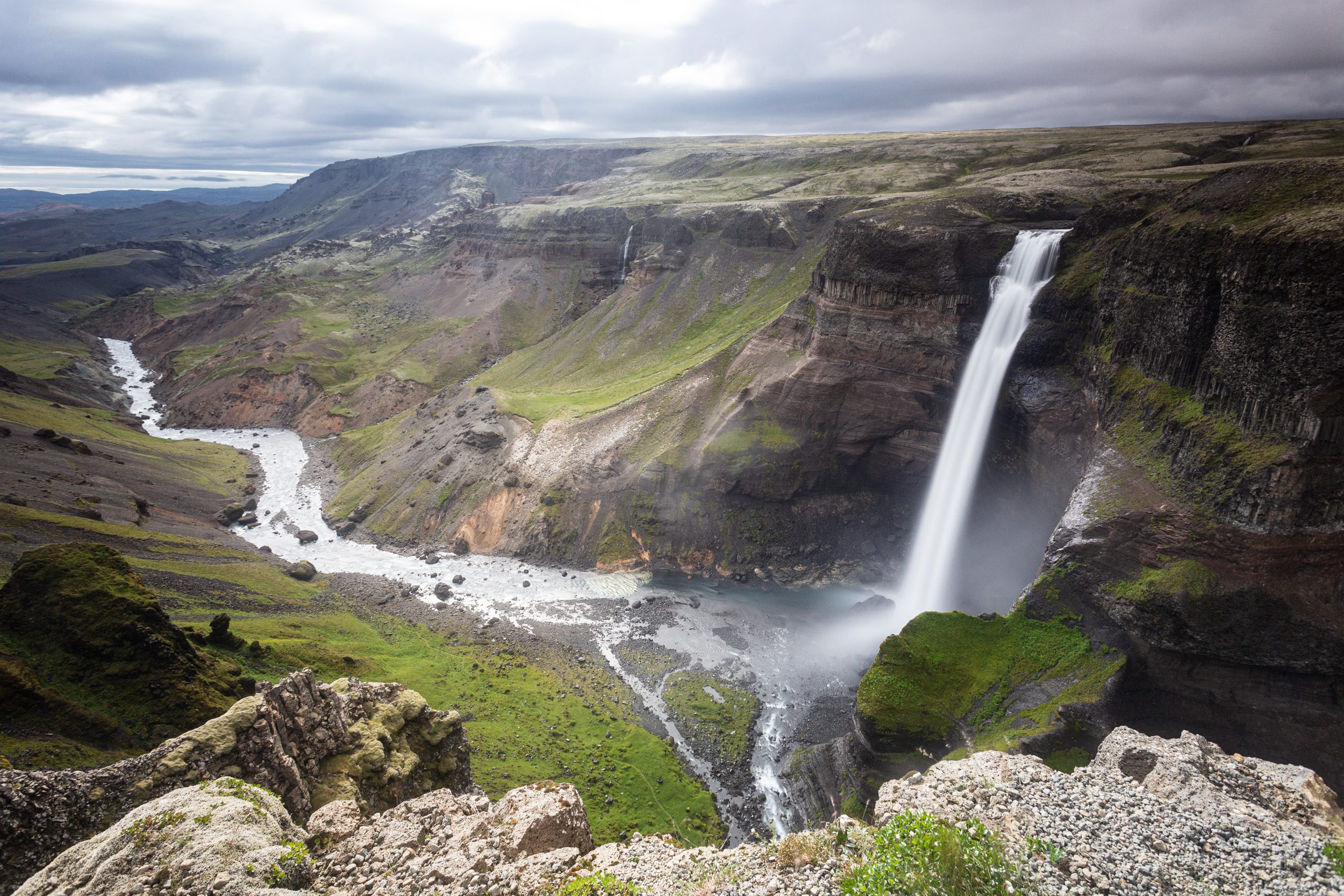 The road to Fjallabak & Landmannalaugar
After visiting Háifoss, it was time to slowly head to Landmannalaugarin the Fjallabakarea. There are two ways to go there but given the time I had left (I wanted to be in Landmannalaugar for sunset), I decided to the take slightly faster northern route. The road there is for a big part tarred so it's faster.
Once I got to the 4×4 part, I turned into a little child again. Driving through every mud pool is just too much fun. The area you drive through is quite surreal. The area is very volcanically shaped because of the nearby active volcano Hekla. The colors, lava rocks and odd shaped mountains are quite the sight. On the way I made a short stop at Frostaðavatn, where you not only have a good view over one of the smaller craters in the area but can also see a solidified lava flow descending into the lake.Just around the corner from the lake is Landmannalaugar, known for its hot springs but also its coloured mountains. During a summer sunset you can also really see the gold-coloured mountains surrounding the area of the campsite. Just beautiful.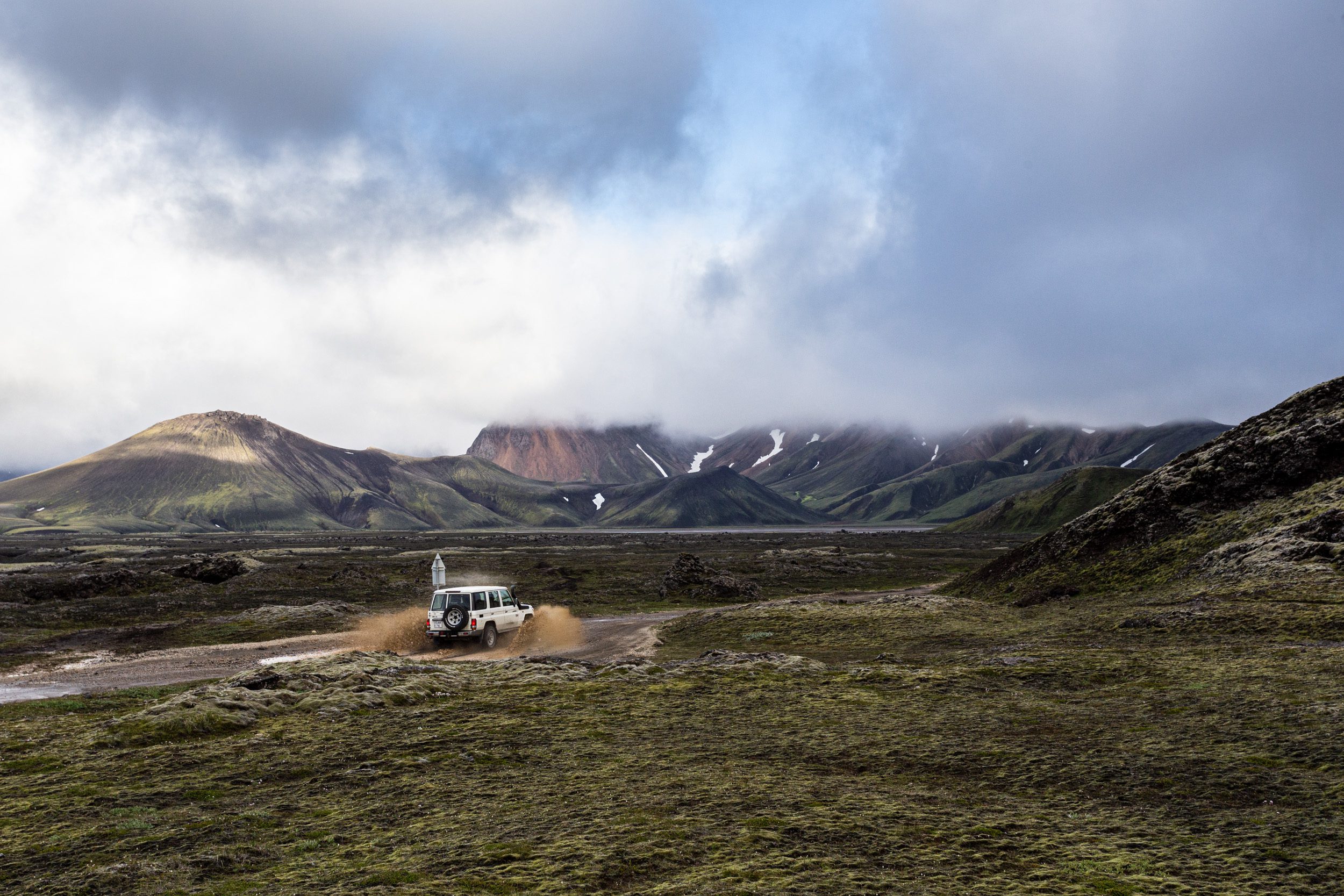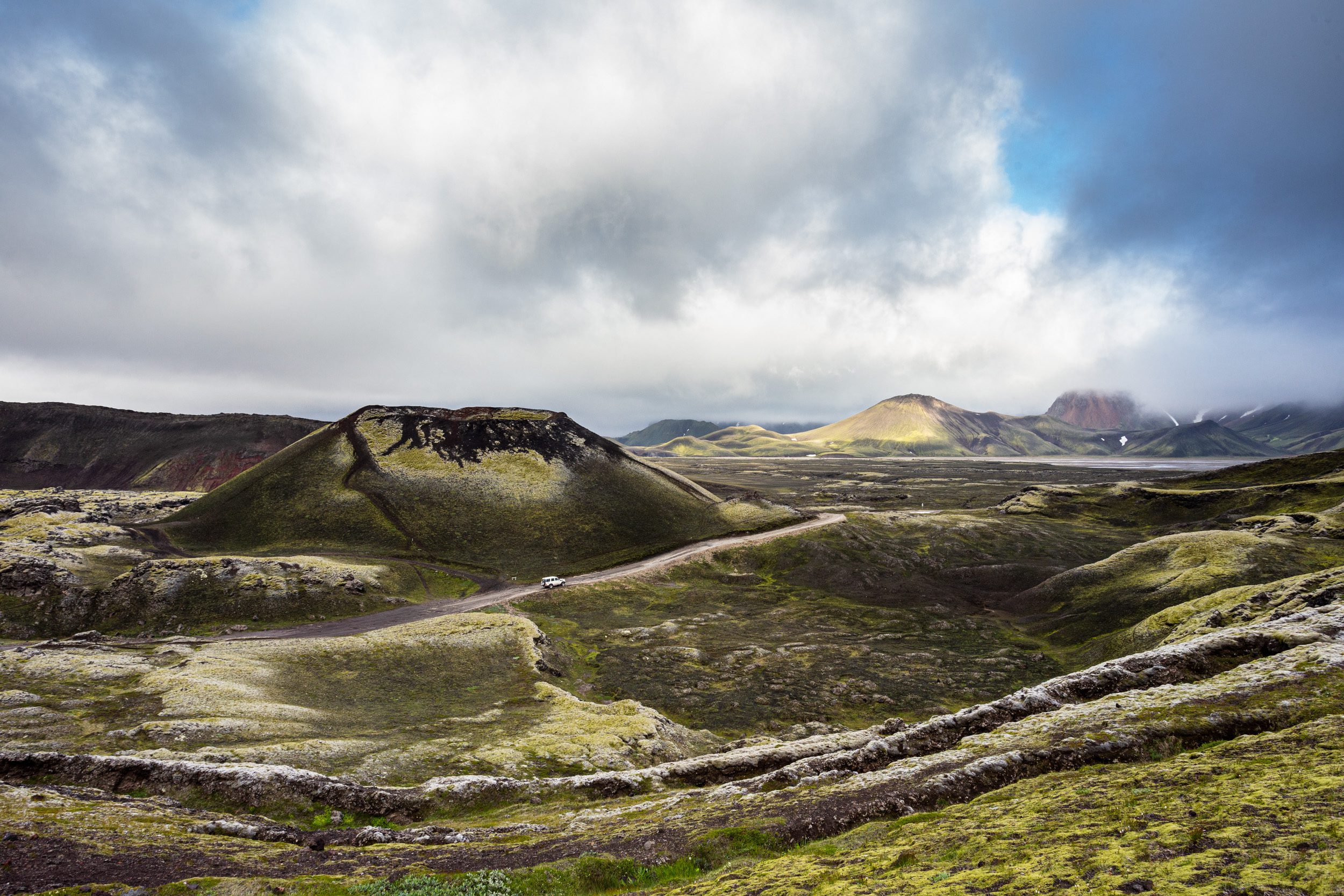 Fjallabak Nyrðra & Eldgjá
On Sunday it was time to explore a part of Iceland I had never seen before: Fjallabak. Fjallabak means "behind the mountains". The area is well known for its lush green hills and many river crossing. I can tell you: it's A LOTof fun to drive this road although you definitely need some kind of bigger 4×4 (sorry Jimny rentals). Most rivers are not too deep on this route but river crossings can be tricky elsewhere in Iceland if you don't really know what you're up for.
Some advice: if you're not sure about the river crossing (Is it too deep for my car? Is the current too strong?), just turn around. You might drown your car, get stuck or worse.
The first part of our route is called Fjallabak Nyrðra (or Fjallabak North). The road takes you from Landmannalaugar to Eldgjá, a volcanic canyon. I can't even count how many rivers you have to cross on this route (probably close to 20) and the scenery is just stunning. There are not a lot of "special" places you can stop at but the whole area is just incredible. And to top it off in the end: the descend towards Eldgjá where you have a big view over the whole area. You can Vatnajökull, the ocean and Mýrdalsjökull from one viewing point (on a clear day that is). Eldgjá, or "fire canyon", is located at the end of the Fjallabak Nyrðra route. It's a canyon that came to be after an eruption that lasted close to 3 years. Inside the canyon you can find Ófærufoss, a 2-step waterfall. The hike to and from the waterfall is about 4 kilometres long on an easy trail. I can highly recommend going to the waterfall and also going all the way to the top of it, where they have installed a viewing platform.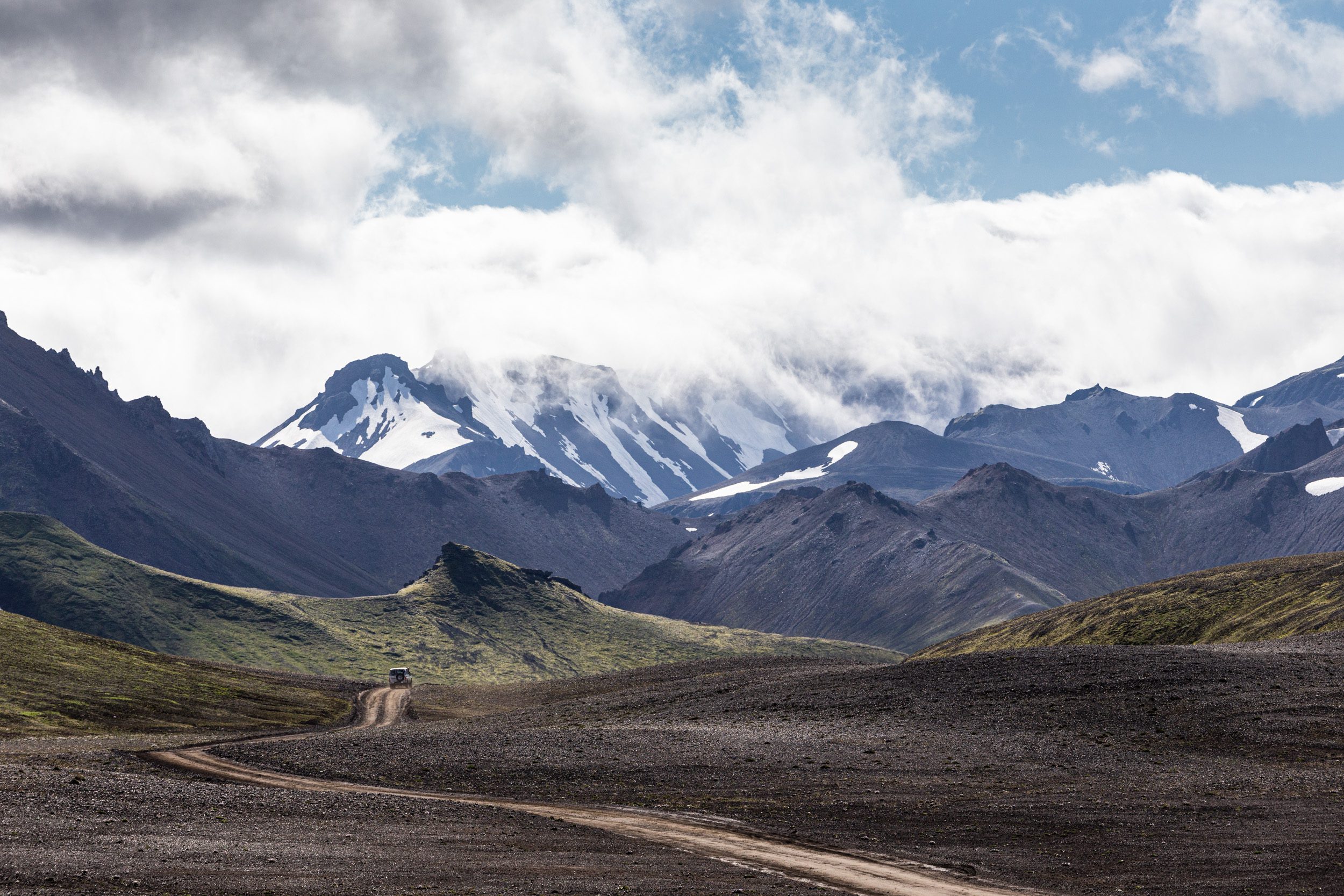 Fjallabak Syðra
After I had visited Eldgjá, the plan was to drive Fjallabak Syðra (the southern route) which goes north of Mýrdalsjökull and Eyfjajallajökull. It eventually crosses with the Laugavegur trail where you can drive another road back to civilisation. First we drove the Álftavatnskrokur where I had to cross one challenging river. After that I got to the actual Fjallabak Syðra road. Unfortunately, after about 2 kilometres on this road, I came across a river, called Holmsá, that was just too dangerous to cross at the time I was there. Mind you: it had rained a lot the days before so the water levels were quite high everywhere. The fact there was absolutely no cell coverage there made me decide to turn the car around and drive the shortest way to the Ring Road.
On the way back to the Ring Road, I saw a tiny sign pointing to a waterfall called Axlarfoss. It's only a short detour so I decided to have a look. This waterfall is located on the river I didn't cross and tumbles down into a small canyon. If you're in the area and spot the sign: go there!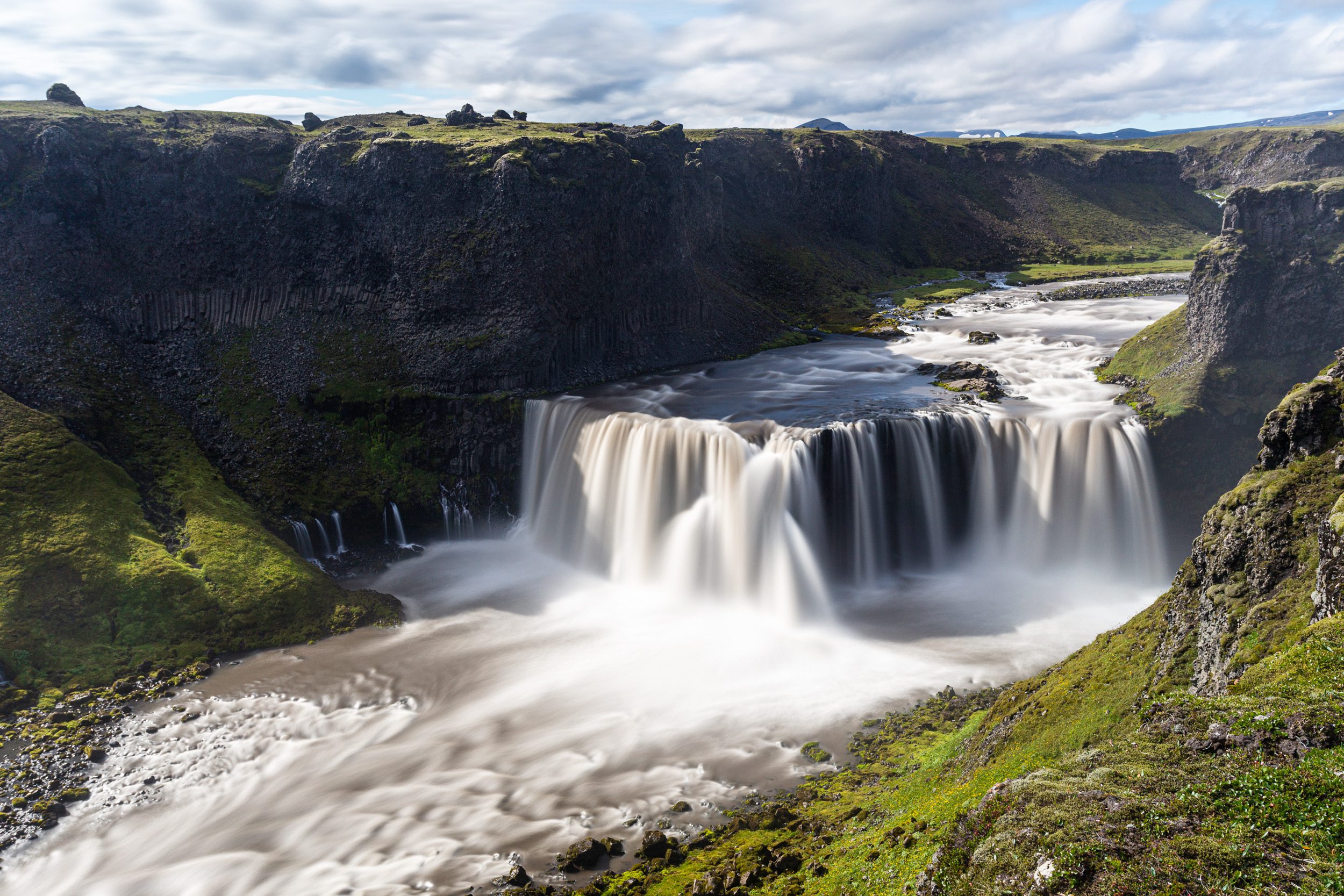 Time to head home again
The visit to Axlarfoss was also the last stop on my weekend trip to the highlands. Unfortunately, because I was unable to cross the last river, I had quite the drive back ahead of me. The road we were on (and the only one going out of the highlands), lead me almost to Kirkjubæjarklaustur. Although this was a minor thing after an awesome weekend like that!

Support Jeroen's Work
As an independent photographer, Jeroen partially relies on your support to keep producing worthwhile content such as blogs, photographs, books and much more. If you want to support his work, it is possible to do so by buying his e-books & books, calendars or prints.
You can also sign up to the newsletter to stay up to date on new blog posts, projects, workshops and other interesting information. Additionally, signing up grants you a 10% discount on your next purchase.
Thank you for considering!