Last summer was packed with photo workshops for me. A lot of those photo workshops take place in the desolate centre of Iceland: the otherworldly Highlands of Iceland. While I did a few private workshops in July, I also worked together with other established landscape photographers. In early August, I set out to explore the Icelandic Highlands with Mads Peter Iversen during a photo workshop focused entirely on exploring some of my favourite areas of Iceland in the Southern Highlands. How did it go? Let's find out!
Interested in joining us for the 2024 edition of Highlands of Iceland (with Mads Peter Iversen) photo workshop? It's now possible to sign up! Check out this dedicated page for all the information.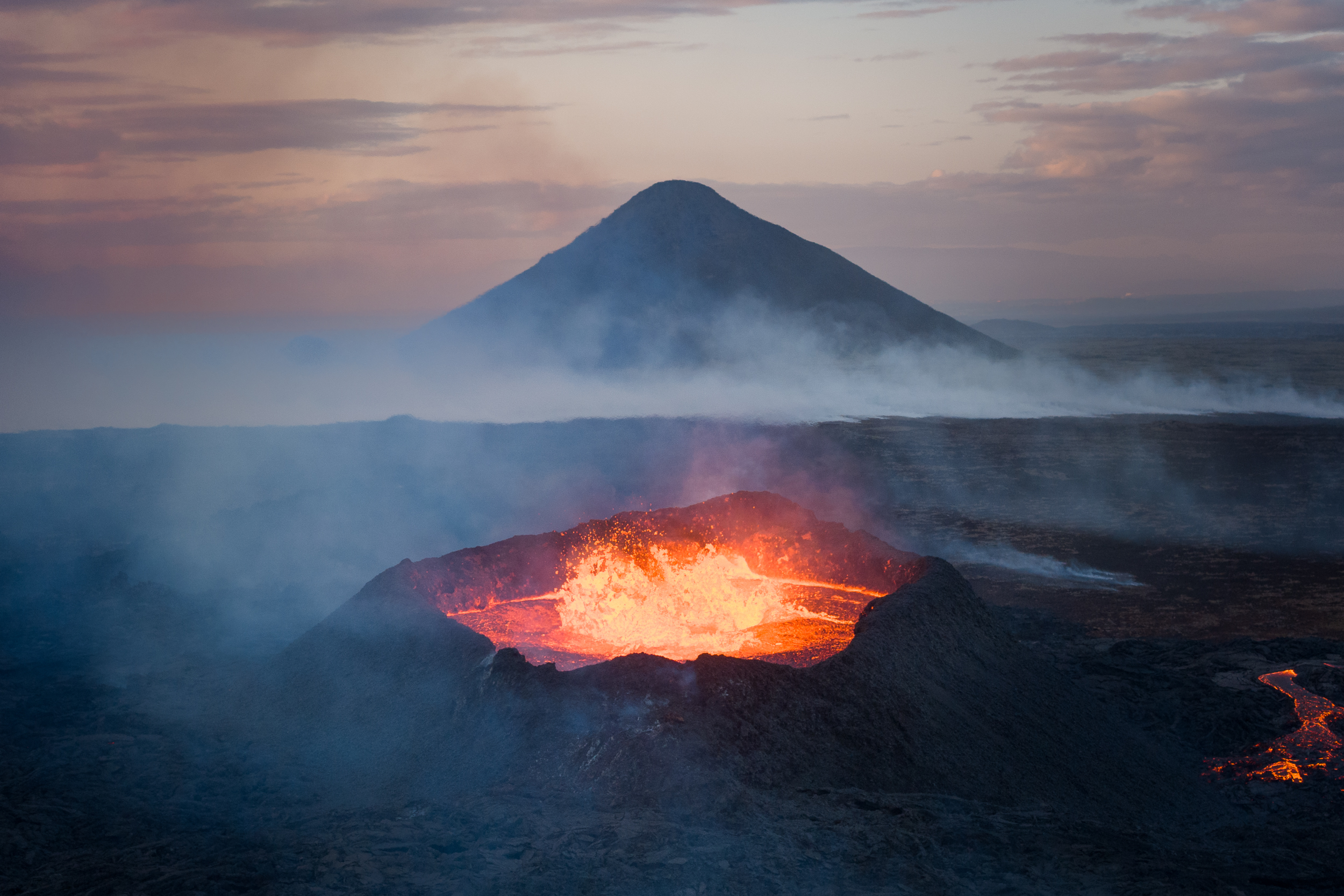 Photo Workshop Report
This photo workshop started off in a rather unusual way. For the second time, a photo workshop together with Mads coincided with an accessible volcanic eruption in Iceland. The eruption at Litli-Hrútur, which had been ongoing for a few weeks, seemed to be on its last legs. Because half of the group had not seen an eruption yet, we decided to split the group in half on the first day. The ones that had already seen the eruption, went with me to begin the workshop in the highlands, while the others went with Mads to visit the eruption. A perfect compromise which allowed everyone to do what they most desired at that time. And… It was great we did, because by the time the workshop was over, the eruption was too.
After we all met up again at our first hotel in the evening of the first day, we could begin our journey to explore this natural and untouched wilderness. Because of how this workshop is organised, we have a lot of flexibility in the schedule so we set out to the remote geothermal area of Kerlingarfjöll on the second day instead of the first.
As it goes with these Highlands photo workshops, almost everyone brought newly purchased drones. During the workshop we focus a lot on drone photography as we visit locations which are vastly more impressive from an aerial perspective. It's the perfect trip to hone your drone skills, even if you start with zero experience. On one of the first evenings, we got incredibly lucky with a short, but stunning sunset at one of the highlight locations during this first part of the trip. This also turned out to be the last good sunset opportunity we got.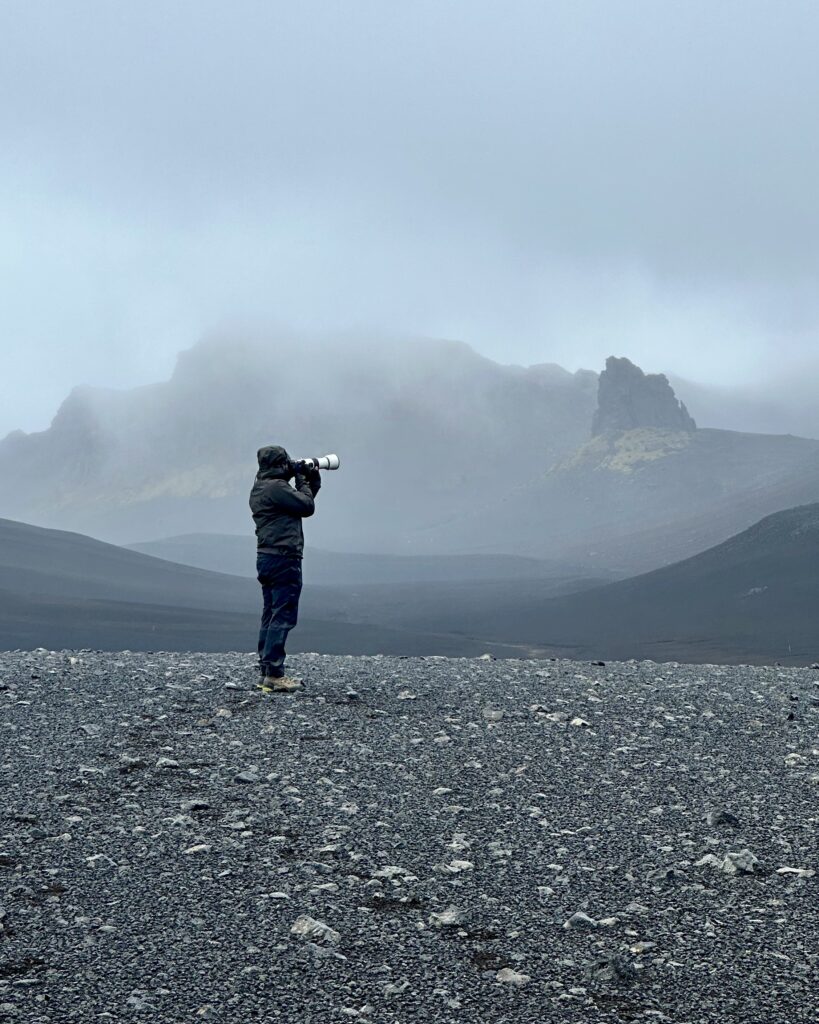 Roughly in the middle of the workshop, we drove through the highlands to explore the southern part. While we did get some good weather conditions at first, we were met with rough rainy conditions on the last two. This meant visibility was very poor. However, based on the forecast, we did manage to find some places with sufficient cloud clearing to shoot at least a few locations in stunning moody conditions before the rain unavoidably set in. If you have been following my work for a while, you know that I love those conditions in the Highlands. This remote, barren and desolate landscape really shines bright when the weather conditions make it feel mysterious and moody. Due to the rain, we returned early to the guesthouse where we spent our downtime on editing the shots we already managed to capture. On the last day, before returning to Reykjavík for our goodbye dinner, we made a short stop in a unique café to have some of the best lamb soup Iceland has to offer!
In the end, every participant walked away with a lot of amazing photographs and, even more importantly, great experiences from this adventurous photo workshop.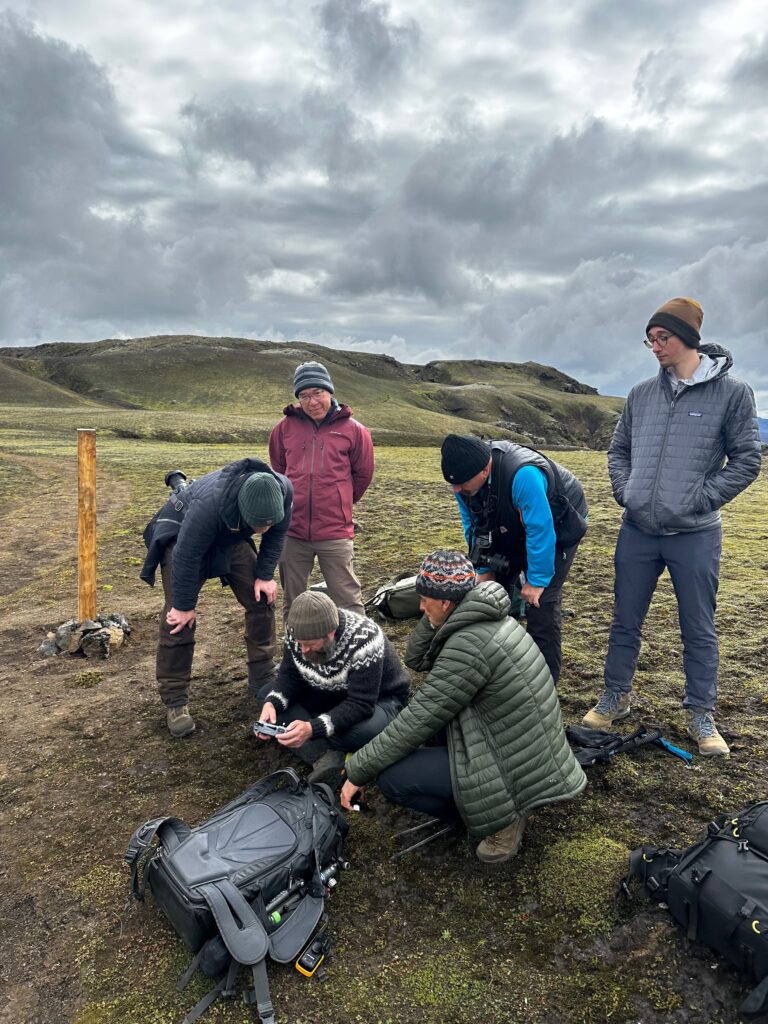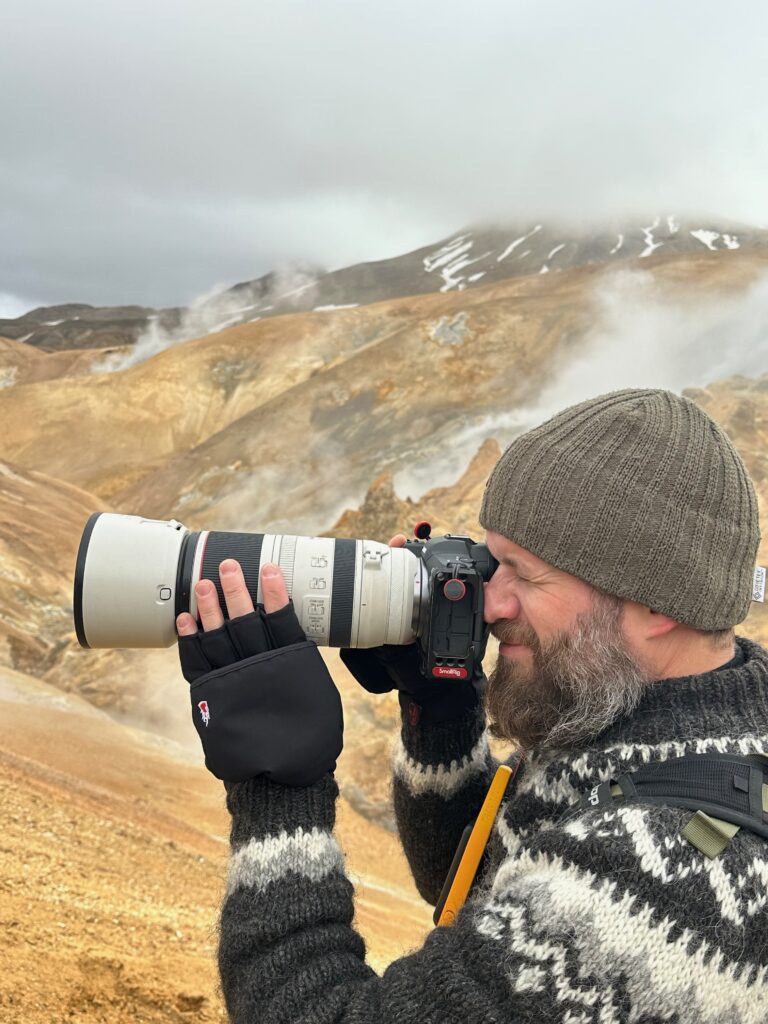 What a wonderful trip! The Icelandic Highlands are quite unlike anywhere that I have been before and unique photographic opportunities abound. Jeroen and Mads were fantastic guides, thoroughly professional, knowledgeable, friendly and couldn't do enough to make the trip a success. There are so many places that I want to visit that I seldom go back to the same place twice but this time I will have to make an exception! Highly recommended!
Chris B.
Very well organized and we visit some really cool places in the Highlands of Iceland workshop. Both Jeroen and Mads were great workshop leaders!
Dan F.
I had the pleasure of attending a photography workshop in the highlands of Iceland in early August with Jeroen and Mads, and it was an absolute delight! These exceptional photographers are also fantastic teachers and incredibly fun to be around. The workshop was not just focused on photography techniques but also emphasized the significance of culture, nature, and the history of our surroundings, which greatly influenced our photography skills.
Throughout the workshop, we were fortunate enough to be taken to breathtaking locations, where Jeroen and Mads, with their extensive knowledge of the area, guided us to capture some truly once-in-a-lifetime shots. They were generous with their tips, support, and praise. As an amateur photographer this truly helped which helped boost my confidence. They never prioritized their own point of view or compositional skills over ours, making us feel valued and respected.
In the Highlands, where conditions can be harsh and potentially dangerous, Jeroen and Mads ensured our safety was always the top priority. They catered to our individual needs, creating a secure and comfortable environment for all the participants. The workshop strikes a perfect balance between seriousness and enjoyment, as we learned the technical skills required to master hand held , tripod, and drone photography while having a great time and sharing many laughs.
I highly recommend this photography workshop with Jeroen and Mads, as well as any other workshop they offer. Their expertise, genuine passion, and dedication are unmatched, and I eagerly look forward to participating in more of their workshops in the future ( I have already booked two more ) . Thank you, Jeroen and Mads, for an unforgettable experience!
Arthur C.
My Five Favourite Images
Right before this photo workshop began, I damaged my DJI Mavic 3 Pro at the volcanic eruption at Litli-Hrútur. I suspect acidic gas damaged the main camera lens as none of the other lenses had any damage. Because I did not want to leave on this photo workshop without another drone, I purchased the DJI Air 3. Therefore, all of the drone images in this list were taken using that drone.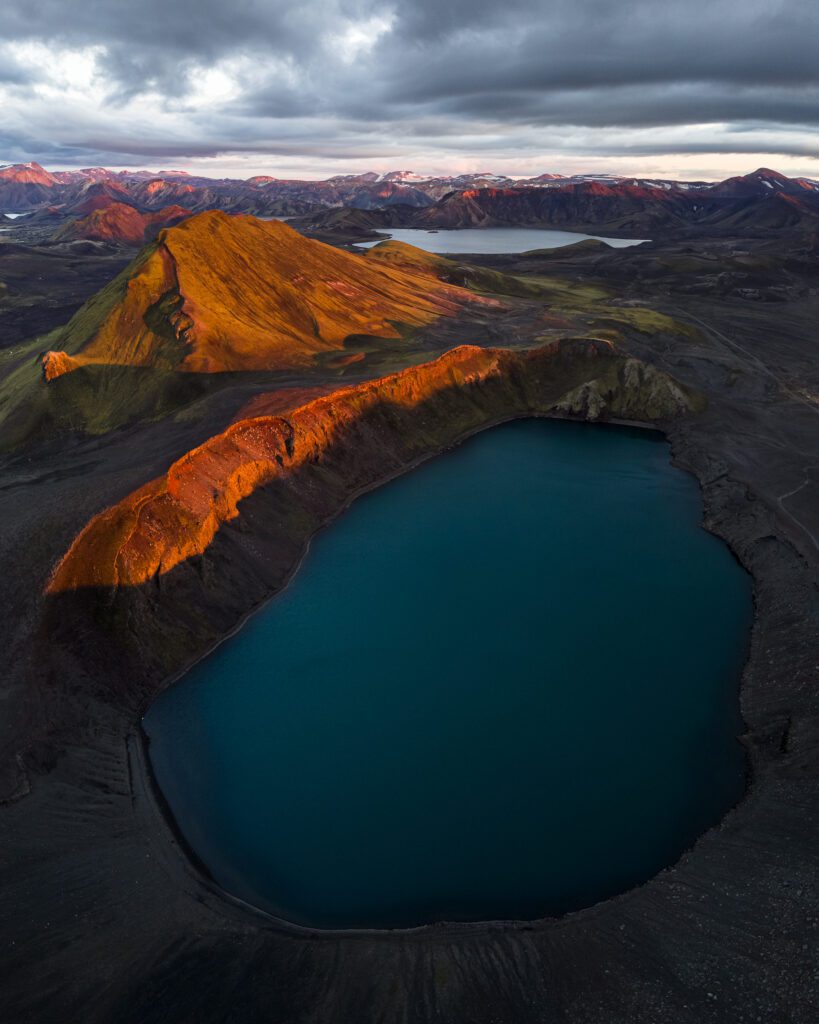 We only got lucky with one great sunset session during this workshop but we definitely took the opportunity given to us. Vibrant colours in an epic location. What more could you ask for?
This image was taken using the DJI Air 3 (https://geni.us/jvn-djiair3).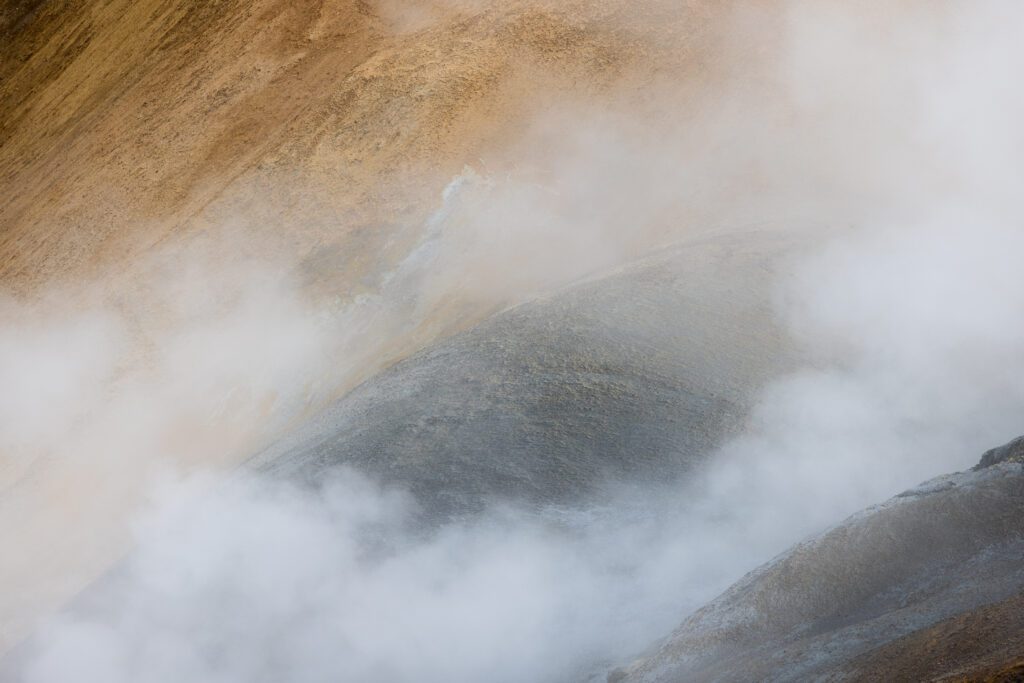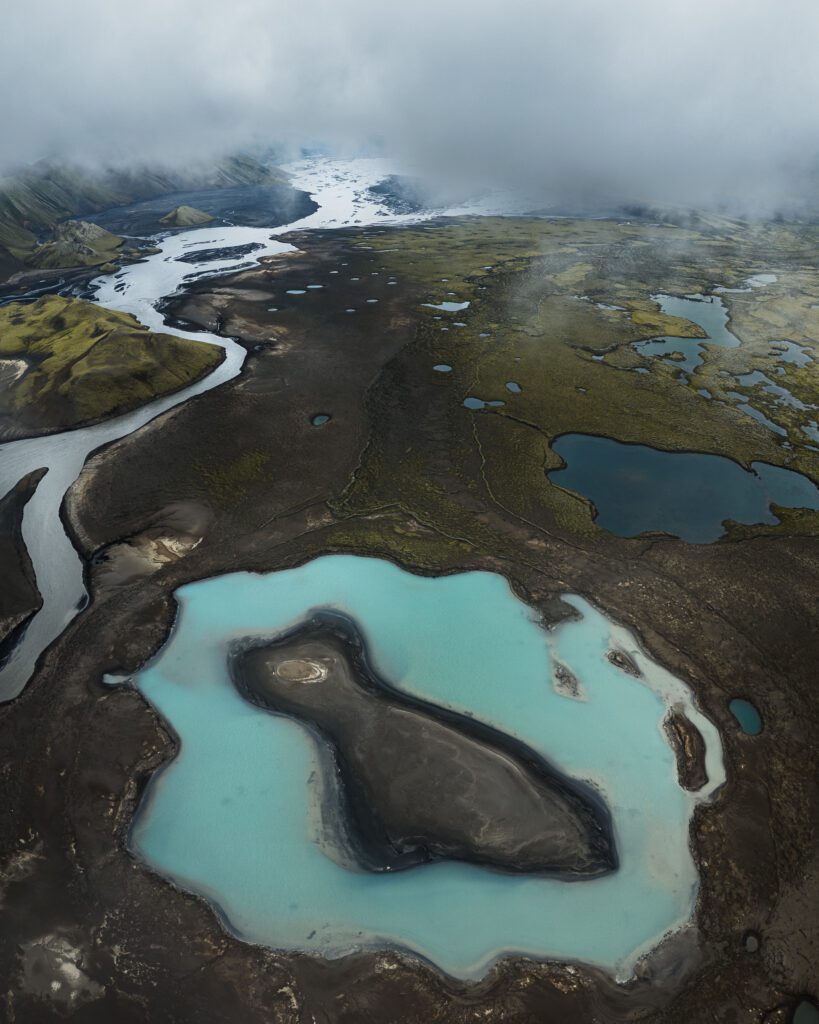 When visiting in this area, we were met with low-hanging rain clouds which made shooting almost impossible. We still gave it a go and came away with some interesting shots. I find that most of these areas work with moodier conditions instead of stunning light.
This image was taken using the DJI Air 3 (https://geni.us/jvn-djiair3).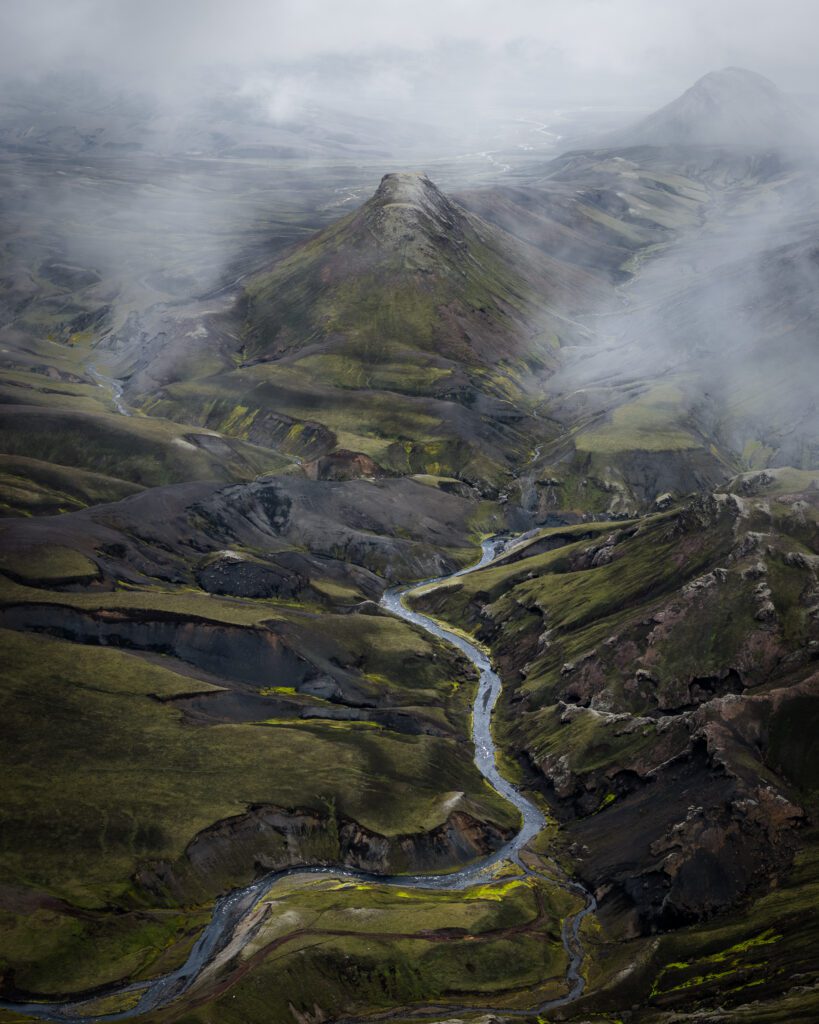 I captured this vertical panorama of an area I hadn't shot before. Mads really wanted to have a look at this location and we did not leave disappointed.
If you want to learn how to create vertical aerial panoramas, make sure to have look at my drone photography e-book.
This image was taken using the DJI Air 3 (https://geni.us/jvn-djiair3).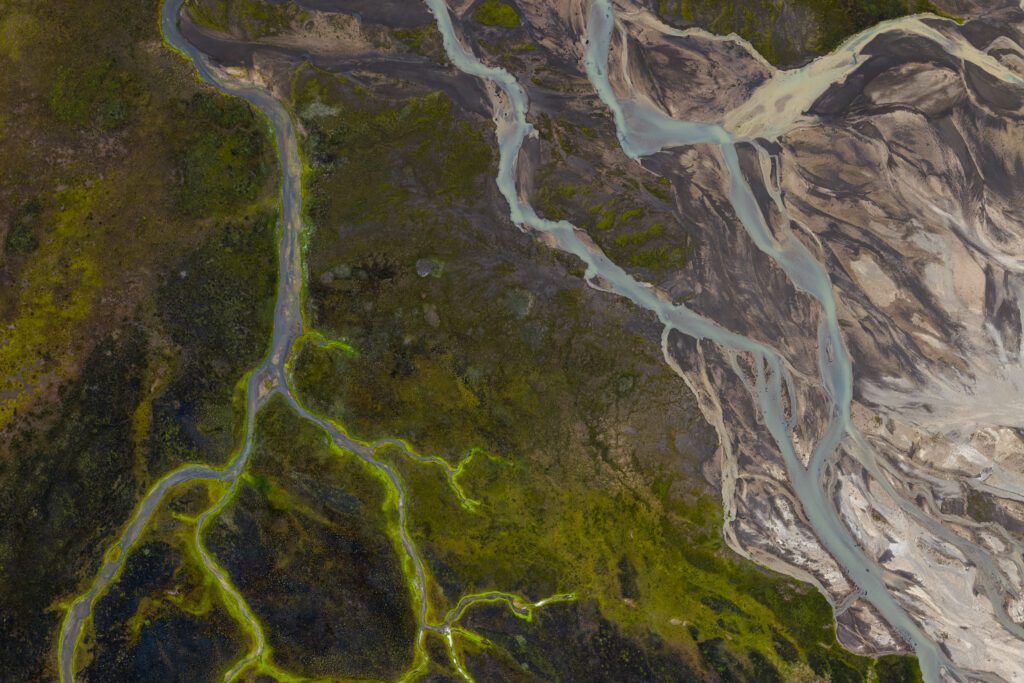 A more abstract shot. Some of the patterns we encounter in the more remote locations in the highlands are absolutely stunning.
This image was taken using the DJI Air 3 (https://geni.us/jvn-djiair3).
Join Us In 2024!
Join us on a trip of a lifetime to the unspoilt highlands of Iceland! The desolate Icelandic highlands is an otherworldly area, which is challenging to traverse. We will be photographing vast black sand deserts, lush green mountains, crater lakes and much more. Many of these locations are perfect for aerial photographs so we will focus a lot on drone photography. The Central Highlands is the pinnacle of Icelandic landscape photography.
There are still a few spots open!
Disclaimer: when you make a purchase using the Amazon links in this article, Jeroen may earn a small commission.
Support Jeroen's Work
As an independent photographer, Jeroen partially relies on your support to keep producing worthwhile content such as blogs, photographs, books and much more. If you want to support his work, it is possible to do so by buying his e-books & books, prints or calendars.
You can also sign up to the newsletter to stay up to date on new blog posts, projects, workshops and other interesting information. Additionally, signing up grants you a 10% discount on your next purchase.
Thank you for considering!