Just as important as deciding which drone you should get for photography, is deciding whether you want a dedicated remote controller or not. And if you do, which one should you get? Fortunately, the options are fewer in this regard but the differences between controllers are not as obvious. In this article, I will go over the two main dedicated remote controllers for DJI drones, the DJI RC and the DJI RC Pro, while also pointing out the differences between them.
Disclaimer: This article is not sponsored in any way. However, when you make a purchase using the link in this article, I may earn a small commission. Both drone remote controllers mentioned are (previously) owned by me. All opinions in this article are my own. If you (dis)agree, I invite you to open a discussion in the comment section.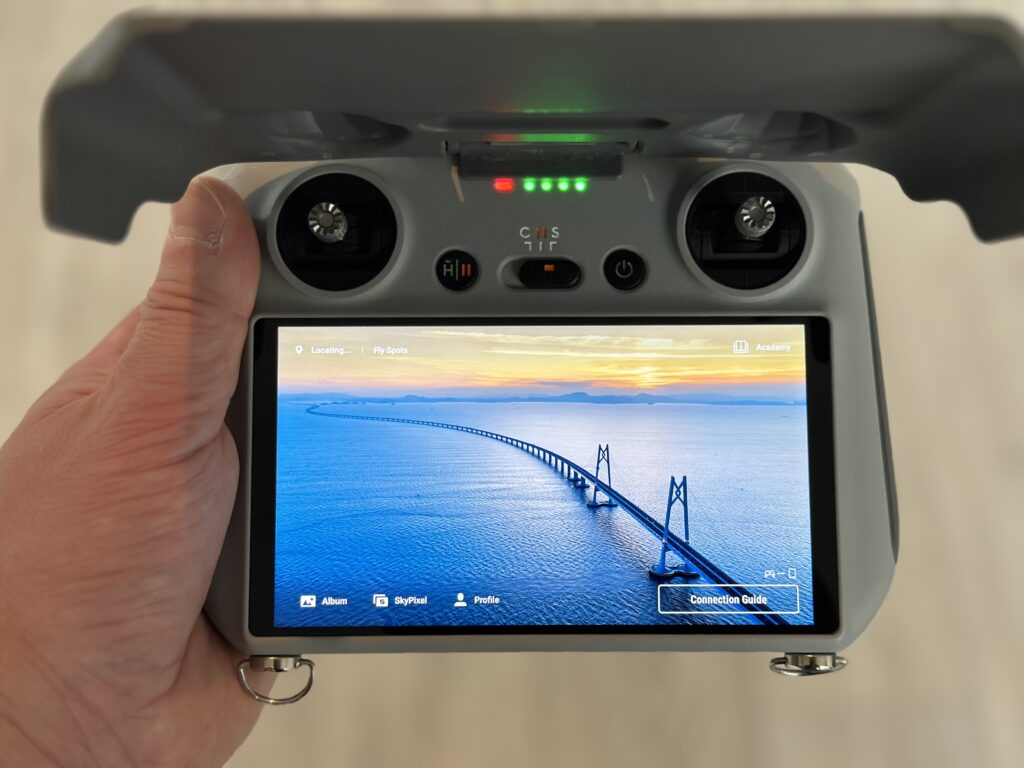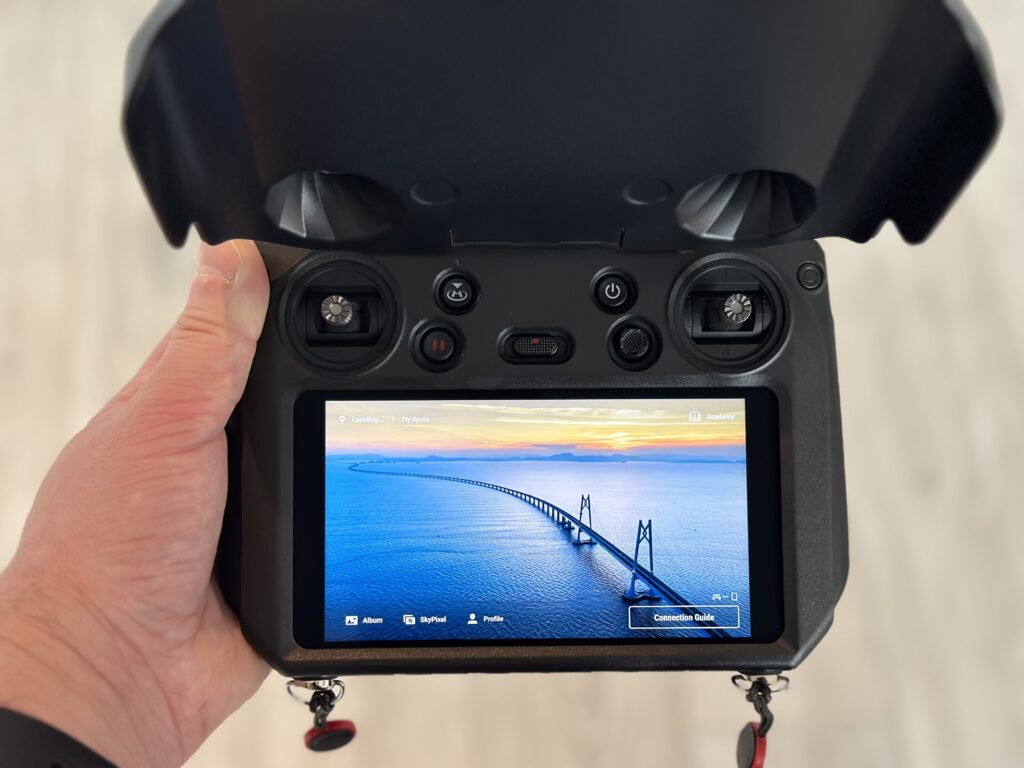 Why Should You Get A Dedicated Drone Remote Controller?
While you can definitely get by with the basic remote, using your smartphone as the screen, there are multiple benefits to using a dedicated remote controller. For me, there are two advantages that really stick out:
The most obvious one is that you're up and running faster. The dedicated controller doesn't require you to connect your smartphone as all you need to do is switch it on. And because you will be using your phone for other things throughout the day, it means you don't need to worry about your phone's battery level.
Additionally, most dedicated controllers don't suffer from the overheating protections of a smartphone as they can more easily sustain brightness due to the active cooling you can find in these controllers. When using your smartphone on the highest brightness level, which is common when outdoors, it will automatically darken itself when the phone gets too hot.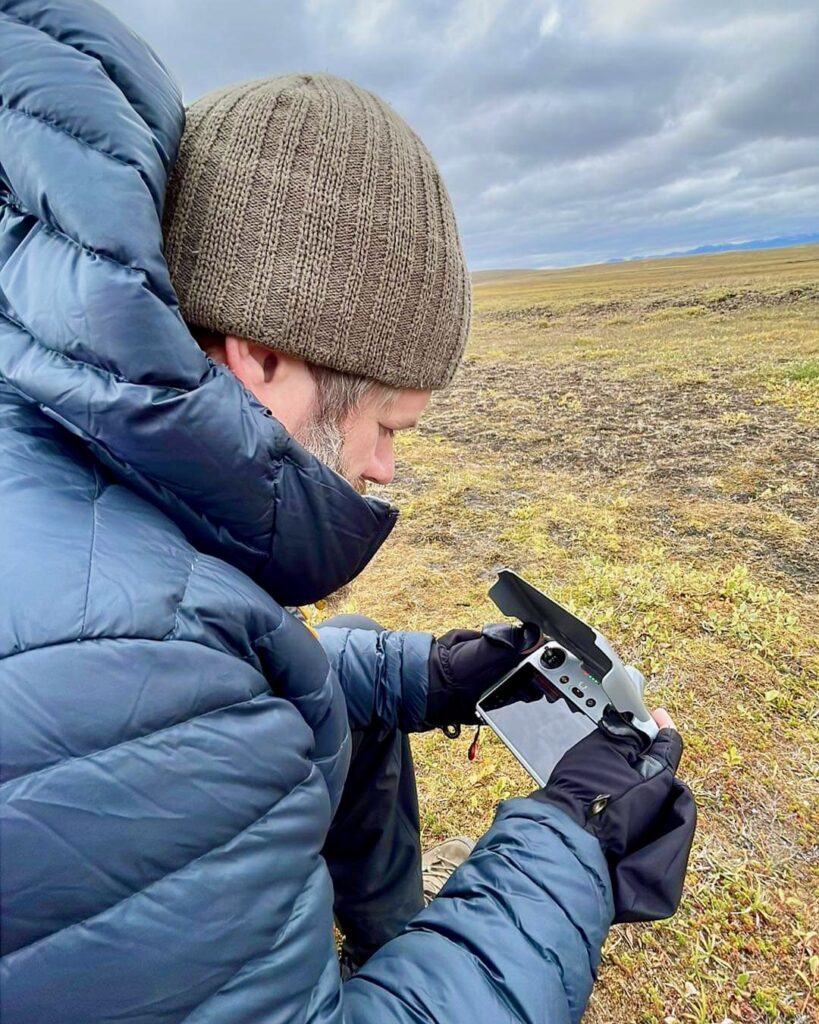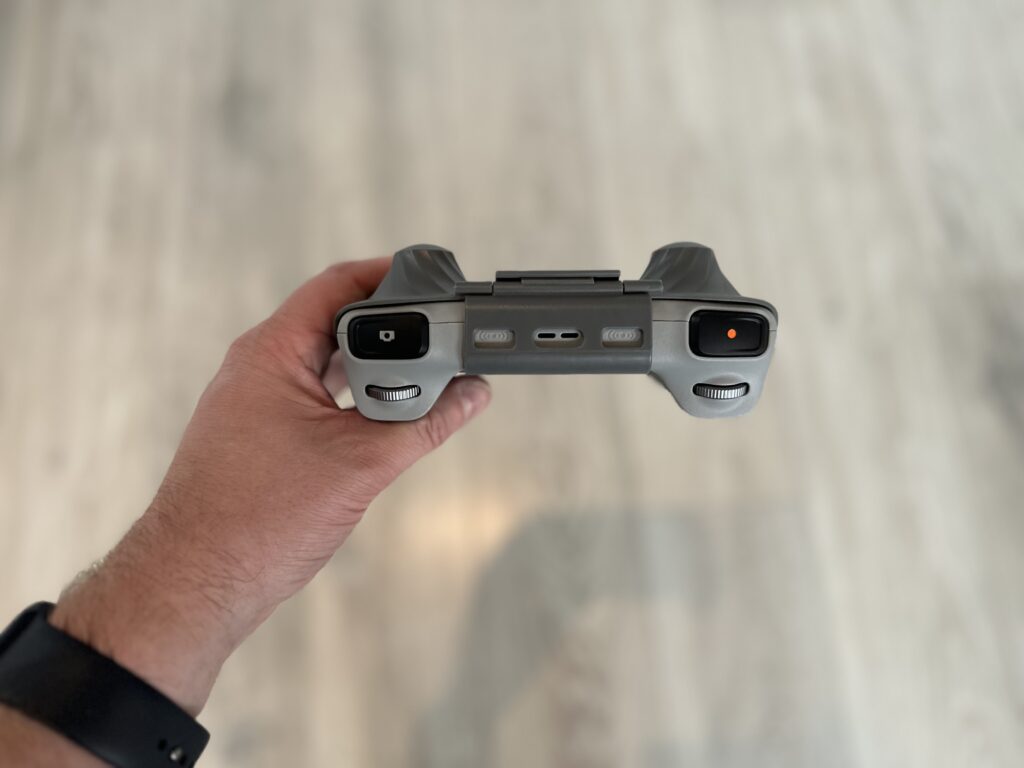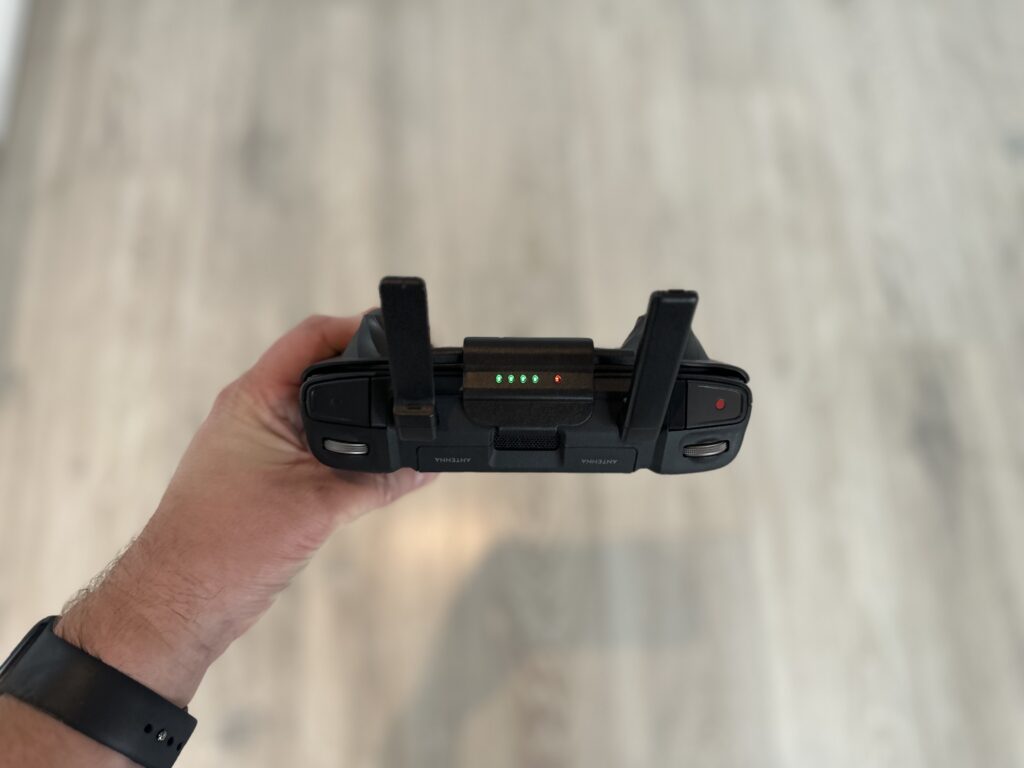 What Are The Differences Between Both DJI RC & DJI RC Pro?
Even though these are different controllers, aimed at different drone pilots, I would argue the differences are rather subtle making both controllers compelling choices depending on what your budget is.
The most obvious difference is the price. The Pro controller is considerably more expensive than the regular one, which may or may not matter to you.
The DJI RC Pro has two extra, external antennas which give you more range and a more stable transmission. However, range is more reliant on the version of Ocusync your drone uses.
The screen brightness on the DJI RC Pro is 300 nits more, putting it at 1000 nits. This can be especially useful when you're flying your drone in bright outdoor environments.
The DJI RC weighs only 390 grams, while the Pro controller is 680 gram. The latter is also thicker.
The internal storage on the DJI RC Pro is 32GB while the DJI RC lacks that and only has expandable storage via microSD cards.
The battery life is also different, giving the edge to the DJI RC with one extra hour of battery life. This gives it 4 hours of battery life compared to 3 hours on the DJI RC Pro.
Performance on the DJI RC is considerably worse with the interface often being laggy and it taking longer to switch between lenses (if available on your drone).
The DJI RC Pro has extra customisable buttons.
There are a few more differences which are less relevant for photography in my opinion, such as:
DJI RC Pro has Bluetooth 5.1, compared to Bluetooth 4.2 on the RC.
The DJI RC Pro supports Wi-Fi 6 while the RC does not.
Less drones are supported by the DJI RC Pro.
The DJI RC Pro comes with a mini-HDMI out port.
The control sticks feel smoother to operate on the DJI RC Pro with slightly more resistance.
It's possible to install additional apps on the DJI RC Pro.
Regardless of their differences, both drones will give you a great experience. The real question is: how much money do you want to spend on one?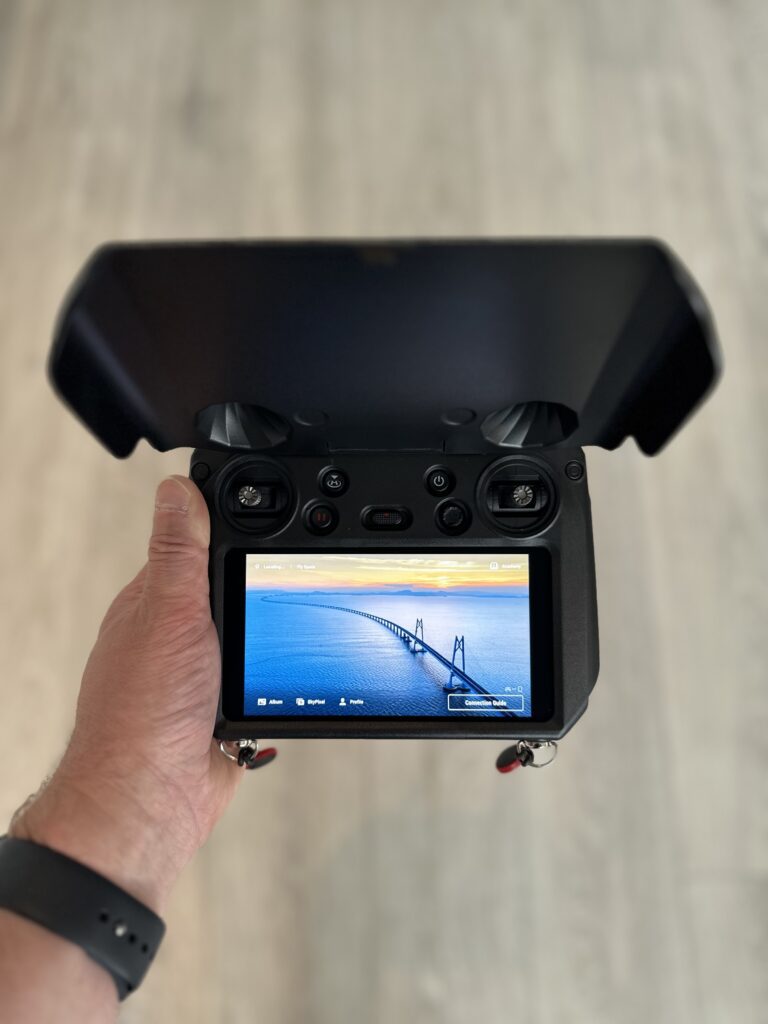 Conclusion
So which drone remote controller should you get? While the DJI RC undoubtedly gives you the best value for money, the DJI RC Pro adds a few extras that may or may not be worth it to you. Do you value the speedier interface, extra stability, which can be vital in dense areas, or a much brighter screen? Then it might be better to splurge on the more expensive remote.
If you are looking which drone you should get for photography, make sure to have a look at my drone buyer's guide for photography.
Buy the DJI RC: https://geni.us/jvn-djirc
Buy the DJI RC Pro: https://geni.us/jvn-djircpro
Learn Drone Photography
Want to learn how to get the best results with your newly purchased drone? I wrote the most comprehensive guide available on drone photography which teaches you a technique to get the DSLR-like results out of even the cheapest drones.
In 125 detailed pages I explore everything you need to know to start creating the best photographs using any type of drone. Whether you are a complete beginner or an advanced drone pilot, this e-book contains a vast amount of information to level up your drone photography skills.
What to Expect?
A 125-page educational PDF about nature drone photography with very detailed explanations
Which drone to get for photography and why
Important settings and configuration options 
A list of useful skills & tips
A list of useful accessories and what not to buy at all
How to research locations for drone photography
How to compose with a drone and insight into Jeroen's thought process with plenty of examples
Thoughtfully planning ahead for your drone shoot
The how and why of creating bracketed images
The how and why of shooting HDR panoramas
What challenges you might face and how to deal with them
Common mistakes & how to deal with them
How to stitch your panoramas together
Use EBOOK20 to get 20% off your Nature Drone Photography (E-Book) purchase!
Support Jeroen's Work
As an independent photographer, Jeroen partially relies on your support to keep producing worthwhile content such as blogs, photographs, books and much more. If you want to support his work, it is possible to do so by buying his e-books & books, prints or calendars.
You can also sign up to the newsletter to stay up to date on new blog posts, projects, workshops and other interesting information. Additionally, signing up grants you a 10% discount on your next purchase.
Thank you for considering!