What Is 'Behind The Shot'?
To me, photographs are strengthened by having a good story to support them. At its core, photography is the art of capturing memories and those memories deserve to be told & shared. With this new concept I want to tell people that story. I want to share what effort, struggle and sometimes luck is behind the publishing of that single image you might see in your social media feed. Every month I will be sharing one photograph which has a good story, a deeper meaning or a struggle behind it.
In this month's "Behind the Shot" story, I take you back to the Geldingadalir eruption in 2021 when I captured one of my favourite shots of that eruption and maybe all-time. I named the photograph Hraunhjarta, which means "lava heart" in Icelandic. It's curiously enough a photograph which I only edited last year. As you can imagine, I took an enormous amount of photographs during the 2021 eruption as it lasted for six months. Even today, I still haven't selected or edited every photograph from that eruption.
Finding New Angles
In the first few weeks of the Geldingadalir eruption, it really struck me how many of the eruption photographs I saw on social media were similar. They were shot from the same angle, using a similar camera and focal length and even framed in the same way. It seemed as if people were copying each other, trying to replicate content that seemed to help generate reach. I found it sad. To me, this event was so beautiful and unique that it deserved more. It deserved to be celebrated from all angles instead of being reduced to just another social media post.
That's exactly the reason why I decided to take it up as a challenge to find different angles. I visited the area whenever I could, sometimes several times per week. With every visit, I envisioned a different shot or a new angle I wanted and did everything I could to get it. On some occasions I hiked 20+ kilometres in one evening, just to reach a different vantage point. This strategy eventually led me to create a unique book about this eruption, which showed the same event from numerous different angles, celebrating its uniqueness.
At the end of April, when the activity condensed into one massive crater, things became even more challenging. How was I going to keep photographing the same object, the same erupting crater, differently each time?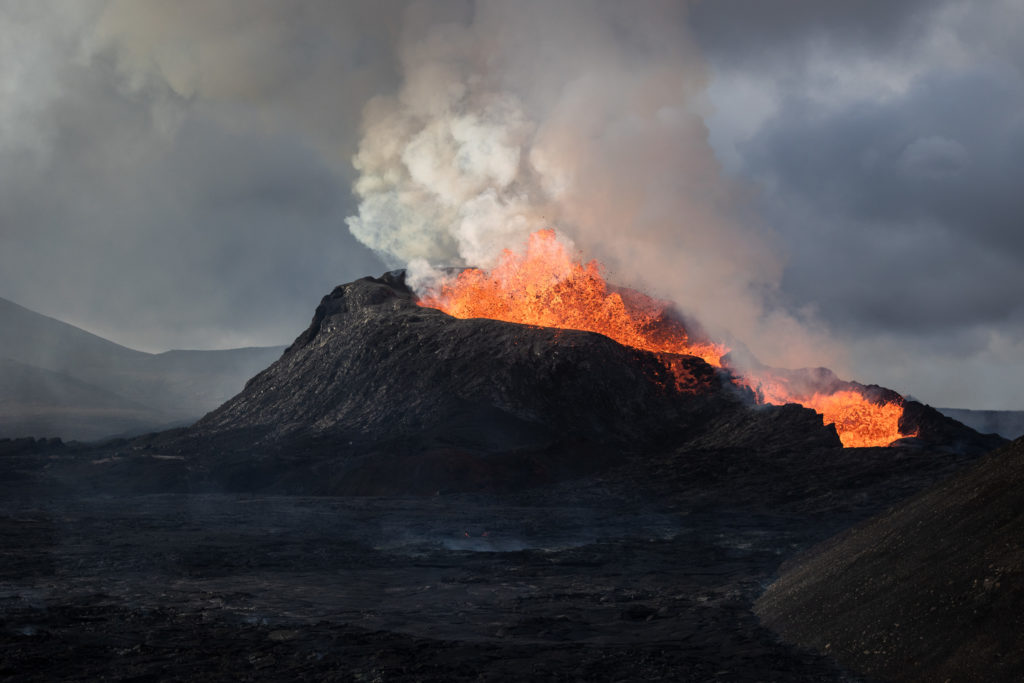 "Wouldn't It Be Cool If …"
One avenue I hadn't really explored much was drone photography. While I had flown my drone a few times, it wasn't really my focus. In the early days of the eruption, it felt unique that you could actually stand at ground level next to an erupting cone. This meant that in the first weeks of the eruption, I focused a lot on using my camera. I wanted to use the opportunity to the fullest. However, as the lava field grew larger, the distance to the action became larger. When the last path to get close to the craters got cut off, I started focusing more on the usage of my drone.
This really opened up new angles to me. Quickly I began realising that we had never really seen a volcanic eruption from the unique perspective a drone can give us. While aerial views of eruptions weren't new, drones allowed us to get closer and produce top down views without getting into danger yourself.
I began thinking… "Wouldn't it be cool if we could see the inside of what goes on in an active crater?"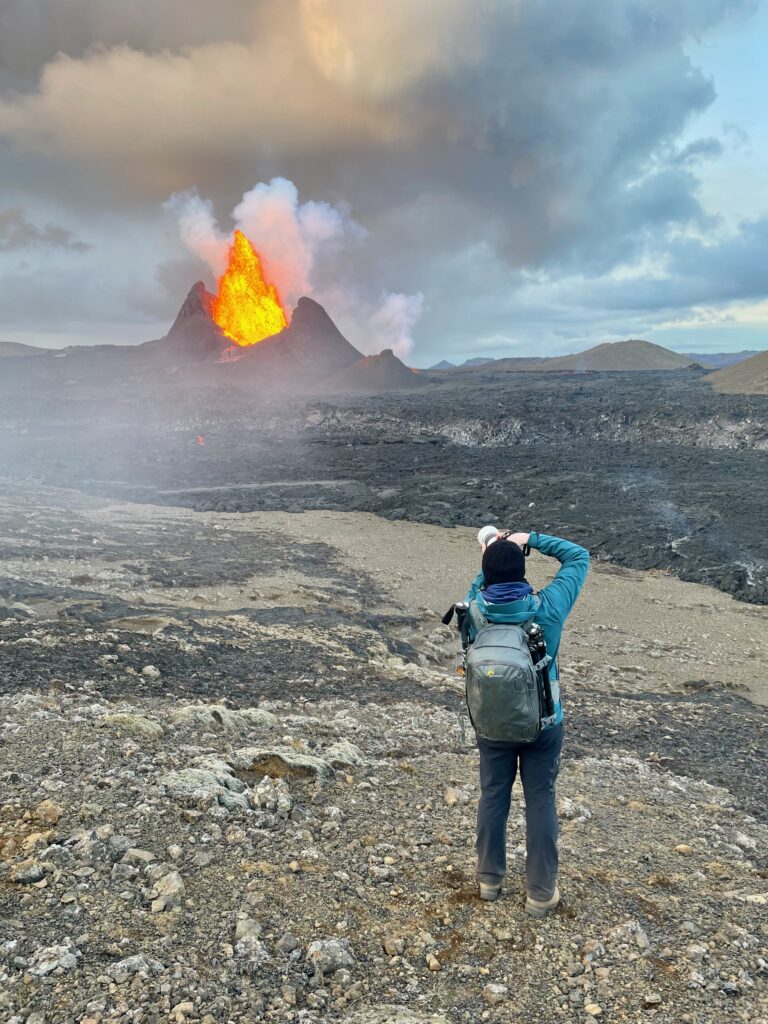 How Close Could I Get?
But how could I capture that? We didn't have quality zoom lenses on drones available and, at that time, the activity had evolved into the phase where the crater produced lava fountains, which reached up to 400 metres high! Even when the fountains didn't reach such heights, the heat emanating from the crater was so enormous, that it would be really difficult to shoot straight down into the crater. To get good quality shots, I would also have to fly very low. That meant I had to fly only a few metres above the crater rim, as I wanted to get them by shooting it as a 3-shot vertical panorama. To make it more interesting, I chose to fly during twilight so the contrast between the solidified lava and the fresh lava would be even greater.
On one very windy day, I decided to take the risk. By that time, the closest we could get to the crater was about 800 metres. With the limited battery life on my DJI Mavic 2 Pro, it meant that I had to time it really well when to take off. I decided to try and shoot when the lava fountain had started to diminish. That would mean I could reach the crater when the inside of the crater would still be coated in fresh lava. I was also anticipating (or hoping) that because of the harsh wind, the heat would dissipate faster.
As I noticed the lava fountain began slowing down, I began flying out to the crater. Because of the wind, I had spent a lot of battery trying to get there. Fortunately, I had timed my attempt well: the lava in the crater had begun flowing back into the vent. I quickly hovered above the crater and began shooting. I captured about 3 versions of this photograph, while also capturing a short 30 seconds clip of the insides of the crater, before I began flying back. With 3% battery life remaining, I managed to get my drone back.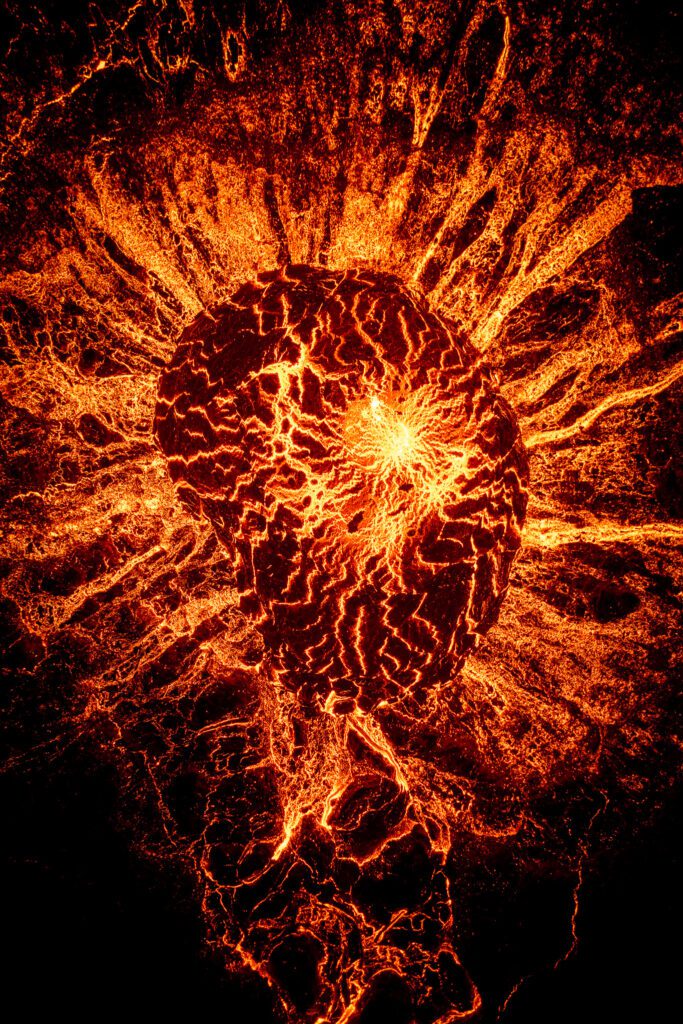 To this date, it's one of my favourite photographs of that eruption. The shape of the inside of the crater is very curious. While some think it looks like the sun, to me it resembles a beating heart with veins leading outwards. It's almost as if this crater is breathing life into the new landscape. It's a symbolic photograph to signify that such eruptions are not only destroying, they are also creating. Shaping an earth that will be here long after we are gone.
Learn Drone Photography
Want to learn how to get the best results with your newly purchased drone? I wrote the most comprehensive guide available on drone photography which teaches you a technique to get the DSLR-like results out of even the cheapest drones.
In 125 detailed pages I explore everything you need to know to start creating the best photographs using any type of drone. Whether you are a complete beginner or an advanced drone pilot, this e-book contains a vast amount of information to level up your drone photography skills.
What to Expect?
A 125-page educational PDF about nature drone photography with very detailed explanations
Which drone to get for photography and why
Important settings and configuration options 
A list of useful skills & tips
A list of useful accessories and what not to buy at all
How to research locations for drone photography
How to compose with a drone and insight into Jeroen's thought process with plenty of examples
Thoughtfully planning ahead for your drone shoot
The how and why of creating bracketed images
The how and why of shooting HDR panoramas
What challenges you might face and how to deal with them
Common mistakes & how to deal with them
How to stitch your panoramas together
Use EBOOK20 to get 20% off your Nature Drone Photography (E-Book) purchase!
Support Jeroen's Work
As an independent photographer, Jeroen partially relies on your support to keep producing worthwhile content such as blogs, photographs, books and much more. If you want to support his work, it is possible to do so by buying his e-books & books, prints or calendars.
You can also sign up to the newsletter to stay up to date on new blog posts, projects, workshops and other interesting information. Additionally, signing up grants you a 10% discount on your next purchase.
Thank you for considering!