This summer I had a packed schedule, most of which was filled with amazing photography workshops. I spent a lot of time in the Icelandic highlands, but I also explored the western coast of Greenland and spent time with a massive colony of puffins in the Greenland Sea. In the coming weeks, I will be sharing how some of these workshops went and what images I ended up coming home with. Today I will be sharing some thoughts about the first workshop I hosted this summer: Puffins in the Midnight Sun. I hosted this bird photography focused workshop together with the amazing Anja Robanke.
Interested in joining the 2024 edition of Puffins in the Midnight Sun? It's now possible to sign up! Check out this dedicated page for all the information.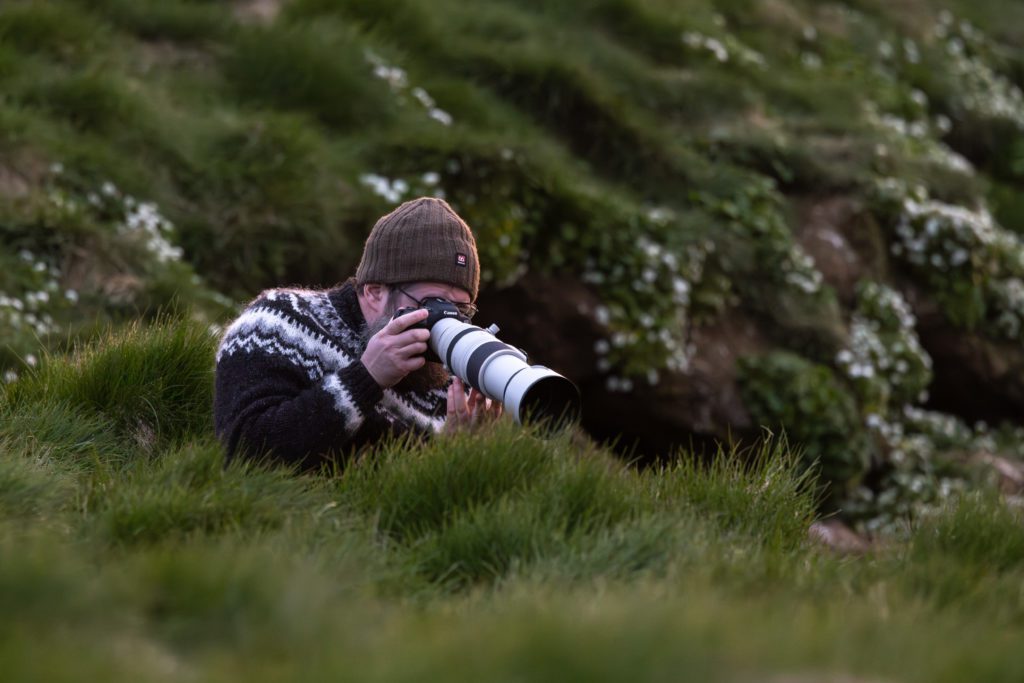 Photo Workshop Report
If you have been following my work for some time, you know that I have stayed on the remote island of Grímsey multiple times already. Therefore, it was a great pleasure to return there for this workshop and also to be there with the purpose of letting others discover this unique island. It couldn't have been a better first introduction to Grímsey!
No less than 4 nights did we get to enjoy the midnight sun and its naturally saturated colours. This meant we spent a lot of time outside at night to photograph the birds under the best light conditions. It's a magical feeling to hike around the cliffs at night. The colours, the bird sounds, and the peacefulness of it all. And the best part? We only had to share that among the group. We never saw any other people at night. The remoteness of the island, together with its size, makes for a perfect location to perfect your bird and wildlife photography skills as you can photograph undisturbed – especially in such a small group.
Each morning, we invited everyone to share three images, which we would critique in group. This allowed every participant to hone their skills and improve their wildlife photography on a day by day basis. Being able to get your images critiqued that frequently allows you to get out again and try new things. It's also a great way to get new ideas to change up your compositions.
On one evening, we also had the privilege of going on a boat ride around the island by one of the locals of the island. This was one of the most incredible moments of the trip as we sailed inbetween the thousands of birds roaming around the largest cliffs of the island. A truly mind-blowing experience that has stuck with all the participants well after we finished the workshop.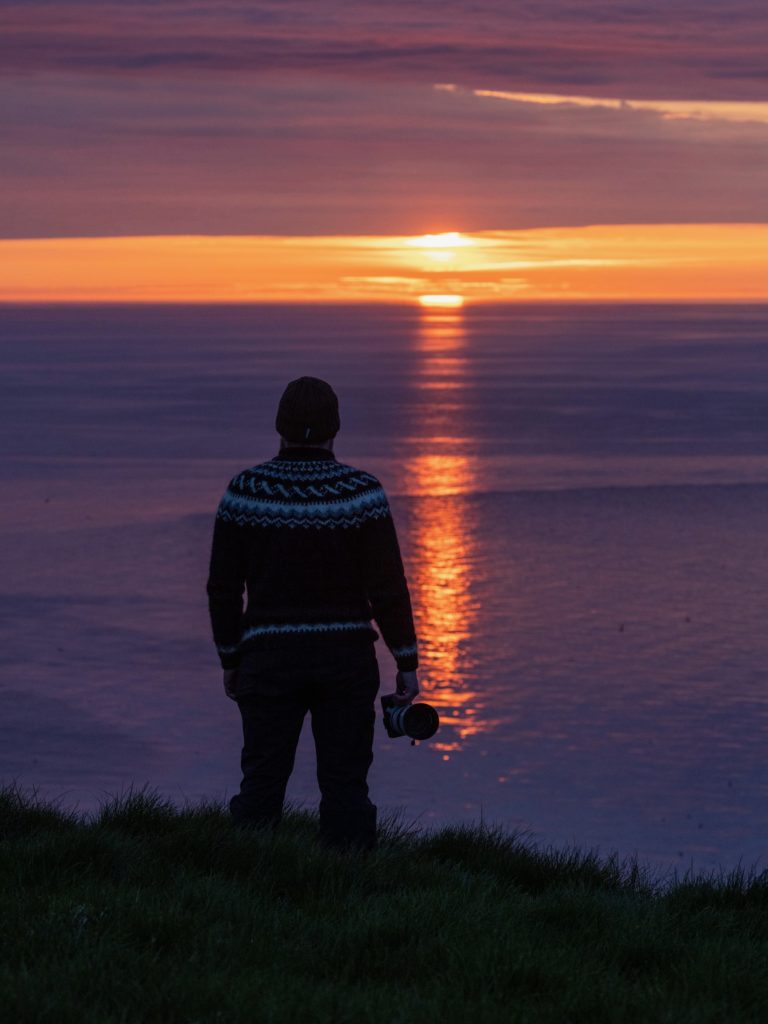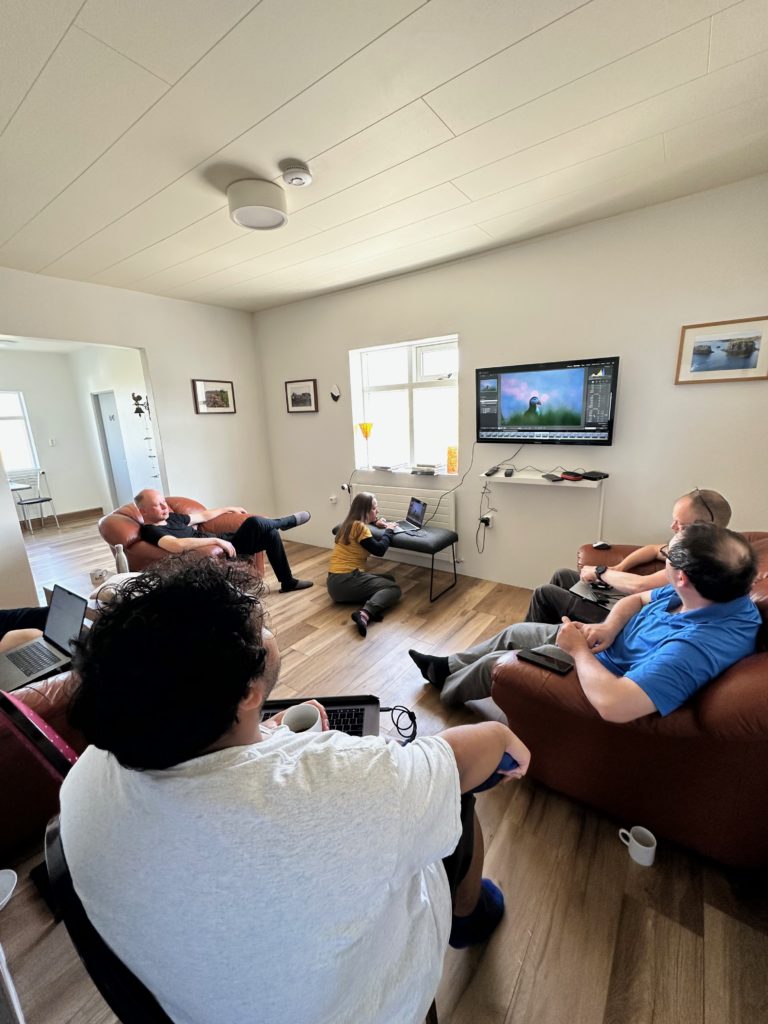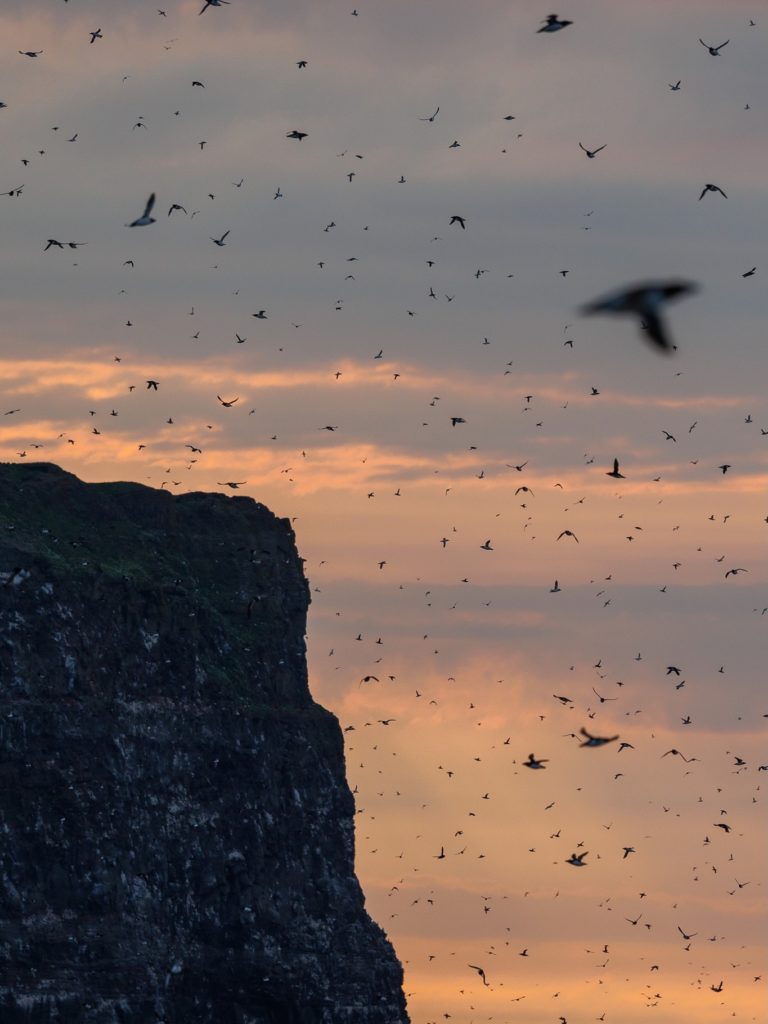 "I had the privilege of going on the Puffins in the midnight sun workshop which was an amazing experience. Anja and Jeroen were both absolutely amazing hosts and the workshop exceeded my expectations. Both were very approachable with any questions and provided the appropriate level of advice, allowing me to improve my photography."
Jeff M.
"A very good workshop at a nice location with good workshop leaders. I learned a lot and got some nice photos I am very happy about. Highly recommendable"
Tommy J.
"Having never attempted wildlife photography before, I wanted a workshop that would give me a lot of opportunities to learn & shoot, with supportive and knowledgeable leaders. The puffins in the midnight sun with Anja and Jeroen checked every box. The location was stunning, with so many puffins & other birds to photograph. Jeroen and Anja were patient, knowledgeable, and lead with great energy, enthusiasm and sense of humour. They spent time sharing techniques and guidance, but then allowed us time to shoot independently, share shots and receive feedback. I had an excellent time on this workshop and would definitely recommend to others. I learned so much, and came away a much more confident wildlife photographer."
Rhiannon L.
My Five Favourite Images
Being such a slow-paced photography workshop means that I also get the chance to capture a lot of photographs while leading the workshop. Below, I have selected five images that really stood out for me. Selecting only five was a difficult task, as I usually end up with several thousand images after this workshop.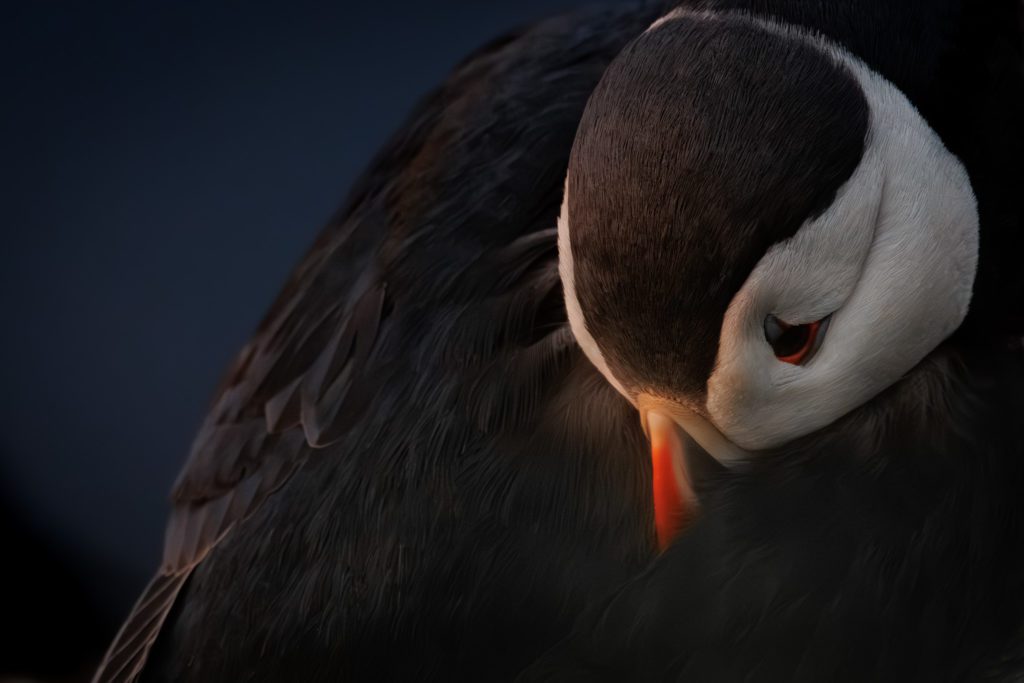 This is probably my favourite shot of the trip. I had been dreaming of getting a shot like this for ages and now I finally managed to get it. This little puffin had its head tucked away in his feathers as it was resting. Fortunately for me, he was very close to the cliff edge. This meant I could sneak up on him without disturbing him.
This image was taken using the Canon EOS R6 (https://geni.us/jvn-eosr6/) + 100-500mm RF (https://geni.us/jvn-rf-100-500mm/) + 2x RF extender (https://geni.us/jvn-rf2xconverter/).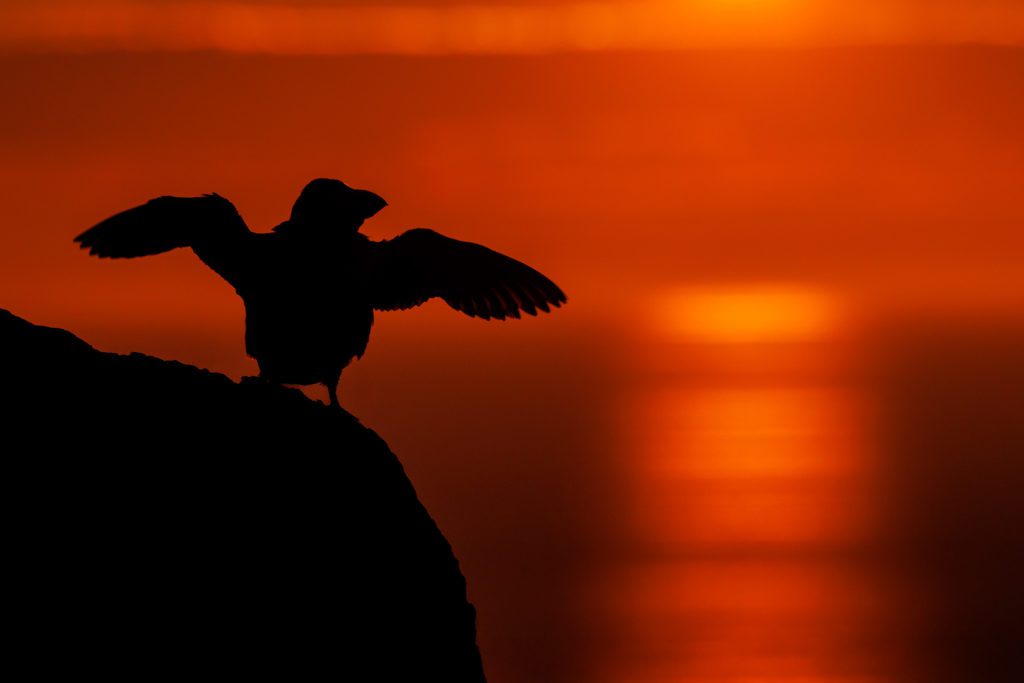 I can't make a list such as this one without at least one midnight sun photograph. I particularly liked this one as the puffin silhouette is showing an unusual position. These are kind of goofy birds and therefore I felt this pose went well with their behaviour.
This image was taken using the Canon EOS R6 (https://geni.us/jvn-eosr6/) + 100-500mm RF (https://geni.us/jvn-rf-100-500mm/).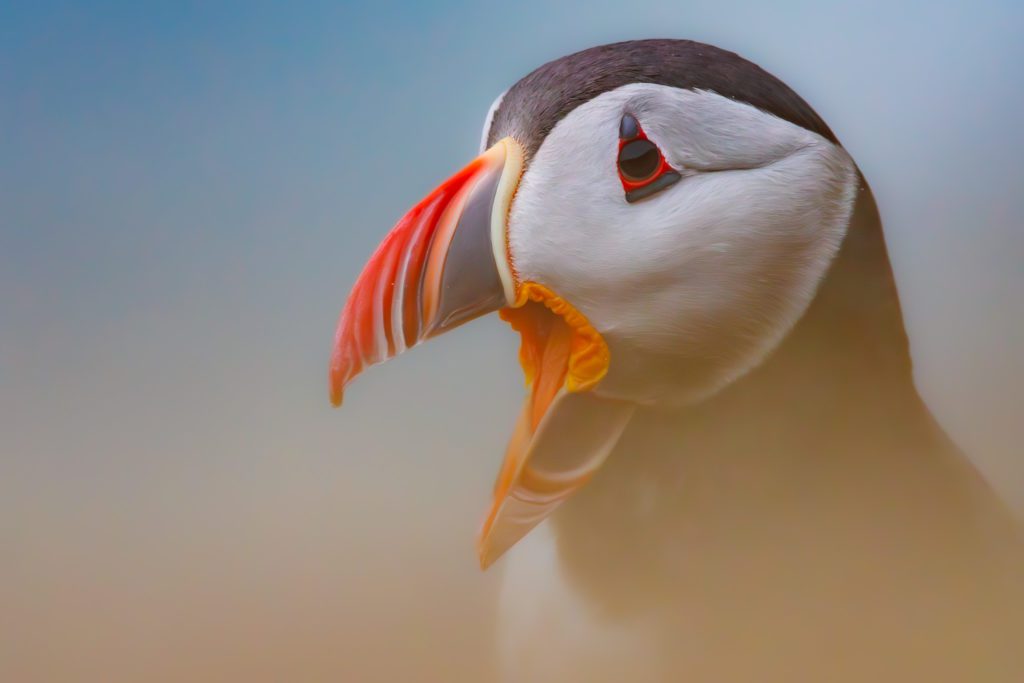 I also spent a lot of time trying to get extreme closeups. This is my favourite one out of all the attempts I made. I shot this at 1000mm, which means I still kept sufficient distance from the bird in question. I waited a long time for it to open its beak. Thanks to the fast FPS of my camera, I managed to get a good selection to pick this specific one out of.,
This image was taken using the Canon EOS R6 (https://geni.us/jvn-eosr6/) + 100-500mm RF (https://geni.us/jvn-rf-100-500mm/) + 2x RF extender (https://geni.us/jvn-rf2xconverter/).
We also spent time searching for puffins who had already begun feeding their pufflings. Because the puffins seemed to have begun nesting late, many pufflings began hatching while we were on the island. We could tell by the increasing amount of birds returning with sand eels from the ocean throughout the time we spent there. This is my favourite shot. I especially like how the light hit in this frame and how the sand eels are highlighted due to them being wet.
This image was taken using the Canon EOS R6 (https://geni.us/jvn-eosr6/) + 100-500mm RF (https://geni.us/jvn-rf-100-500mm/).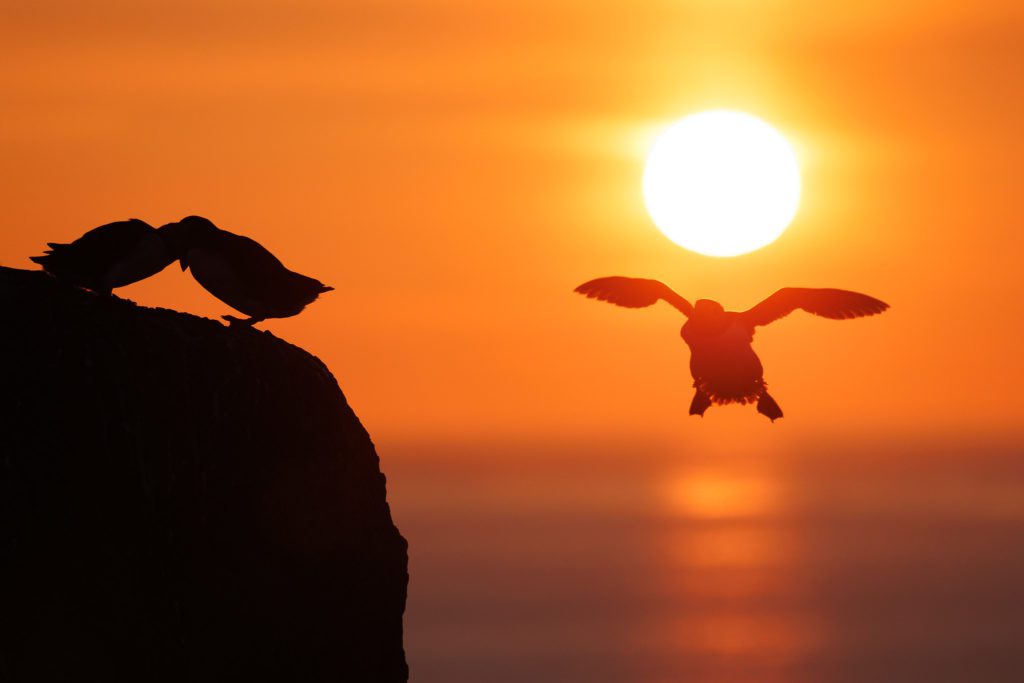 This final image is another midnight sun shot. I particularly liked how the two puffins on the left were tapping their beaks together the whole evening. I then decided to wait until another one flew in the frame. It took several attempts as they are very fast flyers!
This image was taken using the Canon EOS R6 (https://geni.us/jvn-eosr6/) + 100-500mm RF (https://geni.us/jvn-rf-100-500mm/).
Join Us In 2024!
Are you interested in joining Anja and me for the 2024 edition of this puffin photography workshop? Today we are publicly launching this workshop which is planned for the end of June 2024. There is only limited availability so be quick! Make sure to visit the dedicated workshop page to get all the information.
Disclaimer: when you make a purchase using the Amazon links in this article, Jeroen may earn a small commission.
Support Jeroen's Work
As an independent photographer, Jeroen partially relies on your support to keep producing worthwhile content such as blogs, photographs, books and much more. If you want to support his work, it is possible to do so by buying his e-books & books or prints.
You can also sign up to the newsletter to stay up to date on new blog posts, projects, workshops and other interesting information. Additionally, signing up grants you a 10% discount on your next purchase.
Thank you for considering!