UPDATE 15/09/2023: I am again organising a photo workshop on Grímsey together with Anja Robanke which will take place in June 2024. We will photograph puffins under the midnight sun. Interested? More information can be found on Anja's website.
Last July I had originally intended to spend 5 days in Ilulissat, Greenland. Fortunately, you will find out why in this blog, that trip got cancelled due to the strict travel restrictions imposed by the Greenlandic government causing my flights to be cancelled. While searching for an alternative photography expedition, I came across a few YouTube videos by my friends Einar and Gyða. They talked about an intriguing island located on the Arctic Circle, just north of the Icelandic mainland, called Grímsey.
Grímsey is a very curious place. It's a small island that is only 5 kilometres long. There's one road, an airstrip and a small village with a handful of inhabitants. The primary reason for going there is the birdlife, which is abundant to say the least. Grímsey is the home to hundreds of thousands of seabirds. My plan was simple: visit the island to slow down, relax and spend a lot of time photographing puffins in all sorts of conditions.
Up to this point, I had sort of been holding off on photographing puffins. I had photographed them before but I had never poured much time, effort and patience into it. The reason for that is that they're a sure thing, they are always around during summer. Therefor, I considered I had plenty of time to photograph them properly. And now that my original plans got cancelled, the time seemed ripe for it. I booked a 5-night stay at a guesthouse, booked flights, did some shopping and packed my gear. I had no idea if 5 nights would be too much but I really wanted to photograph the birds during a colourful sunset and staying for a long time would increase my chances. And, if I would ever get bored of the puffins, there's also a variety of other birds to be found on the island.
I flew from Reykjavík to Akureyri and then onwards to Grímsey. The flight to Grímsey already set the tone for the entire trip: a tiny plane with only 4 other passengers. It felt like I was going to the edge of the world. What was I getting myself into? Upon arrival, I stepped out of the airport, which is literally just one room, and met the owner of the guesthouse I was staying at. She was kind enough to give me a ride. My mind had already shifted into the photography gear. "So, where can I photograph puffins?" I asked. The response I got said it all: "Everywhere". Later the day, I realised what a silly question I had asked. There were puffins on literally every edge of the island. Literally a minute's walk out of the town, a seemingly endless amount of puffins could be found.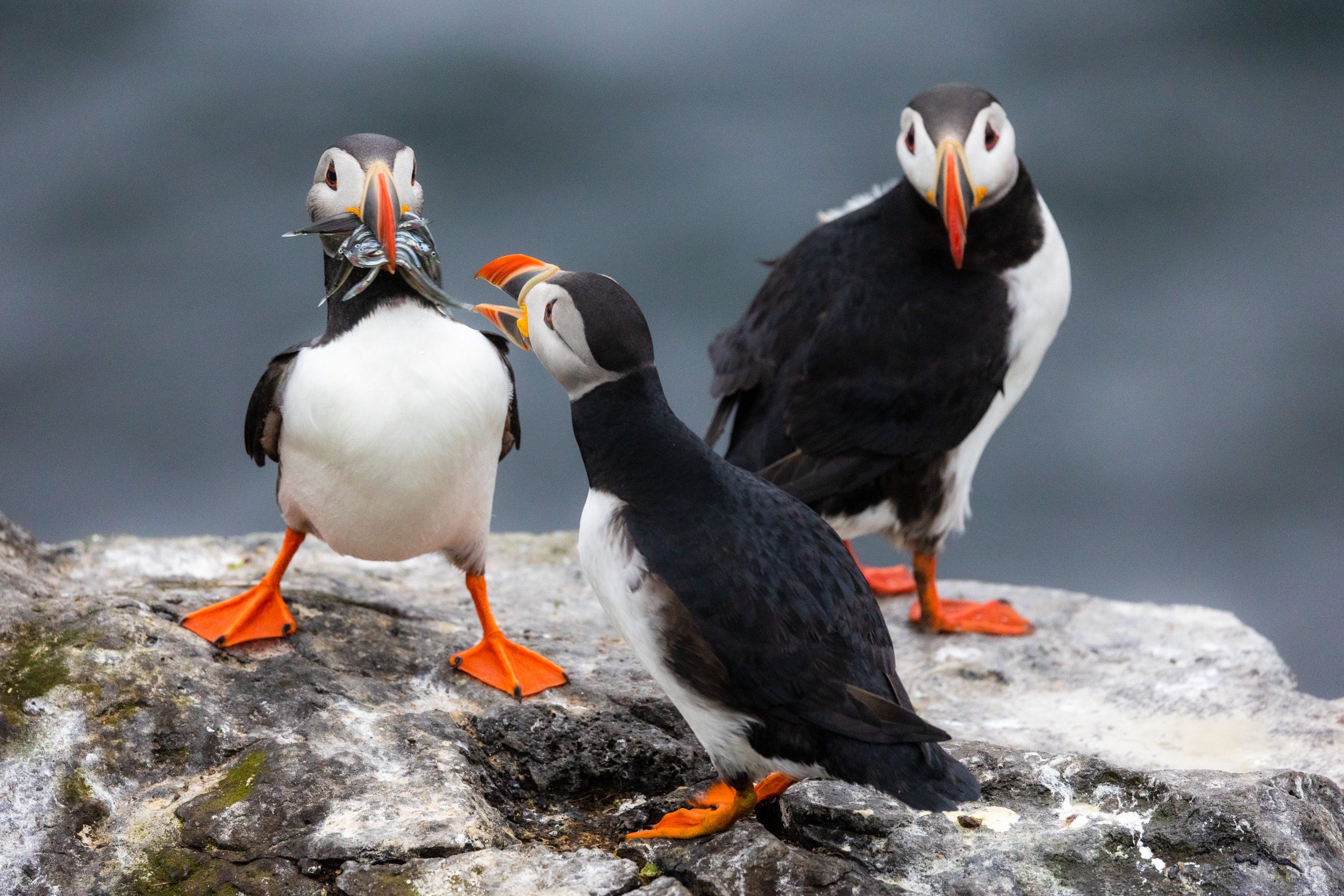 Even though the weather was rainy, I immediately set off after checking into the guesthouse. I started hiking along the coastline towards the north. I was heading for Básavík, which is known for its impressive cliffs. The owner had pointed it to me stating it was probably one of the most beautiful spots to photograph the birds. On the way out of town, hundreds of arctic terns kept trying to dive-bomb me. This would become a little ritual that happened every time I left or entered the town. Fortunately, I had been clever and put a hiking pole on my backpack. These birds always try to peck the highest point on its target so they didn't manage to hurt me.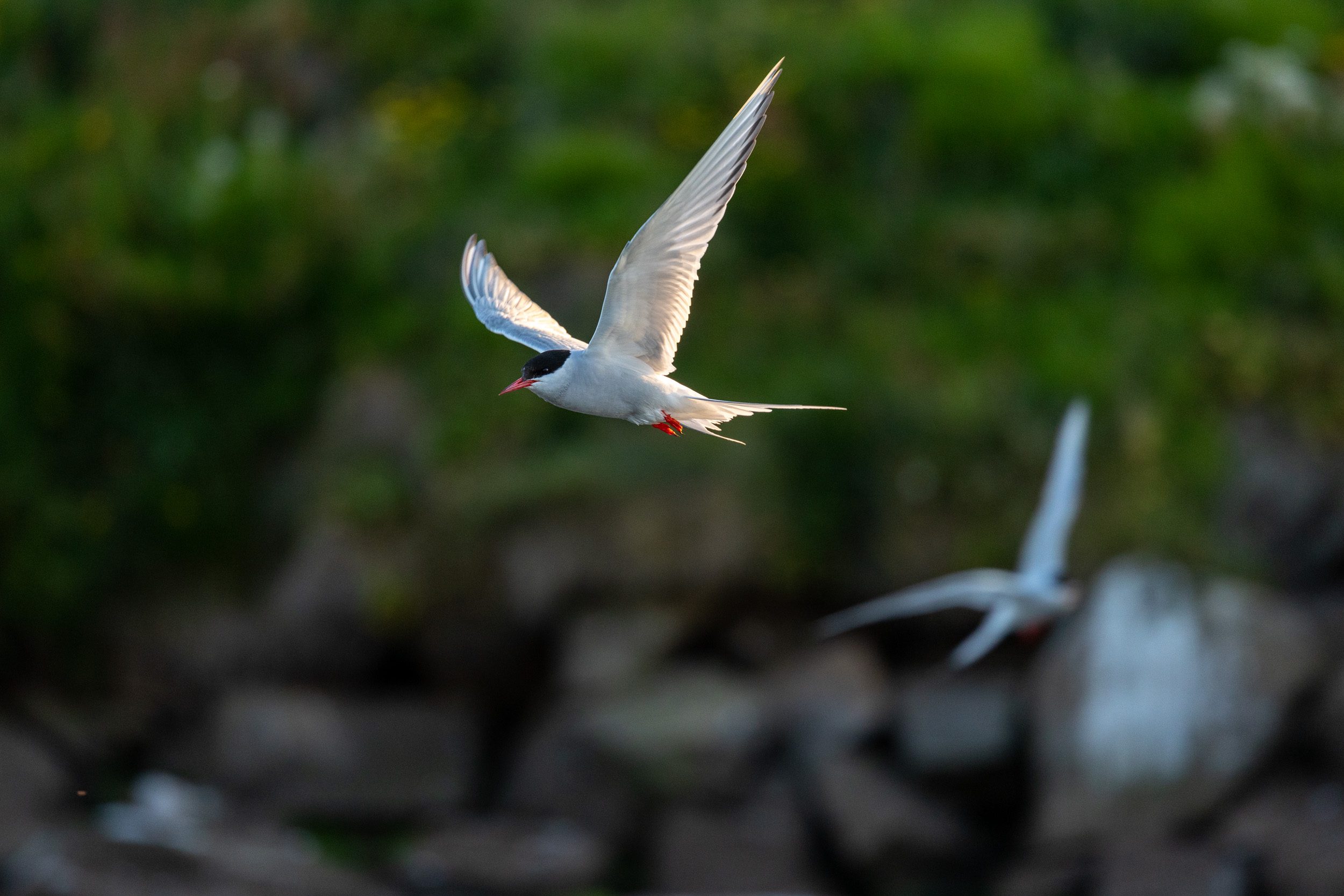 The owner of the guesthouse definitely wasn't wrong, the area around Básavík was stunning and would quickly turn into "my spot" during the trip. I went back there several times the following days. At first, I was a bit overwhelmed. There were so many puffins that I didn't know where to start photographing. I already realised it was definitely a great idea to spend almost a week here. That way I could take in the environment, figure out the shots I wanted and spend hours hiding in the grass between the birds.
The following days, I hiked roughly 15-16 kilometres on the island every day. Every day I tried scouting another corner of the island, trying to find new vantage points. I spent a lot of time trying to perfect my puffin photographs. I experimented with using foliage as a way to bring out the birds in my shots. Putting my lens into the grass and having the grass close to the lens, allows you to create stunning shots with lots of bokeh. I used different kinds of foliage to create different colour schemes in my images. I also spent a lot of time trying to photograph puffins with sand eels in their beaks. This was probably the only thing I had decided for myself before travelling to Grímsey: getting a shot like that.
Sometimes I didn't meet a single person the whole time I was out photographing. It felt like heaven. When the weather started improving, I even napped a few times in the grass near a beautiful cliff. Not only was I getting the photographs I had thought about taking for a long time, I also took time to relax and rejuvenate myself. Even though it's only a 30 minute flight, most people would come and go with the ferry from Dalvík. The busiest days, whilst I was there, would be when the ferry docked for several hours. Almost all of the ferry passengers left again the same day and didn't stay overnight. This meant that when I was out photographing in the evenings, I ended up being alone almost every time.
It was a funny, and fortunate, coincidence when I realised my friends Einar and Gyða were also spending time on the island while I was there. We went out photographing together several times, which was great, and they shared some of their favourite spots and folklore about the island. Every year they spend a lot of time there because Gyða grew up on Grímsey. They know the island very well. It was great for me to find out more about this strange island through the insights of locals.
During two of the five nights I spent on the island, I experienced a beautiful sunset. This was perfect because I had thought a lot about photographing the birds during sunset. I focused mostly on capturing silhouettes of the birds against the setting sun. There's something truly special about being around the birds in such colourful light. The photographs don't really compare against being there yourself and experiencing it first-hand.
To summarise: I had an excellent time on Grímsey. It's probably the most incredible place to photograph puffins in Iceland. I have been to places such as Látrabjarg in the Westfjords and Borgarfjörður-Eystri in East Iceland. Neither of these really compare to the special atmosphere you get on Grímsey. I believe the remoteness and scale of the place adds to it as well. If you're a photographer looking to photograph puffins, not just see them, I can highly recommend spending a few days there.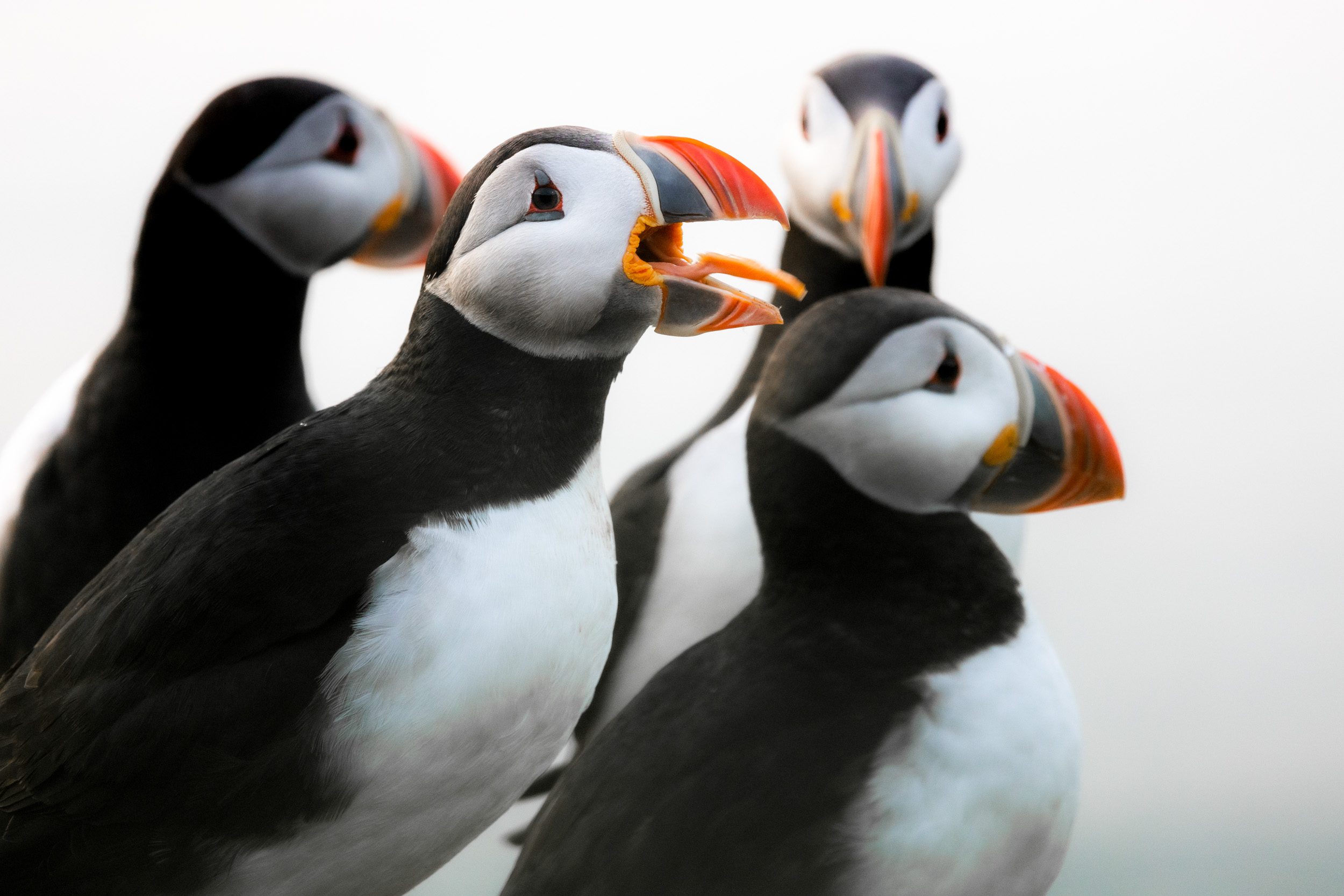 If you'd like to see more about my trip to Grímsey, you can check out highlighted Grímsey story on my Instagram account.
Recommended to check out
This blog was also published on my Behance profile.
Support Jeroen's Work
As an independent photographer, Jeroen partially relies on your support to keep producing worthwhile content such as blogs, photographs, books and much more. If you want to support his work, it is possible to do so by buying his e-books & books, prints or calendars.
You can also sign up to the newsletter to stay up to date on new blog posts, projects, workshops and other interesting information. Additionally, signing up grants you a 10% discount on your next purchase.
Thank you for considering!