What Is 'Behind The Shot'?
To me, photographs are strengthened by having a good story to support them. At its core, photography is the art of capturing memories and those memories deserve to be told & shared. With this new concept I want to tell people that story. I want to share what effort, struggle and sometimes luck is behind the publishing of that single image you might see in your social media feed. Every month I will be sharing one photograph which has a good story, a deeper meaning or a struggle behind it.
Sparkling Clouds
Last week almost the entire of North of Iceland was extremely fortunate to witness polar stratospheric clouds, or nacreous clouds, for about 6 or 7 days in a row. These extremely colourful, rare clouds are aptly called glitský in Icelandic. I think it's a beautiful, descriptive word as it roughly translates to "glittering, sparkling clouds". Seeing these clouds is a special occurrence but to see them that many times in a row has got to be even more unique. The conditions were equally favourable here in the south, but the cloud coverage was sadly not cooperating. I went out 3 or 4 times to attempt photographing them, but I only saw a small glimpse of one cloud.
However, even though I didn't see beautiful clouds last week, it did remind me of one of the most amazing photography moments I've witnessed since moving to Iceland. That is exactly what this month's "Behind the Shot" is about: polar stratospheric clouds. This BTS-story is not lengthy or exciting, but it is a great story to explain how this one moment helped me to recover my motivation and inspiration.
Creative Block
In 2020 I was in a bit of a rut, suffering from a photographic creative block. In that year I only went out to photograph a handful of times and took almost no memorable photographs. I was not feeling motivated to go out, which was a strange sensation considering Iceland was virtually all mine for the taking. Because of the pandemic the country was essentially closed, and it meant you could finally take photographs of places that had before been swarmed with tourists 24/7. Even though I went on an amazing trip through the highlands that summer, I didn't feel as if I returned home with that many photographs I was happy with. My inspiration to create had reached rock bottom. However, that all changed at the end of December 2020 when the weather gods had something special in store for us here in Reykjavík.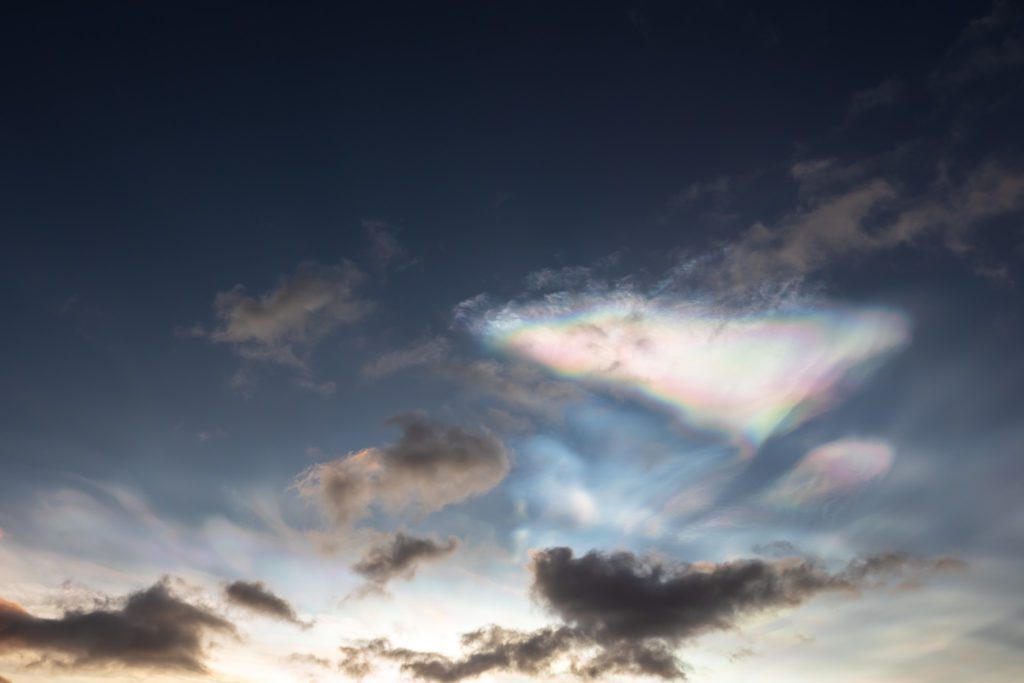 Sweatpants and a Camera
That morning in December 2020 I woke up early, put on clothes and headed to the kitchen. I made myself a coffee and, as I was looking outside, I noticed a faint colour between the clouds. It struck me as odd because it was still very dark – with sunset still two hours off. After a few minutes of staring at it I noticed the colours seemed to get more intense. That's when I realised these clouds were in fact nacreous clouds (polar stratospheric clouds) which were appearing almost directly above our house. I was beyond excited! I had dreamt of seeing these clouds for the longest time and never expected to see them in Reykjavík.
I quickly grabbed my camera with my favourite telephoto lens, put on my boots & lopapeysa (an Icelandic woollen sweater) and ran outside. In all my excitement and haste, I had forgotten it was -14 degrees Celsius outside. But I couldn't care less because of what was unfolding in front of my eyes. I didn't even think about the fact I was only wearing sweatpants – something I definitely regretted later on when the cold sank in!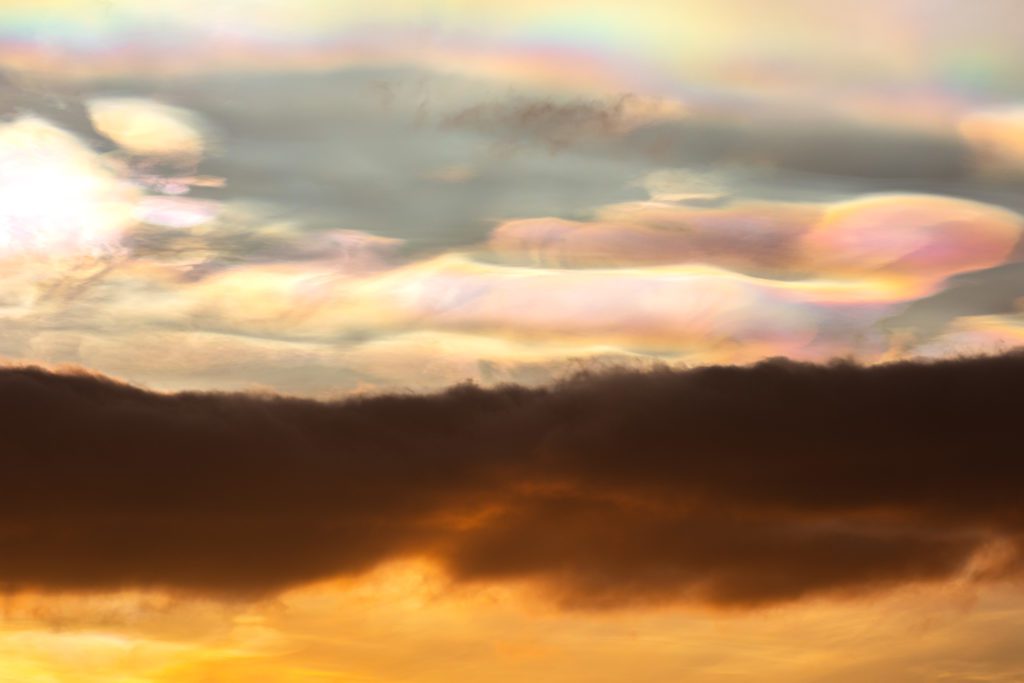 Forced Into Creativity
Fuelled by adrenaline (I'm sure other photographers will understand that feeling) I ran up and down the area around our house like a crazy person. After all, I was finally seeing what I had dreamt of for years. Because I didn't want to waste time driving around in a car to find a nice place to shoot from, I had to be really creative. Being surrounded by a barren construction site on one side and buildings on the other, forced me to think out of the box to get interesting photographs.
I initially crawled on top of a dirt hill, which was conveniently located right next to the building I live in, in order to get to higher ground. This allowed me to have less trouble framing the clouds as the roofs of the nearby tall buildings would not block them as much. Because the regular clouds were still dark, as the sun had not yet risen above the horizon, I could use them to frame the nacreous clouds. The contrast between the colourful and dark clouds allowed me to create meaningful compositions. After a while, I noticed some ravens that were flying around the rooftops of the apartment buildings nearby.
This brings us to photograph I chose for this "Behind the Shot". This photograph, which I simply call "Glitský", is what I really envisioned when I first had the dream of one day photographing these clouds. There are of course already many photographs out there that depict them, but I wanted to add something extra to give them some context. For this shot I used the dark, unlit clouds to frame the beautiful oily colour and texture behind them. I patiently waited until the ravens I saw soaring around the buildings moved in to the frame. It took a few attempts but finally they positioned themselves in such a way that the perfectly balance the centre of the image. By underexposing the scene, and essentially exposing for only the nacreous clouds, I managed to show as much as possible of their beautiful colour without needing post-processing trickery.
Being able to take this gorgeous photograph while being in these, to me, uninspiring surroundings really gave me a much needed confidence boost. This moment was the start of a reinvigoration process that culminated with the eruption of Fagradalsfjall just 3 months later. I sometimes wonder if I would have been just as inspired for that event if this wouldn't have occurred before. I don't believe in faith or destiny, but I do sometimes look at this as if I was being mentally prepared for what was to come. It definitely gave me a much-needed wakeup call.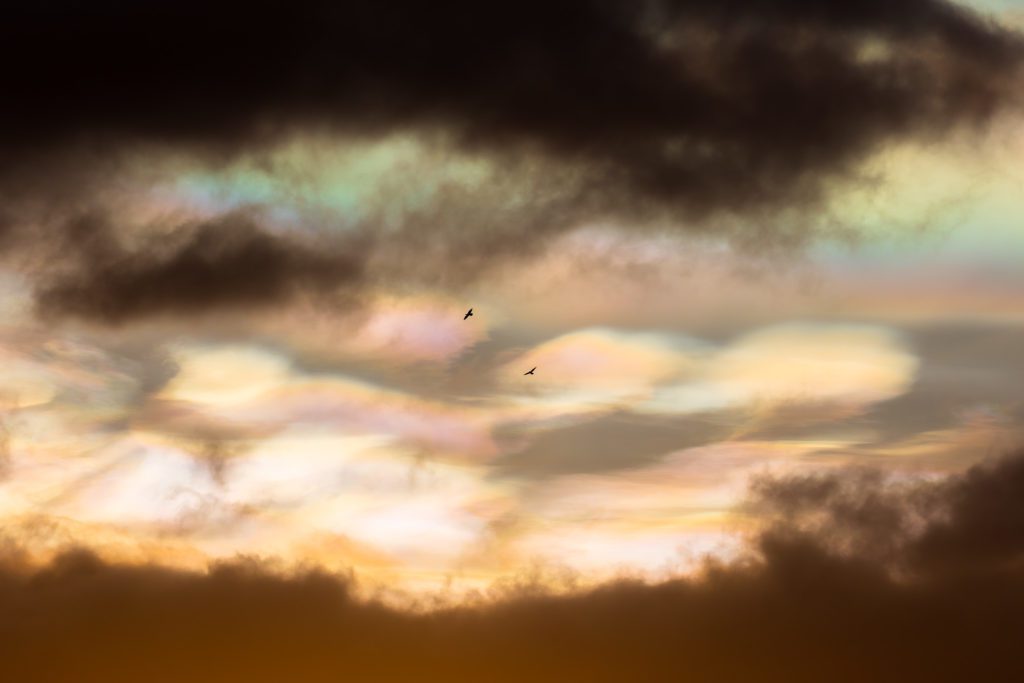 Support Jeroen's Work
As an independent photographer, Jeroen partially relies on your support to keep producing worthwhile content such as blogs, photographs, books and much more. If you want to support his work, it is possible to do so by buying his e-books & books or prints.
You can also sign up to the newsletter to stay up to date on new blog posts, projects, workshops and other interesting information. Additionally, signing up grants you a 10% discount on your next purchase.
Thank you for considering!