Recently, I spent a morning photographing seals at one of my favourite locations. There were a lot of them around. Most of them were lying on the shore, although some came in for a closer look to check out what I was up to.
I left town around 8am. My goal was to get there when the tide was pretty much at the lowest so it was good to set out early. The weather was being its usual Icelandic self with different conditions every five minutes. It went from sun to fog, from fog to hail, and back again to sun. I was a bit sceptical if it would be a good photography day considering but you never know until you're out there.
After about 45 minutes of driving, the light suddenly changed dramatically due to fast moving low-hanging clouds. I got out of the car and started photographing the fast-changing light. I didn't really find a great foreground for the shot but I think I managed to get a nice photograph out of the situation.
After arriving on location, I headed out as far as possible along the shore. There I crawled between the big boulders to get closer to a rock pool. This area is sheltered from the waves and the seals are usually lying around on the rocks. In the past I've been very lucky to get great close-up encounter with the seals there.
I prepared my camera with my Canon RF 100-500mm lens. Even though you can get quite close to the animals, you don't want to get too close as to not disturb them. They are usually on the other side of the rock pool. During my previous experiences I've also found out that the seals sometimes get closer when you sit around long enough. They seem to be very curious by nature.
When I got there, I noticed a seal lying just on the other side of the most narrow part. I took a few photographs until the hail came in. At this point, I was very happy I dressed for all kinds of weather so I could sit and observe until the weather cleared up.
While this encounter was pretty nice, there weren't many other seals lying near the rock pool. That's why I decided to walk back along the shore to see if I could find a few more. After a short walk, I found more seals swimming and seemingly playing together. I sat around for about 30 minutes to see if they would show interest and come a bit closer. Fortunately for me, they did exactly that and I got a few nice close-ups of them swimming.
After this, I decided to walk further down the shore. Then I noticed one seal lying on a rock close to shore. He stood out because it had become sunny and the silhouette was contrasting with the reflection on the water.
After observing him for a bit, I noticed that each time a sneaker wave would come he did something curious. Sneaker waves are quite common here in Iceland. They are waves that roll up the beach much further than usual. In this case, it would happen every 15-20 minutes.
When the wave came in, he curved like a banana, rolled on his side a bit and lifted up his paw so he would be ready to receive the wave. I stuck around to see if I could capture this moment. It took some patience but I think I nailed the shot. In part thanks to the excellent FPS on my Canon EOS R6.
Let me know in the comments what you think!
After this photograph, I felt pretty fulfilled. I thought it was a pretty unique shot and it stood out from the rest to me. I thought to myself I wasn't going to do better but you never know so I decided to walk a bit further and check things out. I found a few more seals close to the shore and decided to photograph them for a while. Below are some of those photographs.
Finally, I decided to head home after a couple of hours of spending with the seals. I've been to this location several times before and I got some great shots already. However, I find it's so relaxing to sit around there, be outside and be in the fresh air. It's a way of calming the mind to just observe and shoot.
How Did You Edit the Photographs?
As you might notice, I edit my photographs in Lightroom (the cloud version, not Classic). I try to do minimal editing. In this case, I have edited every one of these seal photographs using the same process. The process is as follows:
Firstly, I apply my personal preset. That way all my photographs have somewhat the same style to start out from.The preset applies a lens correction. Additionally, it drops down the blacks and highlights while increasing the shadows and the whites. The adjustments made are small but significant enough.
I then finetune those adjustments in case they don't quite fit the image. In this case, it worked well from the get go.
After the tuning of my preset, I used the new masking tools in Lightroom to select the subject. I then inverted that selection.
The reason for the inverting is that I then can reduce the sharpness, exposure and texture of the surroundings. That way I can more easily make the seal stand out.
That's it! As I mentioned before, I really try to do a minimum of editing. In part due to the fact I don't enjoy spending lots of time behind my computer going over every little detail.
Below you can find a comparison between the original and edited photograph. It's also good to know that before exporting, I also add a little bit of sharpening to improve the result.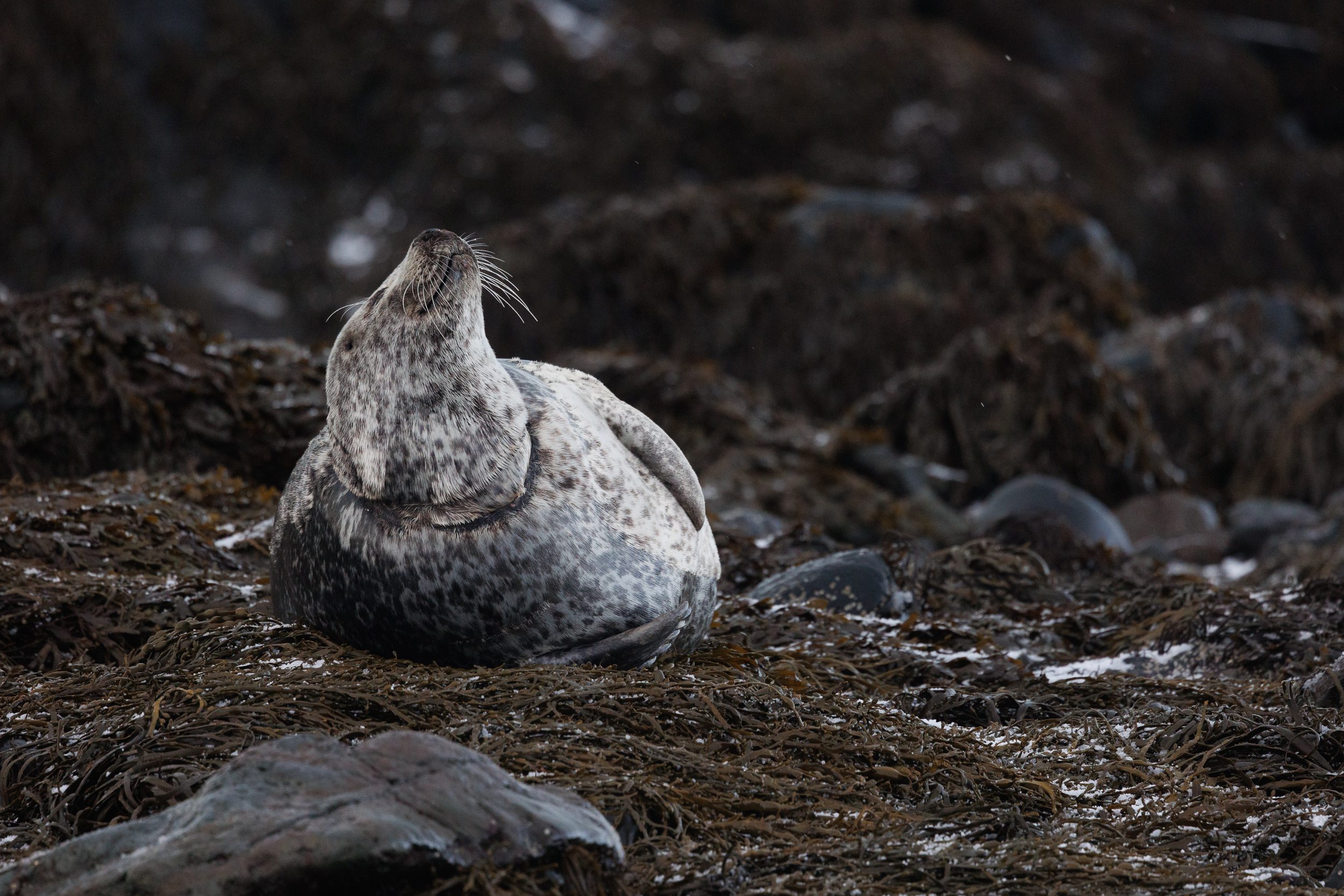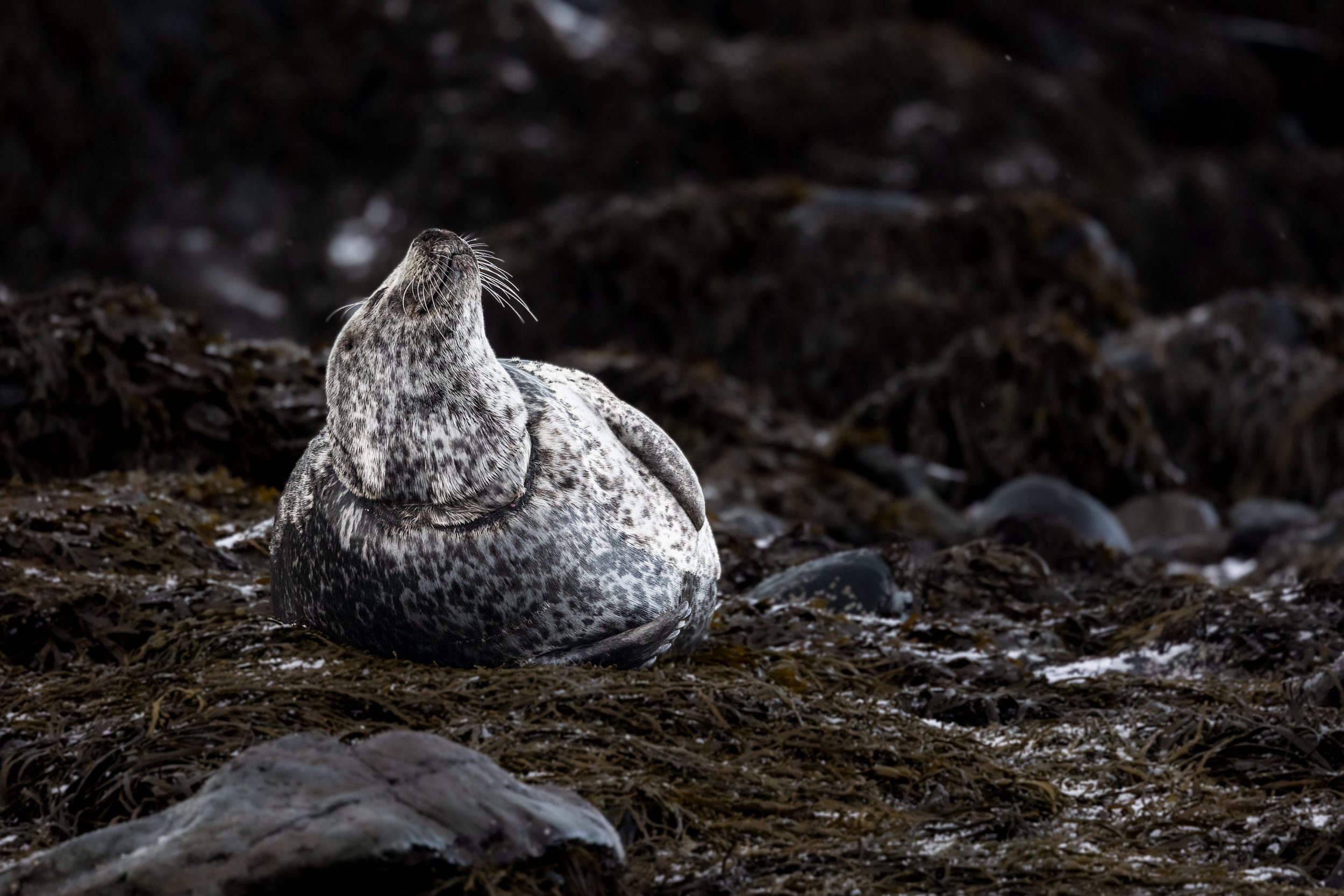 If you felt it was interesting to you to know how I edited my shots, be sure to let me know in the comments!
Where Can I Find Seals?
The location where I photographed these seals, together with many other interesting photo locations in Iceland, can be found in a special e-book I made. You can find this comprehensive 56-page guide to 25 of my favourite photography locations in Iceland in my webshop.
The guide is complete with a lot of different information, such as:
A 56-page PDF with written explanations and photographs made by me

A mixed bag of 25 of my favourite photo locations, ranging from well-known to lesser known gems

GPS coordinates and Google Maps links for each photography location
Comprehensive descriptions on how to get there
When it's the best time to visit each location
Where to stay if you plan to stick around
Photography advice for each place
Helpful links and apps which are useful when travelling around Iceland as a photographer
An overview of local regulations relevant to photographers
My Greenland Adventure Blog is Coming Soon!
I just got back to Iceland from an excellent photography outing to Ilulissat, Greenland. I'm very eager to show you what I was up to during this deep winter adventure so stay tuned for my next blog! To get notified about when the blog appears, you can sign up to my newsletter.
Support Jeroen's Work
As an independent photographer, Jeroen partially relies on your support to keep producing worthwhile content such as blogs, photographs, books and much more. If you want to support his work, it is possible to do so by buying his e-books & books, prints or calendars.
You can also sign up to the newsletter to stay up to date on new blog posts, projects, workshops and other interesting information. Additionally, signing up grants you a 10% discount on your next purchase.
Thank you for considering!