What Is 'Behind The Shot'?
To me, photographs are strengthened by having a good story to support them. At its core, photography is the art of capturing memories and those memories deserve to be told & shared. With this new concept I want to tell people that story. I want to share what effort, struggle and sometimes luck is behind the publishing of that single image you might see in your social media feed. Every month I will be sharing one photograph which has a good story, a deeper meaning or a struggle behind it.
It's been a while since my last blog. I have been so incredibly busy guiding workshops in the last two and a half months, that I haven't been able to sit down and write blogs. But that is all about to change! The first blog is this month's 'Behind the Shot' story. Because the 2022 Meradalir eruption is about one year old now, I decided to share a story about the first day of that eruption.
When the Unexpected Happens
When the 2021 Geldingadalir eruption, the first eruption of Fagradalsfjall, came to a close it was a bittersweet moment for me. After six months of giving my all, it had become time to rest. I visited that eruption a total of 44 times while it was active. Not only had it been a dream come to life, this event had been life-changing in many ways. Thanks to that eruption I managed to jumpstart my full-time photography career, self-published a book and my work was put on the photography map .
One thing I kept telling myself is that what happened with that eruption was unique in many ways. What are the odds we are around to witness the reawakening of a volcano which was dormant for 7000 years? But even more so, what are the odds that this eruption turned into something so gentle and approachable? What are the odds that I would ever be able to stand next to an erupting crater again? When the eruption finally stopped, I was convinced that I would probably never experience all of those things again.
But then, in late July of 2022, the unexpected seemed to happen again. Was Fagradalsfjall readying itself for round two?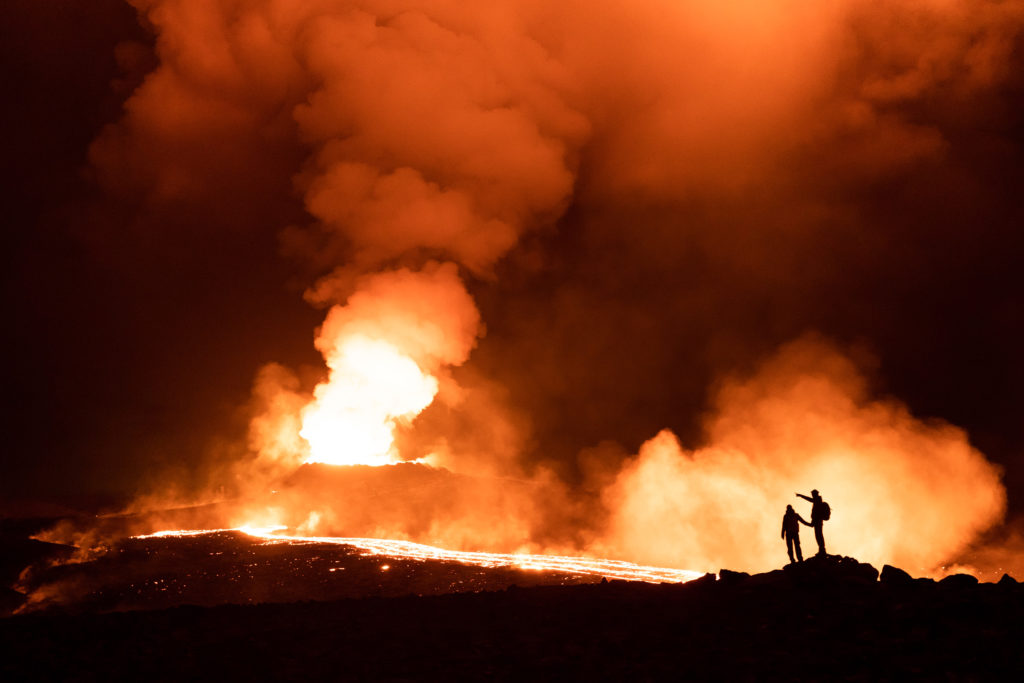 The Earth Shakes Once Again
On July 30th, almost 11 months after the Geldingadalir eruption ended, the earth began shaking again. A powerful earthquake swarm kicked off near Fagradalsfjall, indicating something might happen again. I was a bit sceptical at first as it wasn't the first time it looked as if another eruption might happen. But quickly after this swarm began, volcanologists openly said a new eruption was going to happen. It was the first time they had used such strong words about a possible eruption. If you know something about Icelandic volcanologists, you know that they usually never give a definitive answer. Therefore, hearing a very direct "Yes, we will have another eruption." was rather curious. Quickly new webcams were positioned in the area, looking over the potential eruption site.
Carefully I started getting my hopes up again. Was this event, which I never expected to see again, really going to happen? I prepared all of my gear, ready to leave the house at a moment's notice.
The Second Fagradalsfjall Fire
It was August 3rd, just after midday, when I suddenly noticed the ground rupturing on the webcam which was pointed towards Meradalir valley. IT WAS HAPPENING! It was really happening again! I changed into a more outdoorsy outfit, grabbed my gear and ran as fast as I could out of the house. After meeting up with a friend, we set course for Fagradalsfjall. We were so incredibly excited. On our way, we drove with the car windows down, blasting epic soundtracks through the car speakers. We were so ready for this!
Once we arrived at the parking lot to commence the hike, the area had been officially opened up by authorities. That meant we could hurry ourselves towards the newborn eruption. It took us only one hour and 10 minutes to get to the eruption. We were hiking so fast that it must have almost been running. It was the adrenaline and excitement that fuelled us.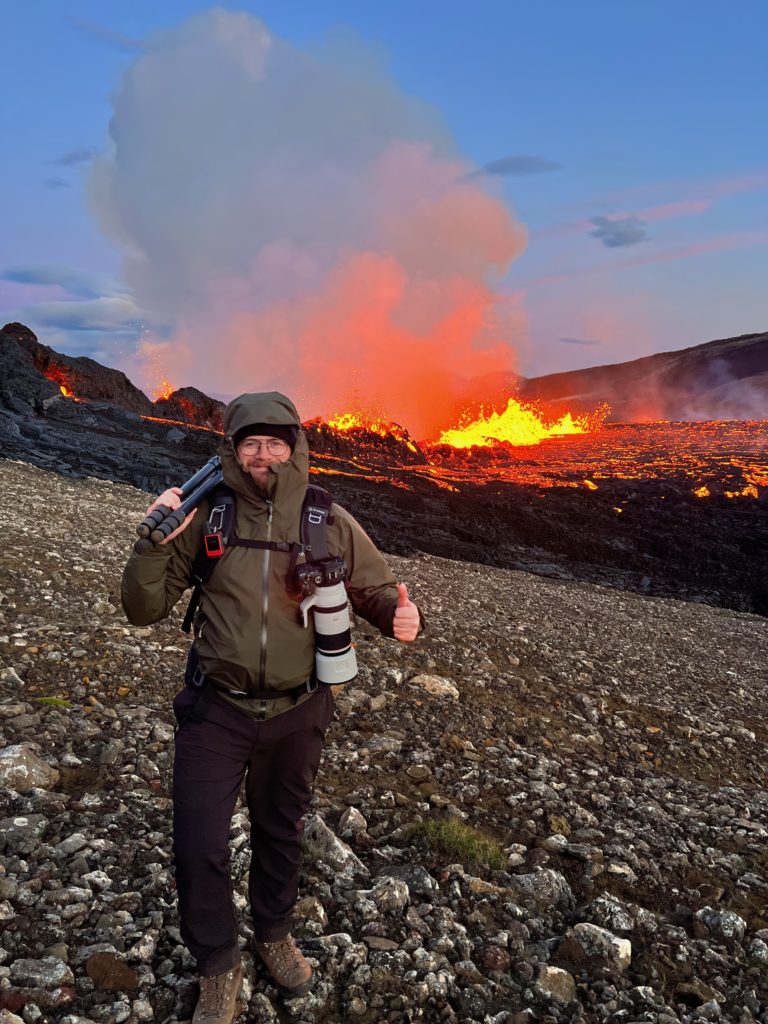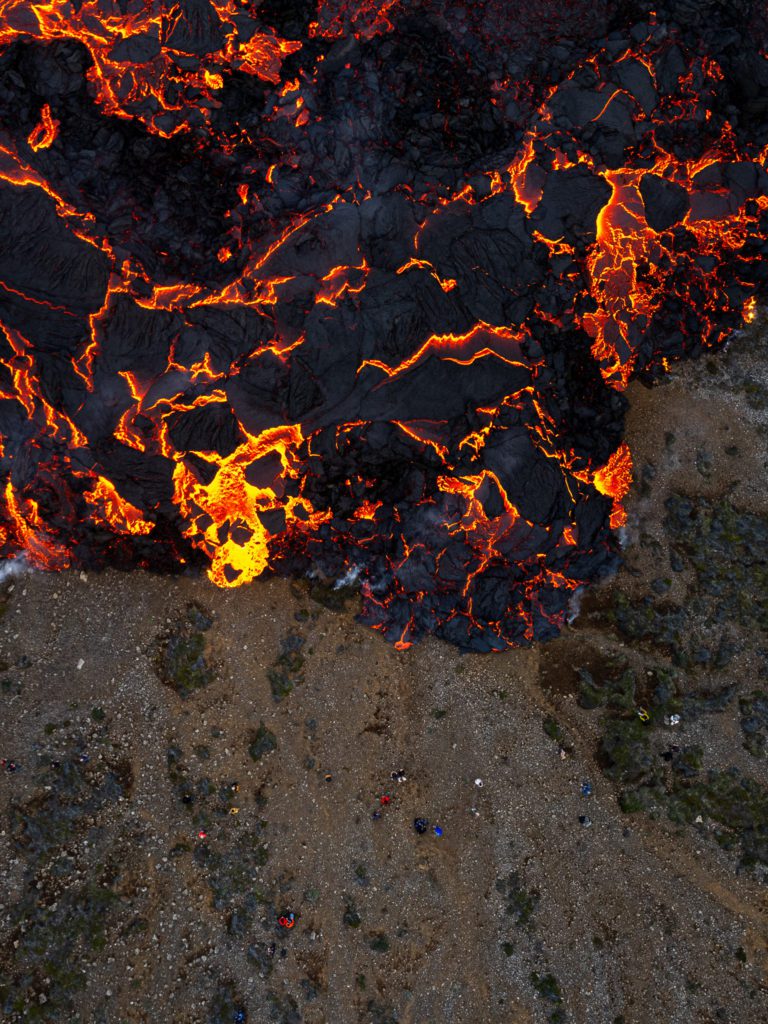 As we arrived at the overview point where we could see the eruption the emotions ran very high. It's incredibly hard for me to describe the feeling that surged through me at that moment. Seeing lava flow again. Watching the ripples move across the newly formed lava lake. It brought up all these fond memories I have of the 2021 eruption. Being convinced that I would never see this again this close up and then being proven wrong, it just made me beyond ecstatic. We stayed at the eruption until late in the night.
This brings me to the photograph I picked for this month's "Behind the Shot". The photograph is an aerial shot of the new fissure eruption, just a few hours after it first appeared. It's one of the first photographs I took of the Meradalir eruption. To me this image is loaded with all those emotions I felt when I first saw this second eruption.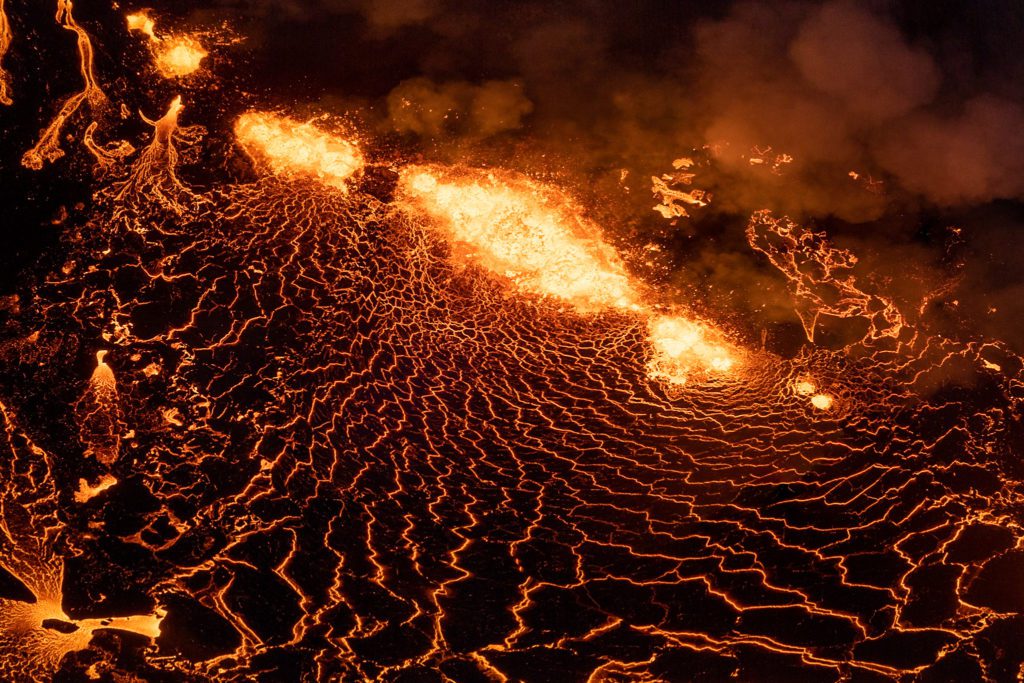 Do you want to level up your drone photography skills?
I created a unique nature drone photography e-book which helps you to take your drone shots to the next level – even on the smallest and cheapest drones. This educational e-book is a complete guide for both aspiring & experienced nature drone photographers. In this e-book, Jeroen explores useful knowledge, tips, skills, techniques, compositional ideas and more. With this guide, you get deep insight into his process when creating aerial photographs.
Level up your drone photography
Support Jeroen's Work
As an independent photographer, Jeroen partially relies on your support to keep producing worthwhile content such as blogs, photographs, books and much more. If you want to support his work, it is possible to do so by buying his e-books & books or prints.
You can also sign up to the newsletter to stay up to date on new blog posts, projects, workshops and other interesting information. Additionally, signing up grants you a 10% discount on your next purchase.
Thank you for considering!