Earlier this year, in March, I travelled to Greenland to host a photography workshop together with Andy Mumford. Those of you who have been following me for a while will undoubtedly remember my first trip there last year. Due to all kinds of circumstances, I ended up going to Greenland for a first time during winter. This trip left such a big impression on me that I just had to return quickly after. Therefore hosting a photo workshop seemed like the perfect reason to return to this magical winter wonderland quickly.
In this blog, I want to share five of my favourite images taken during this workshop. However, before we get to that, I need to share a little story about what went on before this workshop.
Murphy's Law
As I'm sure many people will tell you, travelling to Greenland is always a bit of an adventure in many ways. Unfortunately the lead up to this workshop proved that again. This time, it seemed as if Greenland decided to put Murphy's law in practice for this workshop: everything that could possibly go wrong during the preparation went wrong. At first the flight schedules changed dramatically which meant we had to rebook the workshop and extend it by one day. Then the charter boat company went out of business. Believe it or not but then the replacement boat charter damaged their boat in the sea ice, which set us back again. To top things off, the week before the workshop was about to begin the whole region experienced unusual temperature increases (averaging zero degrees Celsius) which caused all the sea ice to melt.
As you can imagine, when we were ready to board the plane, all I could feel was a huge relief: this workshop was finally happening. Again the Icelandic saying "Þetta reddast" (everything will work out one way or another) turned out to be reality.
That first evening would quickly set the bar for the entire workshop. At first we got treated to a stunning sunset over East Greenland, with gorgeous views of the wilderness below. Immediately after arriving at our hotel we had a great welcome dinner which was followed by our first display of northern lights during that workshop. As it turned out, we would see the northern lights 4 out of 6 nights, topping it off with some of the most amazing northern lights to be seen from the plane on the flight back to Iceland. On top of that, we had beautiful conditions on both the water and from the shore during the entire trip. Even though most of the sea ice melted right before our arrival, temperatures of -2o degrees Celsius (and lower) caused the sea ice to appear again during the workshop.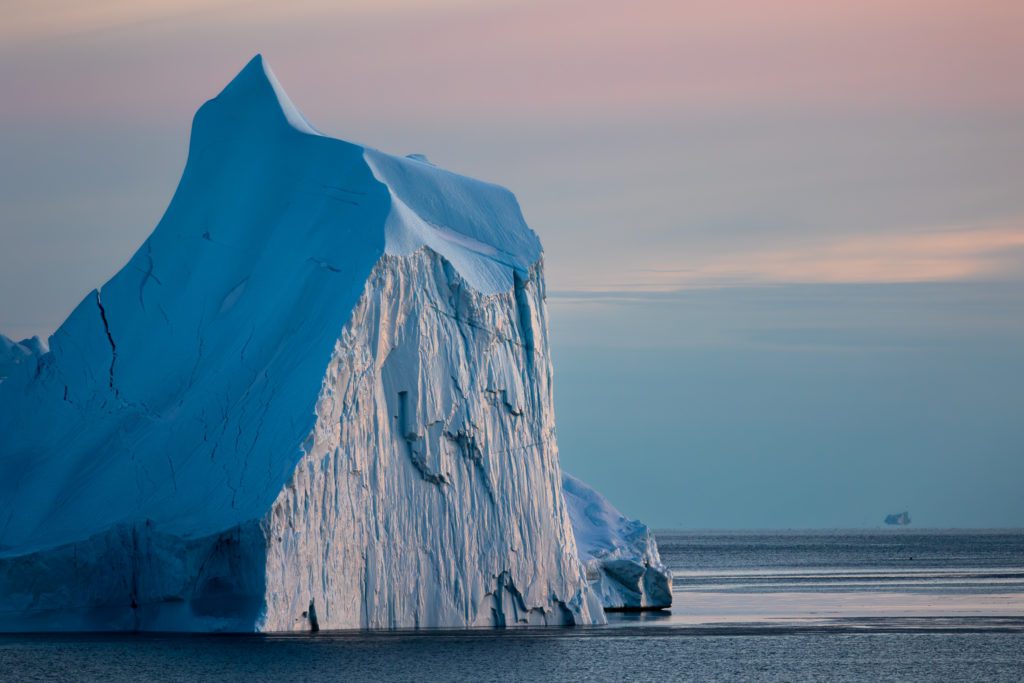 Five Images That Left a Lasting Impression
Next week I will be travelling to Greenland again for another photo workshop. This time hosted together with my friend and incredible photographer Nigel Danson. That's why it seemed like a good opportunity to show you five (or maybe even six!) of my favourite images taken during this trip that stuck with me until today. It's unbelievable what a variety of photographs you can capture even though you are essentially in the same location for several days.
I see this as a massive advantage and a simple way to vastly improve your photography. Staying longer in a single location gives you the ability to revisit angles, think about what perspectives you want to explore and develop variety in your shots.
But I'm digressing… Let's jump in with my first favourite shot of this photo workshop to Greenland!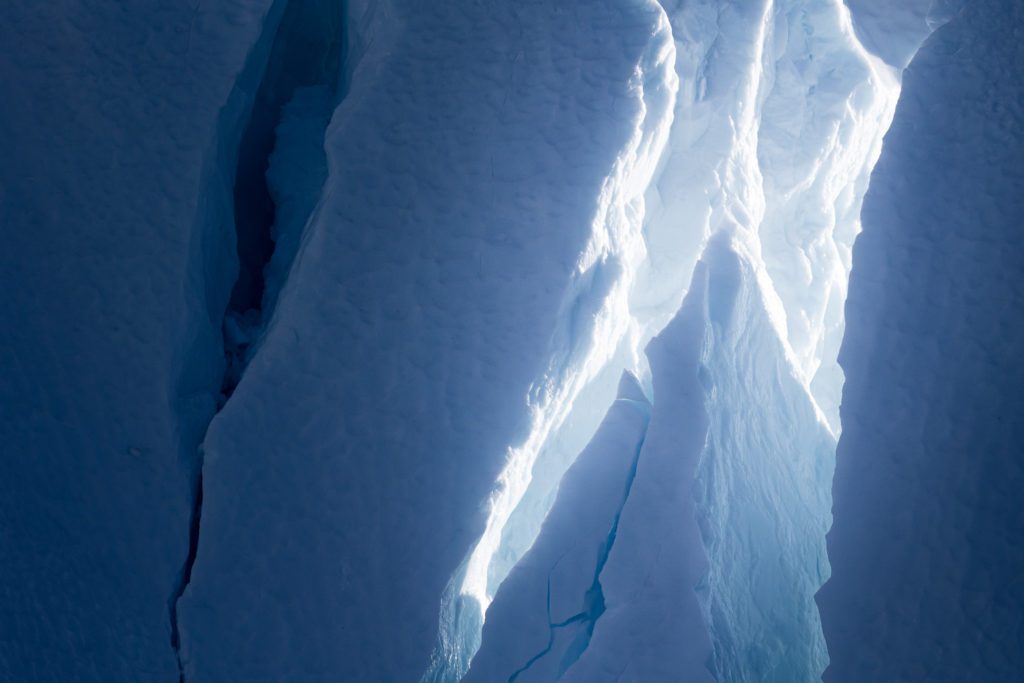 This first photograph is probably my favourite one of the whole workshop. I captured this from one of our boat trips using my Canon RF 100-500mm lens at 500mm. When sailing along the icebergs, it's really important to look at the play between shadow and light. In this particular scene, I really enjoyed how the light was hitting the crack in the top of this iceberg, while the rest was covered in shadow. By underexposing my shot, I managed to amplify the contrast between the light and the dark. During post-processing, I used the dehaze tool to bring out the glow inside the crack, which I saw while taking the shot.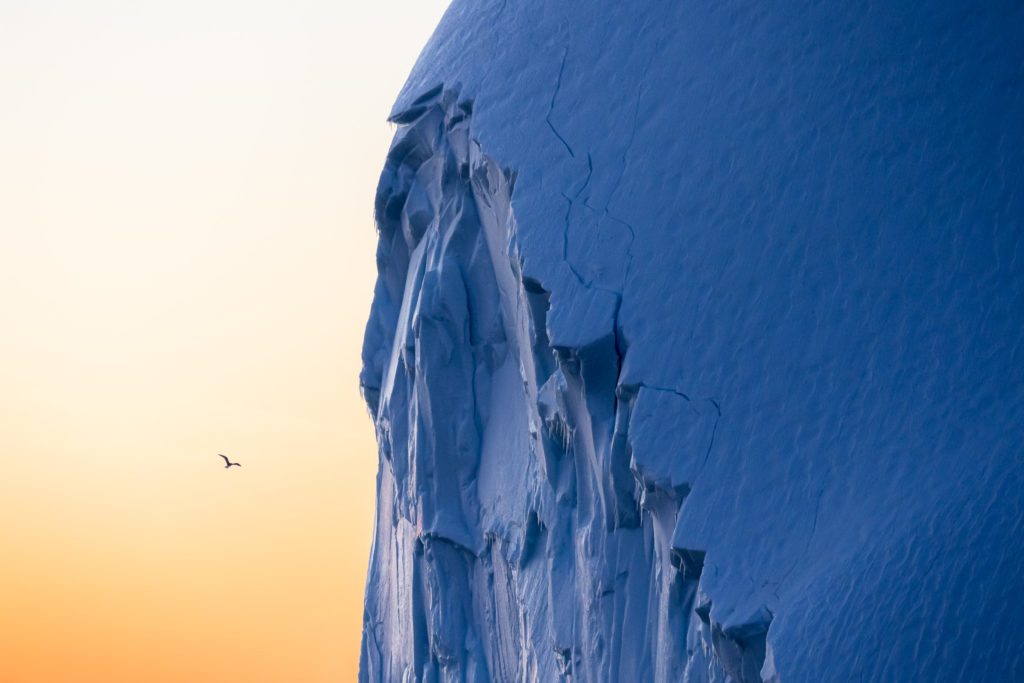 What's really challenging in such a vast environment is finding elements to provide scale in your photographs. Some of the icebergs you see are larger than an apartment building. Especially because you're out on the water, there are very few elements that can help you. However, even in these extreme temperatures, there is birdlife around the icebergs. Around the larger icebergs, you will find seagulls, ravens and even eider ducks. In this particular image, I used a seagull which was soaring near one of the larger icebergs to provide a sense of scale. To capture this single image, I took about 30 photographs in burst mode so the bird would be in the right place in at least one of my images.
3. Drone Flying During Sunset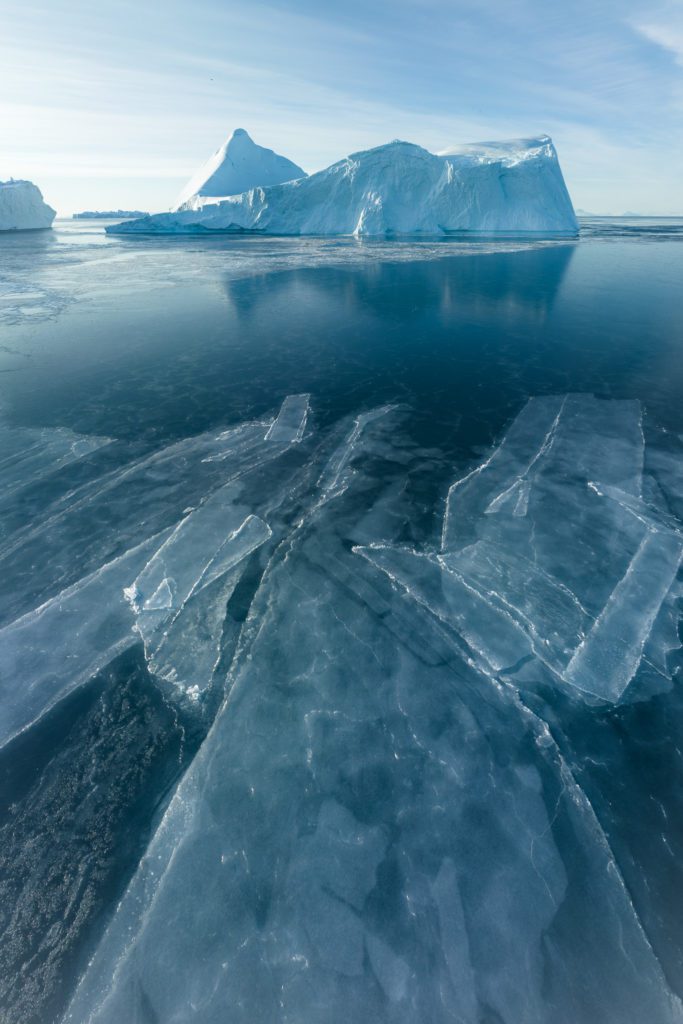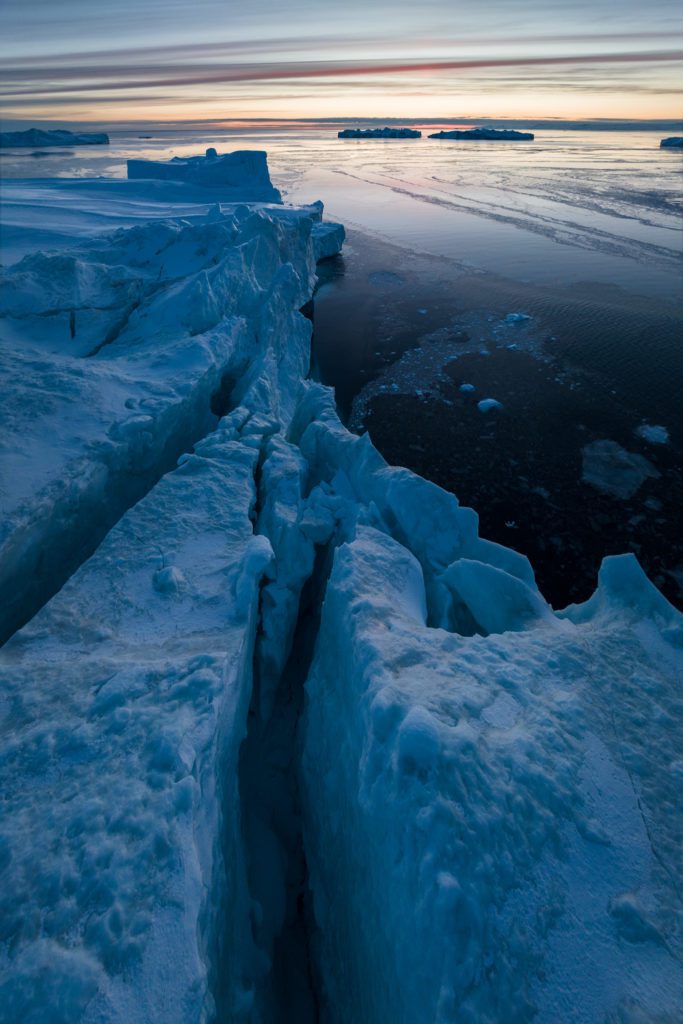 I, of course, can't make a list such as this one without having at least a drone shot in it. I actually selected two photographs as this was such an amazing session during the last sunset we experienced in Ilulissat. The first photograph was taken about two kilometres from the shore in an area we had just sailed through a few hours before. Because a boat went through the surface ice, it created all these beautiful shards. I spent about half an hour flying back and forth until I found the right compositions. I really liked this one because it has the shards pointing towards the iceberg in the background.
The second photograph was taken at the end of this sunset. I had one battery left and decided to fly out one more time. Last year, I spent most of my time looking for cracks and crevasses in the floating icebergs that could be used as a leading line. This year, I didn't have much luck finding an interesting one but at this very last moment, I found this lovely composition. I think it works really well, especially with the soft sunset colours in the background.
4. Ultra Wide-Angle
Because the sea ice had melted to a large extent, I didn't end up using my wide-angle lens much. However, on the second to last day, the sea ice had started to form again around the largest icebergs. You may wonder why that's important to me. The reason is that sea ice, with all its textures and cracks, is a perfect foreground when using a wider lens. In the first few days of the workshop, I didn't use this lens at all because there was only water in the foreground.
In one instance, our boat started passing through a narrow passage between two icebergs. Because I hadn't really been anticipating sea ice at this point, I had left my wide-angle lens and camera inside of the boat. Suddenly I noticed a large patch of ice appear, ran inside, grabbed my camera, ran back outside, dropped to my knees to get as close to the water as I could and began shooting. I managed to capture this shot before we entered open water again.  I really like the crack in the ice that leads you towards the background.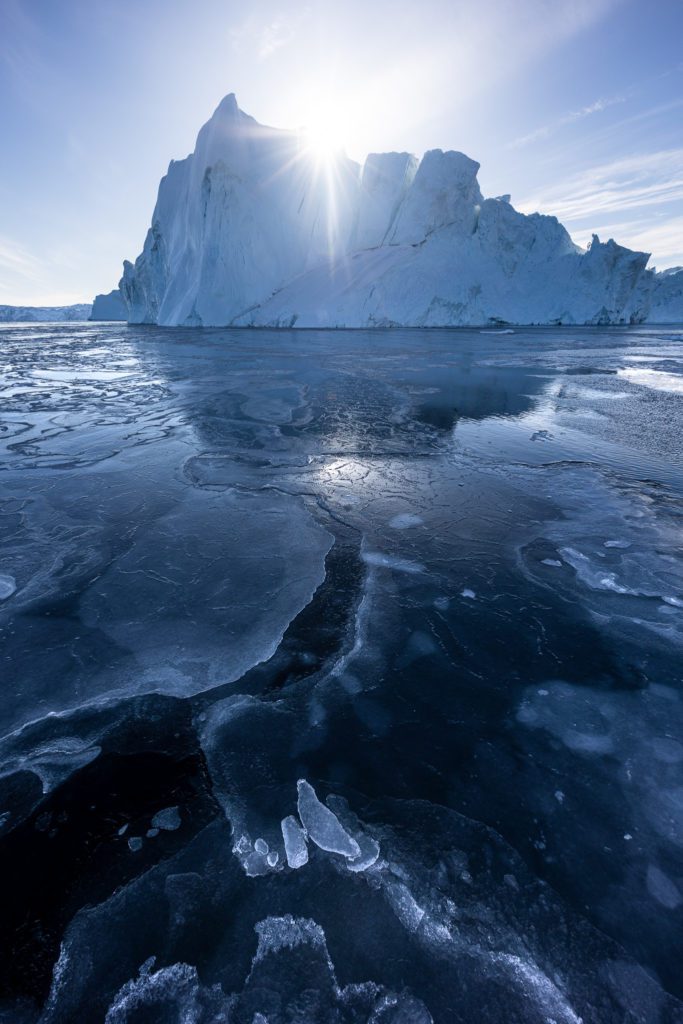 This final image was taken on the second to last day and is all about the play between shadow and light. The boat had stopped in an area where we were surrounded by icebergs. The ocean was really calm and there was almost no wind. In the distance, I noticed how the sun was slowly creeping into a shadowy area. The reason why this caught my eye was because there was a seagull flying in and out of the shadow. Because it was so far away, I set up my 2x extender to get 1000mm of range.
What I really liked was when the bird turned in such a way that only the wings were lit by the sun. Of course, after I noticed this, the same situation didn't occur again. I waited for about 20 minutes before this bird finally flew around the iceberg in a similar way as before. Fortunately for me, I persisted and ended up with this stunning capture.
Conclusion
This was a short look into what was an amazing photography workshop, together with Andy Mumford and an amazing group of participants. I'm looking forward to visiting Greenland again in just one week together with Nigel Danson.
If you're interested in participating in one my photo workshops, make sure to sign up to my waitlist to get notified as soon as a spot becomes available. More photo workshops to Greenland are in the works!
Support Jeroen's Work
As an independent photographer, Jeroen partially relies on your support to keep producing worthwhile content such as blogs, photographs, books and much more. If you want to support his work, it is possible to do so by buying his e-books & books or prints.
You can also sign up to the newsletter to stay up to date on new blog posts, projects, workshops and other interesting information. Additionally, signing up grants you a 10% discount on your next purchase.
Thank you for considering!