What Is 'Behind The Shot'?
To me, photographs are strengthened by having a good story to support them. At its core, photography is the art of capturing memories and those memories deserve to be told & shared. With this new concept I want to tell people that story. I want to share what effort, struggle and sometimes luck is behind the publishing of that single image you might see in your social media feed. Every month I will be sharing one photograph which has a good story, a deeper meaning or a struggle behind it.
The subject of this month's 'Behind the Shot' is a photograph which I named 'Saga' (translated: 'History'). I took this photograph during the Geldingadalir eruption in 2021 shortly after all but one crater shut down, which ended up growing into a massive mountain which is still there today. In this photograph you can see the northernmost crater in the foreground with the erupting crater in the background.
Looking Through Time
The thought behind this photograph is a simple one: I wanted to tell a story of what had been and what still is, a combination of past and present into a single photograph. All around Iceland you can find gorgeous craters in all shapes and sizes, a memory of a time long gone. In some areas there are so many of them that you might mistake the landscape for the moon. When I see these craters, I always think about what they must have looked like when they were still erupting. During the 2021 eruption of Fagradalsfjall it was possible to capture that imaginative part, it was possible to photograph a solidified crater together with an active one. It's not every day you can combine history with current events in one image. To me, this photograph is a way to look through time and see what our planet might have looked like millions of years ago.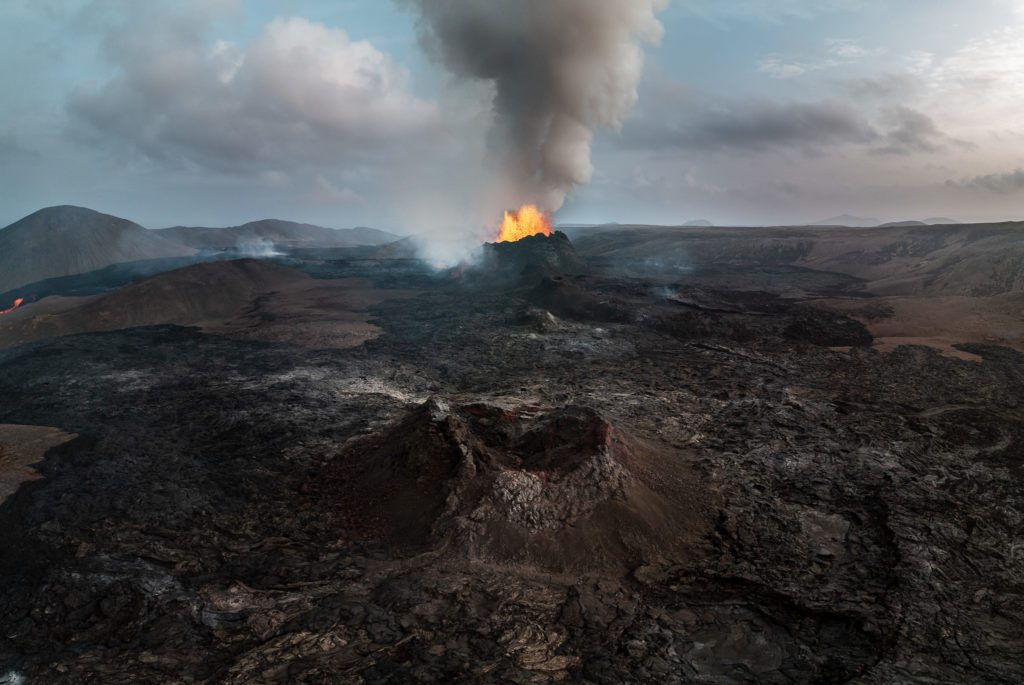 Capturing the Shot
Before I headed out to the eruption site, I thought a lot of how I would approach this photograph. At the time, the erupting crater wasn't erupting constantly but did so with 8-9 minute breaks in-between eruptions. Because I had to be able to see when the active crater would start erupting, I positioned myself on Gónholl, which was the viewing hill at the time. However, the vantage point from which I wanted to capture the photograph was near the northernmost crater, which was about 1,2 kilometres away from the viewing hill. The distance to the chosen vantage point, combined with the intermittent behaviour of the eruption, meant I only had two attempts per battery to capture the images I wanted. The timing of my takeoff had to be chosen really strategically.
On top of that, to make things even more challenging, I wanted to capture this photograph as a wide-angle panorama. The reason for that is that I wanted this to be a photograph that could be printed very large, showing all the details. This meant that I would have to take 9 consecutive photographs (3 rows of 3 shots) while the lava fountain was spewing into the air. Because of this moving element of the lava fountain, I decided to start by taking the frame containing the active crater first as the rest of the image was rather static in comparison. I captured several versions of the same photograph during different flights. However, unbeknown to me at the time, I captured my favourite shot already during the first flight. When shooting aerial panoramas, you really only know for sure that it worked out when you stitch together the images on your computer.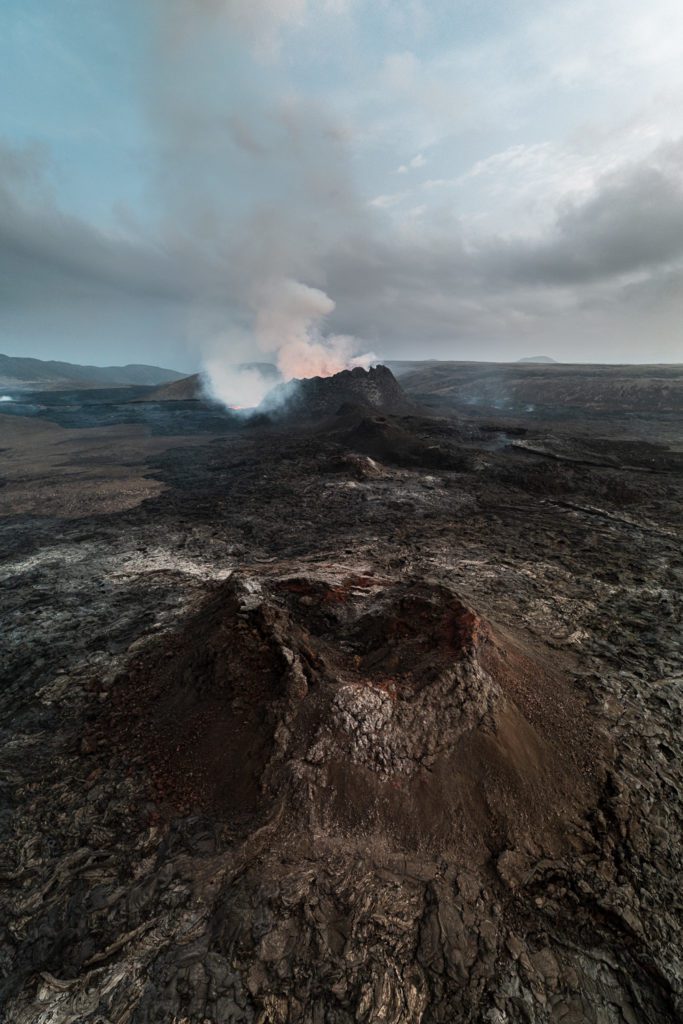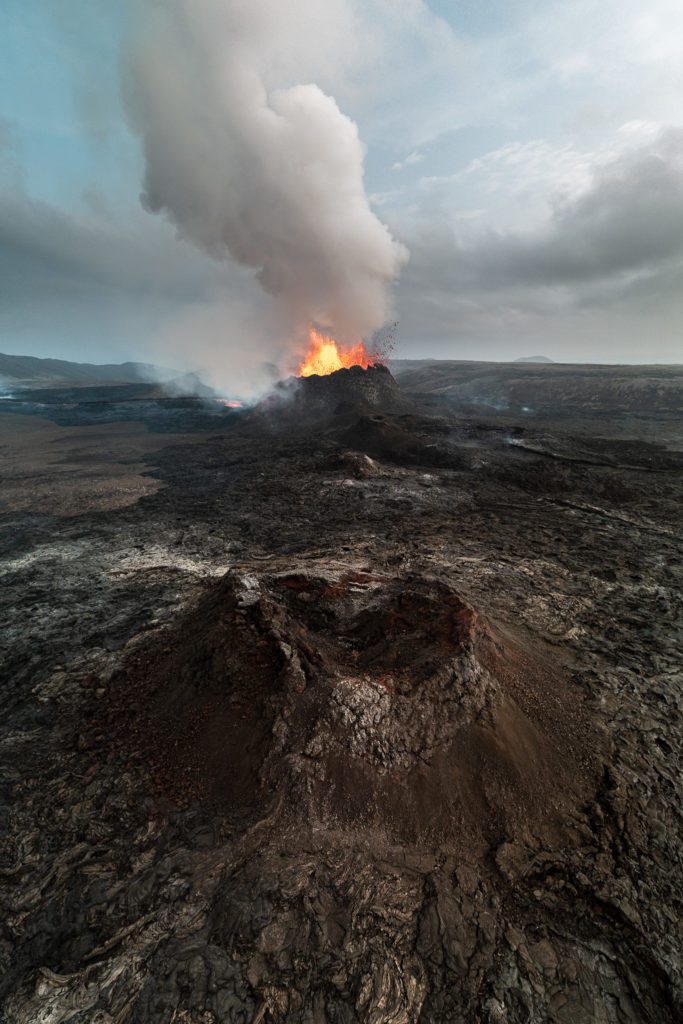 Would It Be Fun If It Were Easy?
When people see an image such as this one in your social media feed, most of them don't realise how much time, effort and failed attempts went into that single photograph. More often than not, it takes hours to get that single perfect capture just right. This photograph is a perfect example of that. To turn this idea into a single usable photograph took me about 7-8 hours of getting to the location and back. I drove to the nearest place I could leave my car, hiked into the mountains, flew my drone 4 times and then returned home. Once I got home, I spent about 2 hours of post-processing.
I did this numerous times. Below is another example of a photograph I took during the same stage of that eruption. This time I had to hike around the lava field to get to right spot which gave me a good view of the gap on the northern side of the crater.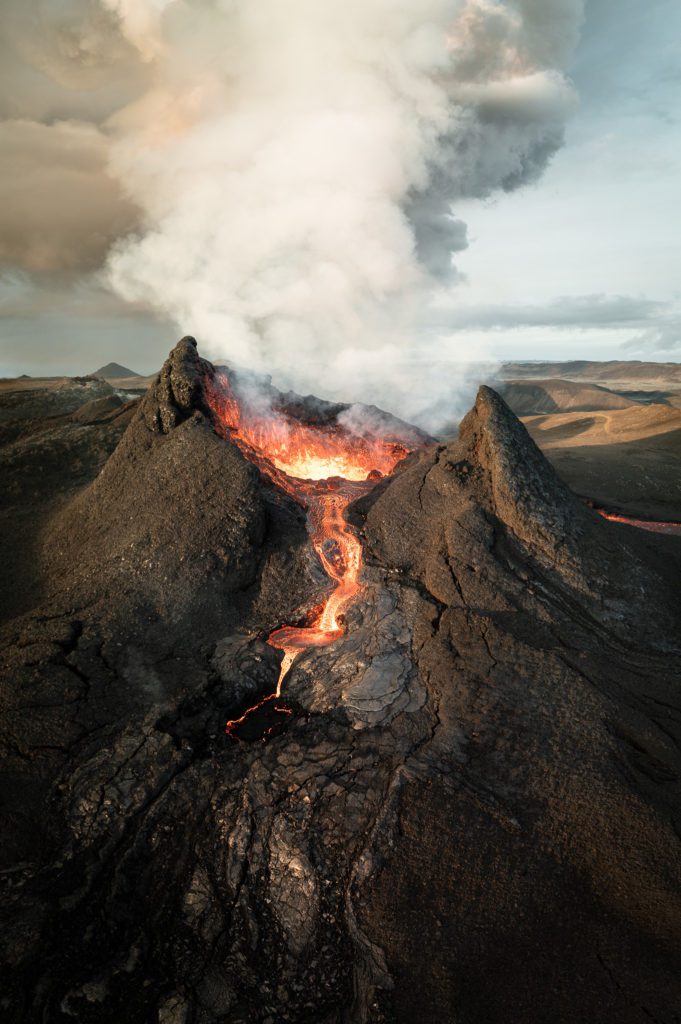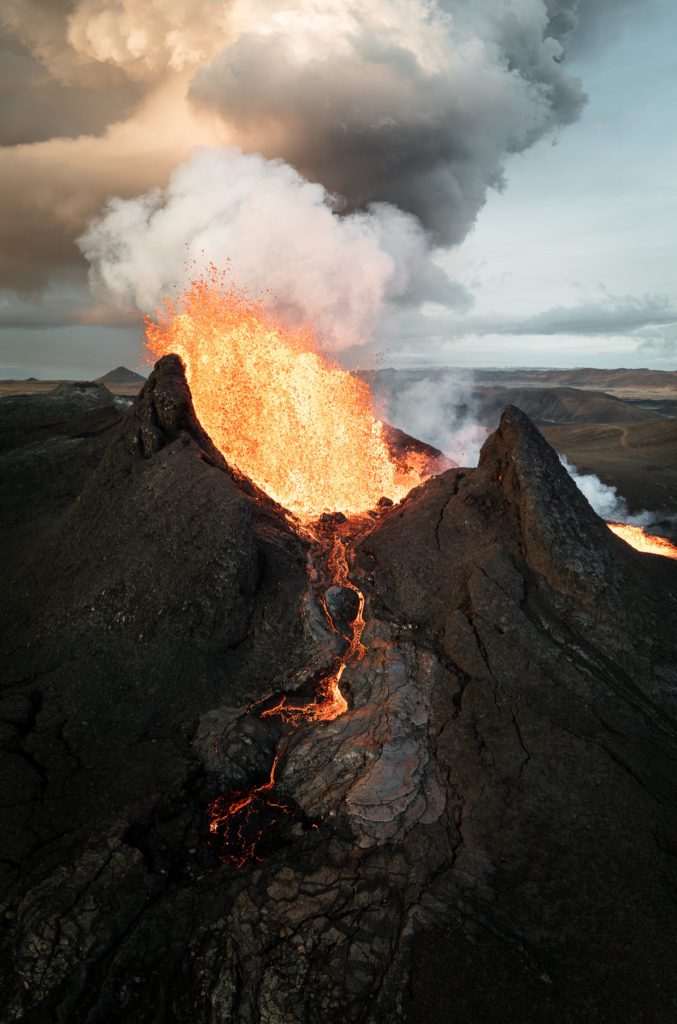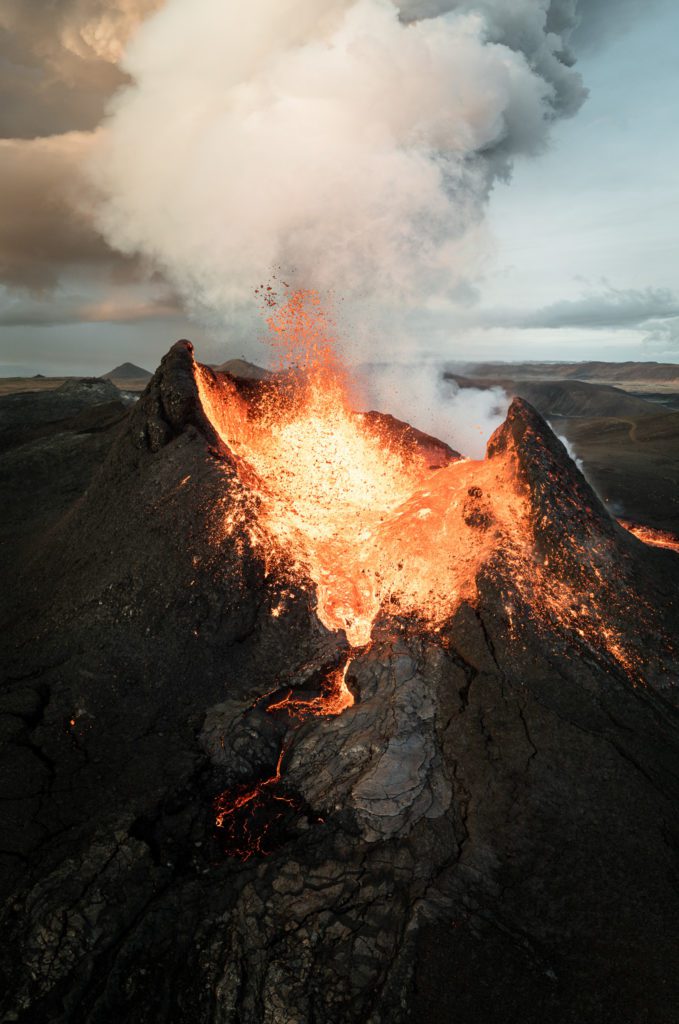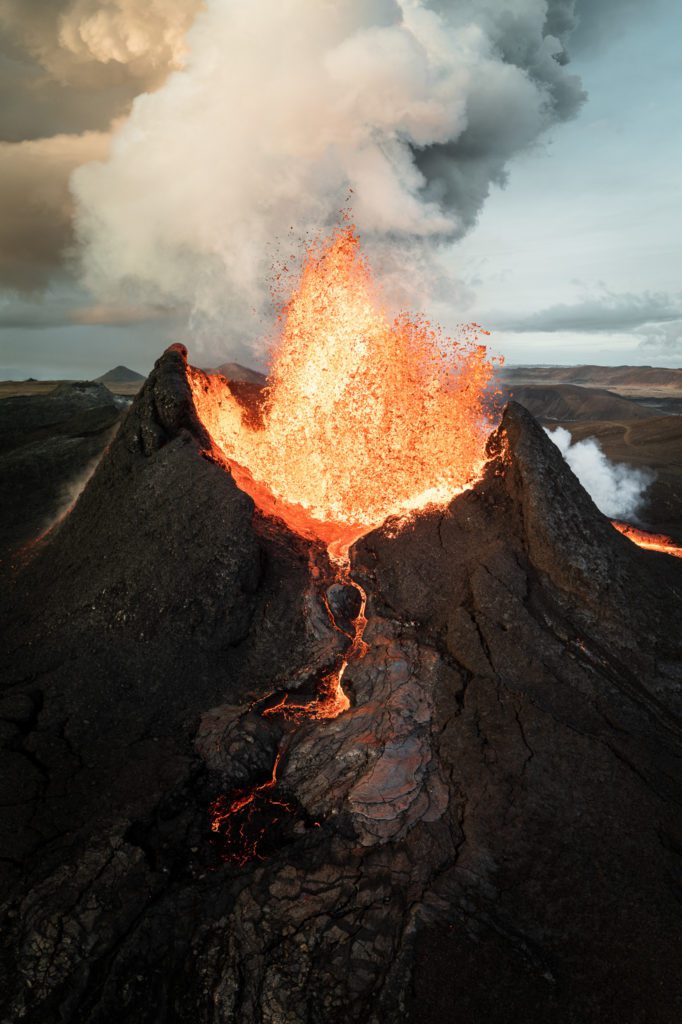 Don't get me wrong: I am by no means complaining. When a planned shoot such as this one works out, it's the greatest feeling in the world. As a photographer, I really live for that sense of fulfilment and accomplishment. It feels incredibly rewarding. That begs the question: would it be fun if it were easy? To me, probably not. Photographs that were challenging to take or that required a lot of planning and attempts also have a lot of memories and stories attached to them, which is what photography is all about to me.
For those of you who are not familiar with capturing drone panoramas, I highly recommend checking out my drone nature photography e-book in which I take you through my workflow, in detail, in a step-by-step manner.
Improve Your Drone Photography
Support Jeroen's Work
As an independent photographer, Jeroen partially relies on your support to keep producing worthwhile content such as blogs, photographs, books and much more. If you want to support his work, it is possible to do so by buying his e-books & books or prints.
You can also sign up to the newsletter to stay up to date on new blog posts, projects, workshops and other interesting information. Additionally, signing up grants you a 10% discount on your next purchase.
Thank you for considering!