Over the years I've been getting plenty of questions about Iceland and what people should visit. I started answering some of those questions in a series of journal entries. In this journal entry, I answer another one of those questions: "What are my top 5 must-photograph locations in Iceland?".
The two things I kept in mind for this list is that every location has to be reachable from Reykjavík within one day and that it's interesting for first-time Iceland photographers. Please keep in mind that not all of these places are reachable during all seasons. Some of them are completely closed off during winter/spring or require a guided super jeep transport to be arranged to get there.
Also, please share in the comment section what your favourite photography locations in Iceland are! I'd love to see and hear other people's experiences.
UPDATE 16/12/2022: Looking for photography locations in Iceland? Many interesting photo locations in Iceland can be found in a special e-book I made. You can find this comprehensive 80-page guide to 35 of my favourite photography locations in Iceland in my webshop.
1. Kerlingarfjöll & Hveravellir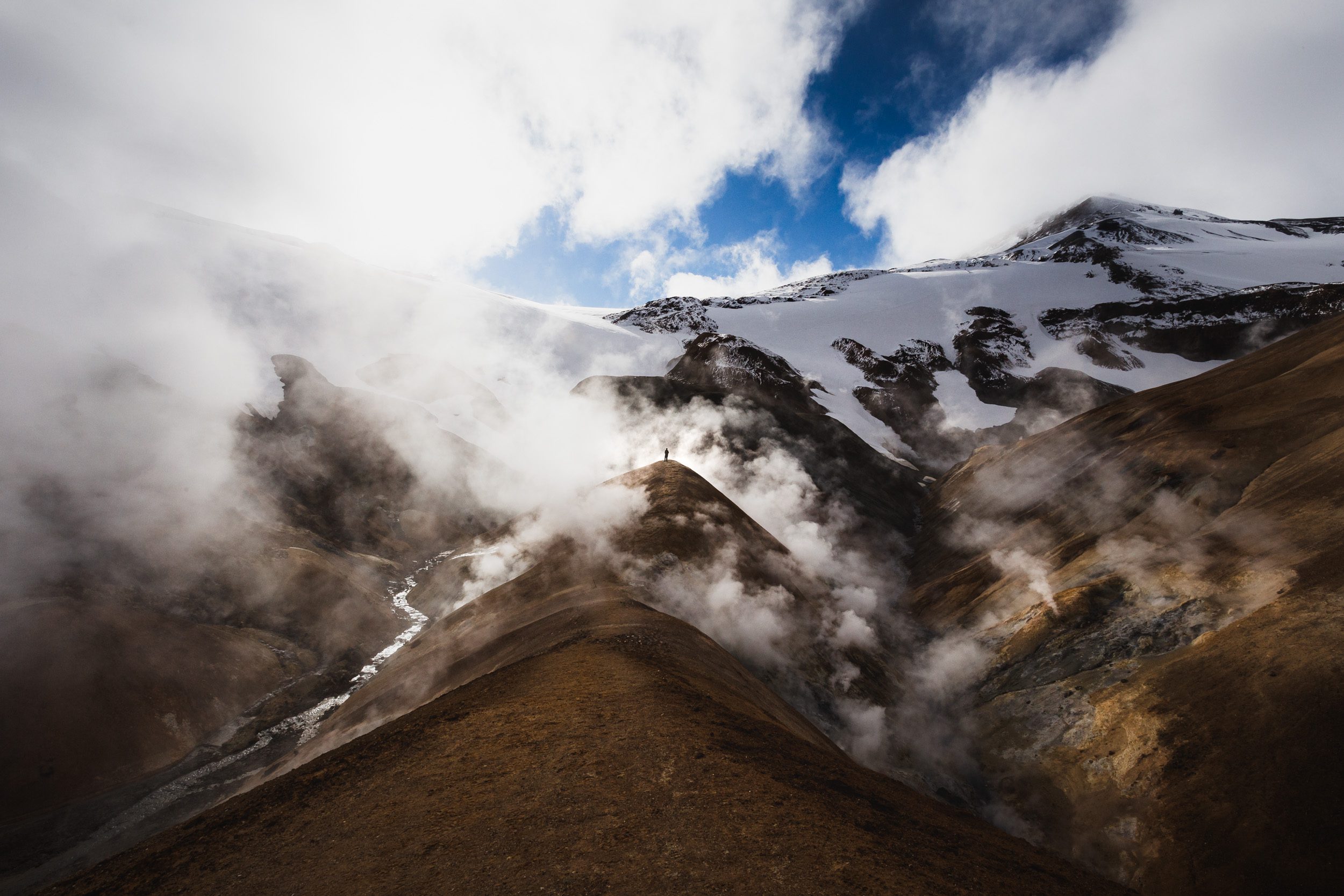 Kerlingarfjöll and Hveravellir are both geothermal active areas along the highland road called Kjölur (F35). Kjölur goes all the way from Gullfoss through the highlands towards the North of Iceland. Both areas are high up my must-photograph list because they're so surreal.
Kerlingarfjöll is the first area you will encounter when you head north (short detour from the road). For me it's the most spectacular of both areas since the geothermal part is located up in the mountains and more vividly shows the contrast between fire & ice/snow (photo on the left). It's a huge area that will definitely keep you intrigued for a full day. There are many tiny and oddly shaped hot spring to be found in the colourful smoke-filled valleys.
Hveravellir is located a little bit more north on Kjölur. This hot spring area is more known for its beautiful and (sometimes) blue coloured hot springs. The geothermal area itself is quite small in comparison to Kerlingarfjöll but it's definitely worth your time. The different shapes and patterns of the springs can keep you captivated for hours if you're more into photographing details and patterns.
How to get there: You can only reach the area in summer or autumn with a 4×4 car. There are also some companies organising super jeep winter tours to Hveravellir. More information about Kerlingarfjöll & Hveravellir can be found on the websites of both areas.
2. Þórsmörk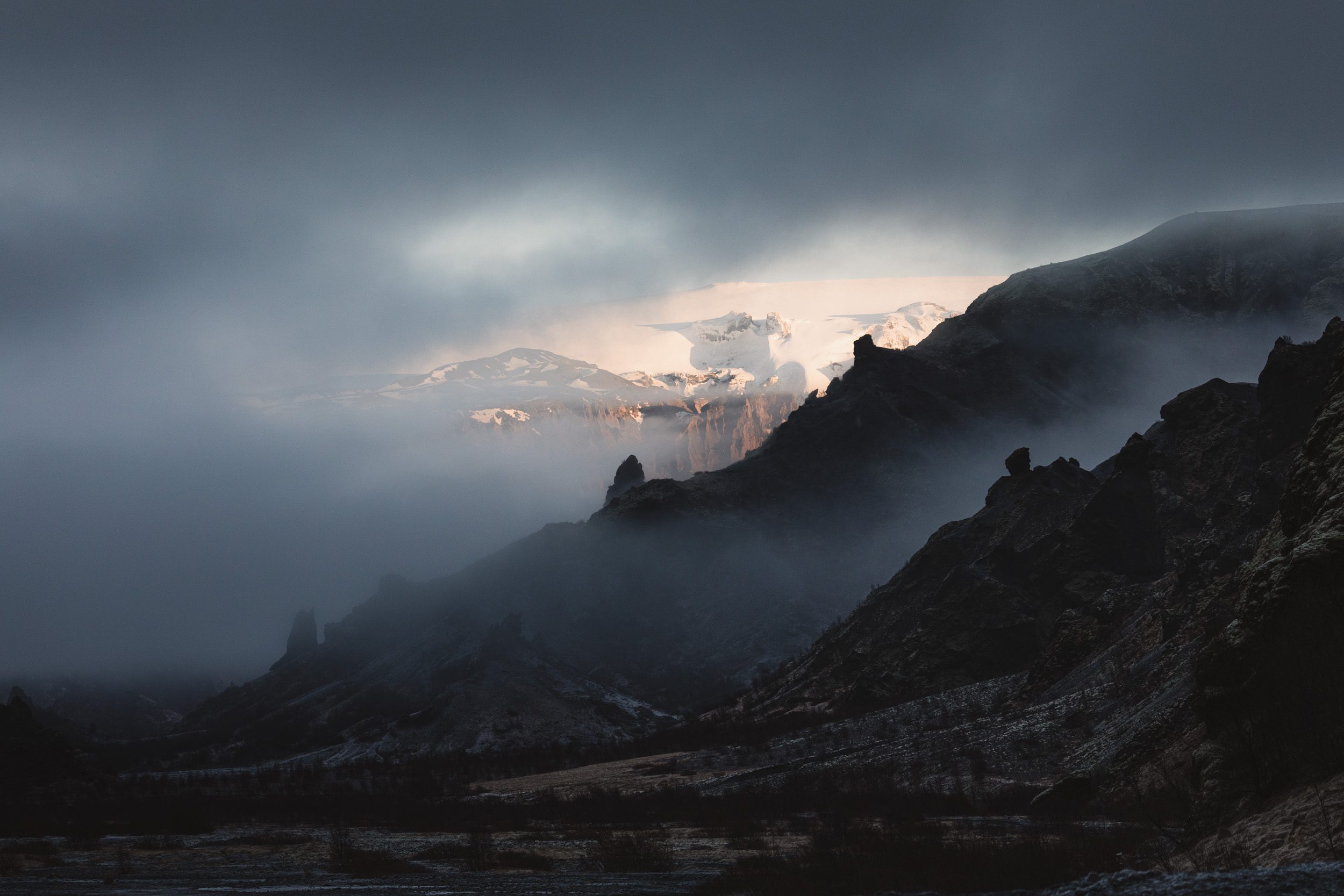 The Þórsmörk area is located in between 3 volcanoes: Katla, Eyjafjallajökull and Tindfjallajökull. It's an easy way to experience some of the Icelandic highlands. There are a lot of things to see in Þórsmörk:
• Gígjökull is a glacier tongue that was greatly diminished after the 2010 eruption of Eyjafjallakökull. There used to be a glacier lagoon there but after the eruption it became clear that a lot of the glacier had melted away and the lagoon was no more. The whole area is nonetheless impressive.
• Stakkholtsgjá is an impressive canyon with a surprise waterfall at the end. Possibly even more impressive during winter time.
• Going up Valahnúkur mountain is an easy hike that takes you to the top through the forest. Once there you have a perfect view of the braided rivers in the valleys below. If the weather's good, you can also see the Mýrdalsjökull and Eyjafjallajökull ice caps.
• You can spot arctic foxes in the area. Your best bet is around the Volcano Huts in Húsadalur. The foxes are, in my opinion, more beautiful in winter and they also seem to be easier to spot then. They're usually not very shy from people if you have some patience.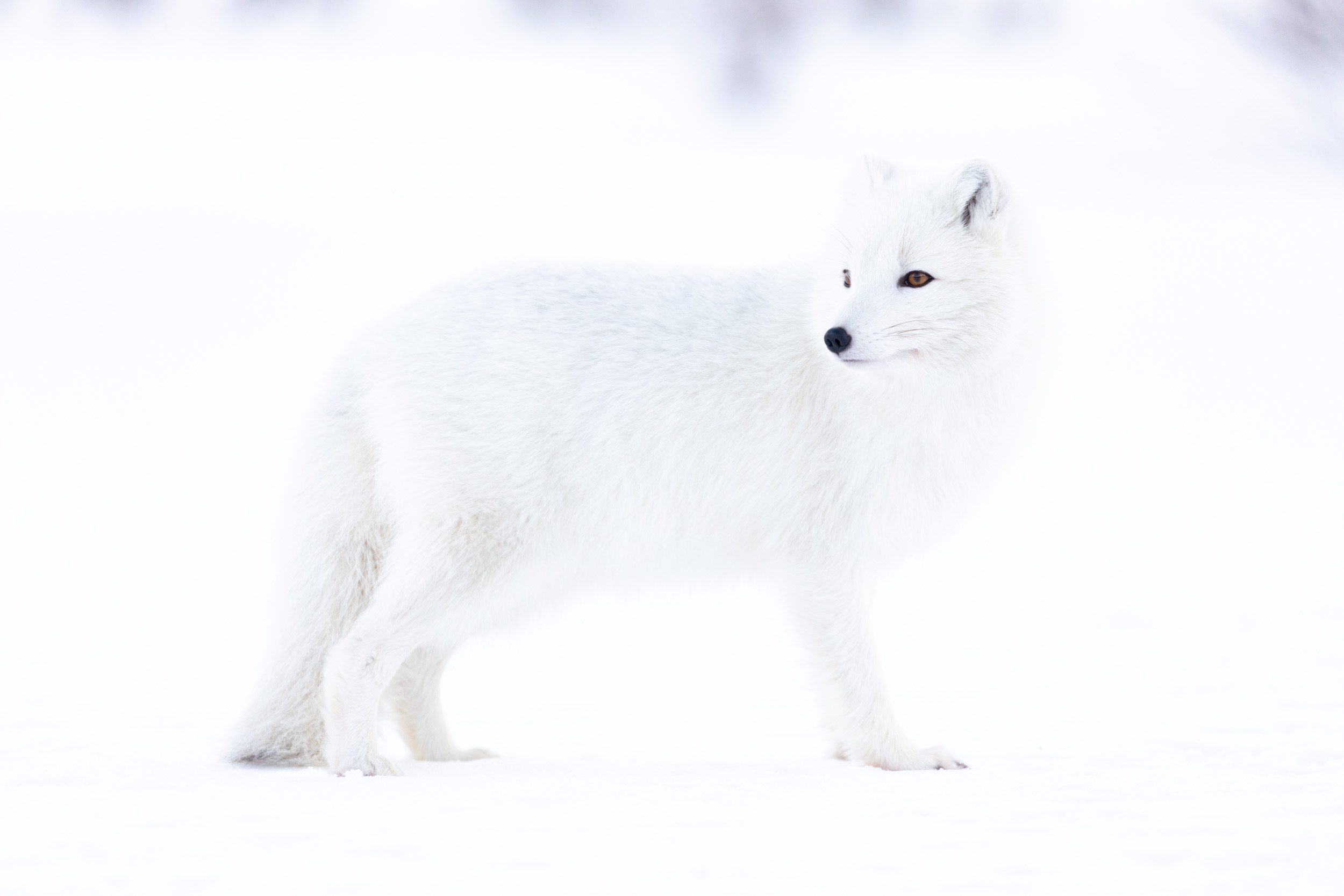 There are of course a lot more places to be seen and discovered in the Þórsmörk area and the above are just a few highlights I wanted to point out. If you go there, make sure you take your time and you don't keep your camera far away since the light can change very fast. A good place to have as a base for your visit are the Volcano Huts. Perfectly located and cozy for your highland adventure.
How to get there: Þórsmörk is accessible the whole year round. In summer you can easily drive part of the way or take a mountain bus. In winter Volcano Huts organises special 4×4 transport to the area. You can find out more about how to get there (all seasons) on the Volcano Huts website.
3. Reykjanes Peninsula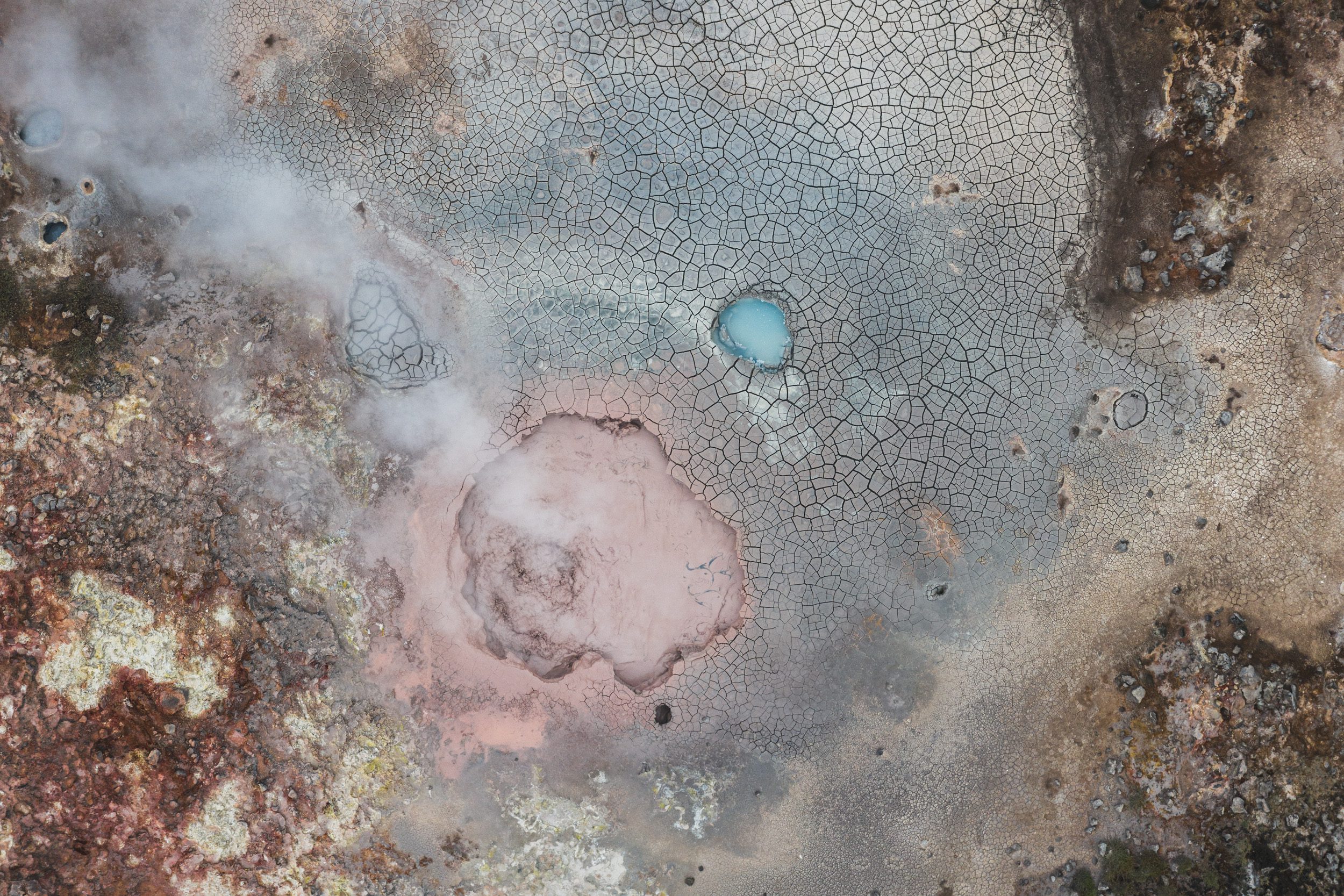 The Reykjanes Peninsula, the area you drive through driving to Reykjavík from Keflavík, is one of those areas in Iceland that is easily and often skipped by people when doing a round trip in Iceland. Most people would only visit the Blue Lagoon but there's a lot more to see and photograph.
For me Reykjanes Peninsula is a photographically inspiring region, mainly because there are so many different aspects of Iceland in a very short distance from each other. There are geothermal active locations like Gunnuhver (with the Reykjanesvíti sea stacks nearby), Krýsuvík (near Kleifarvatn lake) and Eldvörp. The coastal cliffs are also very noteworthy, with a special mention to Brimketill where there is a naturally formed "pool" embedded in the cliffside (don't try to swim there!). These cliffs are especially spectacular when the weather is stormy. Next to these locations (if you're not much into natural wonders), you can find a collection lighthouses and churches.
How to get there: Reykjanes Peninsula is close to Reykjavík and easily accessible all year round. For some roads you might need a 4×4 vehicle in winter if it has been snowing heavily but generally speaking, you can get around in any car all year round.
4. The ice caves in Vatnajökull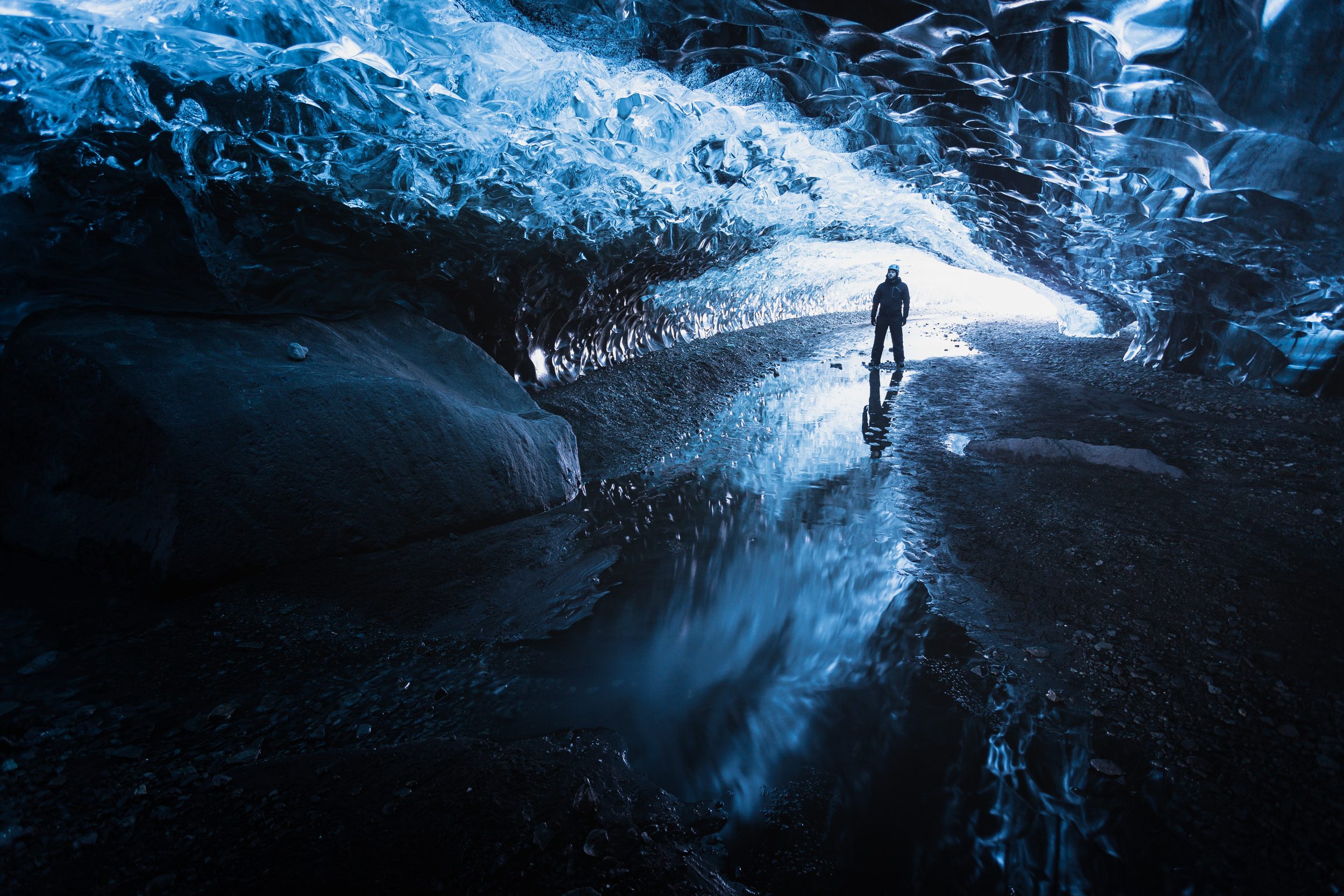 One of the things that was highest on my photography bucket list when visiting Iceland in winter for the first time, was a visit to the magical blue ice caves in Vatnajökull. I strongly recommend to go there if you have the time.
You can only visit the caves from November until March and a proper guide is absolutely necessary. If you plan to visit the caves for photography, I recommend going for a trip that lasts at least 3–4 hours so you have plenty of time to look around and explore all the little details hidden away in the thick blue ice.
How to get there: Outside of winter, it's way too dangerous to visit the caves due to the melting of the ice. Do not go there without a guide! He/she can tell you what is safe and what is not. My favourite companies to go ice caving are called Local Guide and Local Icelander. They have years of experience and organise a variety of tours (different lengths) for all your photographic needs.
5. Snæfellsnes Peninsula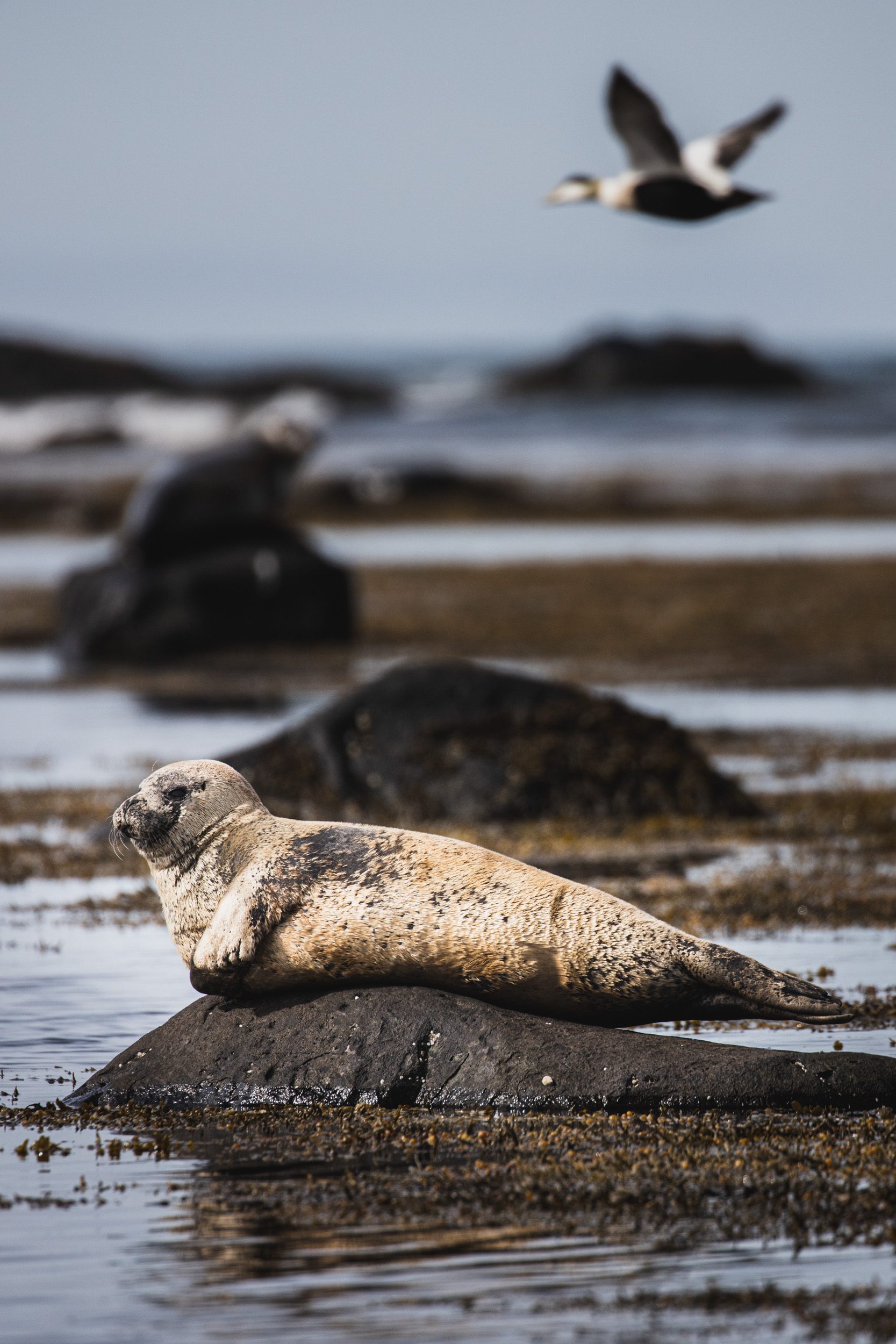 Snæfellsnes Peninsula, or also often called West Iceland, is a 2-hour drive away from the capital. Like Reykjanes Peninsula it has a lot to offer in a relatively small area. It's possible to do a round trip and return to Reykjavík all within one day but I would really advise to take your time and make it a 2- or even 3-day visit. Some of the highlights on the peninsula include:
• Kirkjufell, close to Grundarfjörður, is probably one of the most iconic mountains in the world. It's cone-shape has inspired many photographers to go there to photograph it. Close to it there is also a small but beautiful waterfall (ideal for long exposure shots in combination with the mountain).
• Svörtuloft can be found on the western-most tip of the peninsula, after a drive through an old lava field of the nearby extinct volcano, you arrive at a beautiful lighthouse. Aside from this very iconic lighthouse, the black cliffs and the rock formations in the water are impressive (especially during stormy weather). For bird-watchers (and photographers): the birdlife is plentiful during summer near the cliffs.
• Arnarstapi, an old fishing village, is the best place to photograph the eroding coastline. There are some impressive arches carved out in the cliffs. Don't miss out on anything and hike from the harbour towards Hellnar.
• Wildlife is plenty! Grundarfjörður, a town on the northern side of the peninsula is one of the best places in Iceland to see orcas. On the southern side, it's easy to spot seals closeby when visiting the beach at Ytri-Tunga.
There are, of course, a lot more locations to visit on Snæfellsnes like, for example, the black church at Búðir, the red lava formations of Berserkjarhraun, the black sand beach Djúpalonssandur or the massive Lóndrangar rock formation. You can easily spend a few days there if you'd like to take your time.
How to get there: Snæfellsnes Peninsula is reachable in any car the whole year round. The only road you will not be able to use in winter is the one going up to the glacier itself.
Support Jeroen's Work
As an independent photographer, Jeroen partially relies on your support to keep producing worthwhile content such as blogs, photographs, books and much more. If you want to support his work, it is possible to do so by buying his e-books & books, prints or calendars.
You can also sign up to the newsletter to stay up to date on new blog posts, projects, workshops and other interesting information. Additionally, signing up grants you a 10% discount on your next purchase.
Thank you for considering!